Welcome to the highly-ranked Erasmus University Rotterdam (EUR), a research university located in Rotterdam, the Netherlands. Students from the UK fit right in to our international student body of 28,000, and here is what EUR and the Netherlands have to offer for you.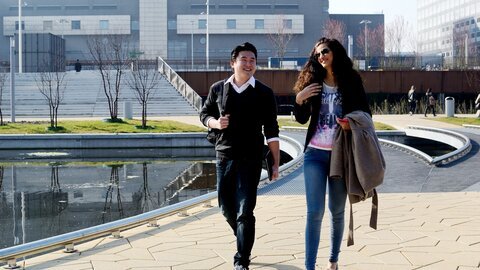 International bachelor programmes
Most of our bachelor programmes are taught in English
See all International bachelor programmes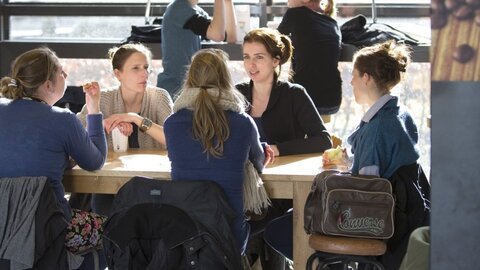 International Master programmes
We offer over 50 master programmes in English
See all 50+ International master programmes
Why students form the UK choose EUR and the Netherlands?
1.      International experience just an hour's flight away from the UK – lead an independent lifestyle without giving up weekend home visits
2.      Top quality international programmes entirely in English – study at the top two per cent of the world's best universities without having to learn a new language
3.     Affordable tuition fee and reasonable living costs – graduate without major loans
4.      Modern port-city Rotterdam – take advantage of the cosmopolitan environment with its booming creative sector, night life and business opportunities
5.      Dutch culture – bid farewell to traffic jams and say hello to cycling everywhere
Financial matters for UK students
Unfortunately, we don't know what exactly is coming, either. However, we do know that Dutch tuition is famous for being very reasonable, even for non-EU students. European Economic Area (EEA) students, which include non-EU countries such as Norway, pay €2,000 per year. ; average annual tuition for non-EEA citizens is €7,000. The fee can be paid in one lump or monthly instalments.

As EU students, yes, British can make use of 'DUO' finance, which is a loan, student travel product, and a supplementary grant. Though we are lobbying for support for student mobility in a Brexit decision, we do not know how British and Dutch student loans will take shape if and when Brexit is implemented. 
Five examples of how Dutch higher ed is different than in the U.K. How Dutch higher education compares to British
While both the Netherlands and the UK offer high quality education and diplomas that are internationally accredited, there is a number of differences.
In the Netherlands:
•    Tuition fees are lower
•    Study terms of 5-6 weeks are followed by exams, the breaks between them are short
•    An academic year generally lasts from beginning of August till mid-June
•    Undergraduate programmes are called bachelor, postgraduate – master
•    Most Dutch students don't take the gap year
•    All bachelor students are subject to Binding Study Advice
•    Non-EU graduates can apply for a 'search year' which gives them freedom to work and network in the country for a year without special permits
 
During the open day, I discovered that everyone spoke a high level of English. I also attended a lecture and it proved that the programme was challenging enough.
Economics student
Studying abroad has made me more independent and I have learnt a lot about different cultures. Having international experience on my resume was definitely an advantage at my job interview!
Cultural Economics & Entrepreneurship graduate