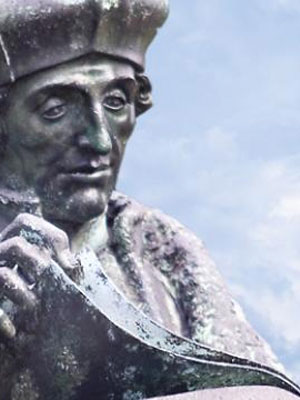 (external) researcher
Erasmus School of History, Culture and Communication
Department of Arts & Culture Studies
Location

Burg. Oudlaan 50, Rotterdam

Email
‹

Back to overview
Profile
Frank Weij (Rotterdam, 1987) is a PhD-lecturer at the Department of Arts and Culture Studies at Erasmus University Rotterdam.
Together with Koen van Eijck, Pauwke Berkers and Jiska Engelbert, he received a five-year grant from the Netherlands Organization of Scientific Research (NWO) to pursue his PhD on the topic of geopolitics and art activism. This research project is entitled 'Geopolitics of artivism: comparing the attribution of societal impact and artistic qualities in the Western reception of art activists from democratic and authoritarian regimes.' For more information and updates on the research project, please visit the project's Facebook page.
Frank studied Arts and Culture Studies (BA) along with Philosophy (BA) and in 2014 finished his Research Master Sociology of Culture, Media and the Arts (MSc), at Erasmus University Rotterdam. Graduating on various topics within the fields of cultural sociology and philosophy, his research mainly focuses on the reception of art and artists by Western media platforms and media audiences. During his research master, Frank has spent six months at Northwestern University in Chicago. During this time he gained an interest in innovative computational research methods, with which he aims to bridge the gap between quantitative and qualitative research.
F. Weij (2017). Twitter reception of artivism through topic modeling and semantic network analysis. Cultural Sociology Lowlands: Amsterdam, the Netherlands (2017, juni 19 - 2017, juni 20).
F. Weij (2017). Reach beyond the field of art: Twitter reception of artivism through topic modeling and semantic network analysis. Dag van de Sociologie: Brussels, Belgium (2017, juni 8 - 2017, juni 8).
P.P.L. Berkers, J.C.F. Schaap & F. Weij (2016). Guitar wielding women: gender inequality in metal music production in comparative perspective. Keep it simple, make it fast! DIY cultures, spaces & places: Porto, Portugal (2016, juli 17 - 2016, juli 21).
P.P.L. Berkers, L. Van der Vlegel & F. Weij (2016). Distinction and performance with guilty pleasures: A Twitter content analysis of 'bad' and 'real' taste. Doing research on participation: methods and data for understanding everyday participation: Manchester (2016, mei 25 - 2016, mei 26).
F. Weij & P.P.L. Berkers (2016). The politics of musical activism: Western YouTube reception of Pussy Riot's punk performances. American Sociological Association Annual Meeting: Seattle (2016, augustus 20 - 2016, augustus 23).
F. Weij & P.P.L. Berkers (2016). The politics of music: Western YouTube reception of Pussy Riot's musical activism. Keep it simple, make it fast! DIY cultures, spaces & places: Porto, Portugal (2016, juli 17 - 2016, juli 21).
F. Weij & P.P.L. Berkers (2015). Selective inclusion: communicated cultural identities in YouTube user reception of Pussy Riot's recorded punk protests. ECREA's Diaspora, Migration and the Media Section. Conference The porous walls of fortress Europe: Contemporary media discourses of cultural belonging: Rotterdam (2015, november 19 - 2015, november 20).
F. Weij, P.P.L. Berkers & J.M. Engelbert (2015). Appealing protest: An analysis of YouTube user comments to Pussy Riot's recorded punk performances. Global Cultures of Contestation Conference: Amsterdam (2015, oktober 15 - 2015, oktober 16).
P.P.L. Berkers, F. Weij & J.M. Engelbert (2015). The appeal of protesting musicians: Pussy Riot, mediatization and the construction of cosmopolitan citizenship. 18th Biennial IASPM Conference: Campinas, Brazil (2015, juni 29 - 2015, juli 3).
L. Van der Vlegel, P.P.L. Berkers & F. Weij (2015). Distinction and performance with #guilty pleasure. Twitter content analysis. Dag van de Sociologie: Amsterdam (2015, mei 27).
F. Weij, P.P.L. Berkers & J.M. Engelbert (2014). Punk as vehicle: The role of music in the reception of Pussy Riot's political activism. IASPM Benelux conference A long way to the top: The production and reception of music in a globalized world: Rotterdam (2014, november 6 - 2014, november 7).
F. Weij, P.P.L. Berkers & J.M. Engelbert (2014). The appeal of protesting artists: Western solidarity with Pussy Riot and the construction of cosmopolitan citizenship. Dag van de Sociologie: Antwerpen (2014, mei 28).

F. Weij & J.M. Engelbert (2018). Artivism as a vehicle for everyday political participation by celebrities. Cultural Sociology Lowlands: Rotterdam (2018, juli 15).

P.P.L. Berkers, M.N.M. Verboord & F. Weij (2012). Gender boundaries in the newspaper coverage of art and culture in France, Germany, the Netherlands and the United States, 1955-2005. European Sociological Association Conference: Culture, Communication and Creativity: Berlijn (2012, september 5 - 2012, september 7).
P.P.L. Berkers, M.N.M. Verboord & F. Weij (2012). Gender ongelijkheid in de dagbladberichtgeving over kunst en cultuur in Frankrijk, Duitsland, Nederland en de Verenigde Staten, 1955-2005. Annual Meeting of the Dutch and Flemish Sociologists (Dag van de Sociologie): Utrecht (2012, mei 24 - 2012, mei 24).

F. Weij (2016). Book review - Shouf Shouf Hollanda: succesvol en Marokkaan [Bespreking van het boek Shouf Shouf Hollanda: succesvol en Marokkaan]. Volume! La revue des musiques populaires, 13(1), 194-196.

(external) researcher

University

Erasmus University Rotterdam

School

Erasmus School of History, Culture and Communication

Department

Department of Arts & Culture Studies

Country

The Netherlands
Address
Visiting address
Burg. Oudlaan 50
3062 PA Rotterdam
Postal address
Postbus 1738
3000 DR Rotterdam