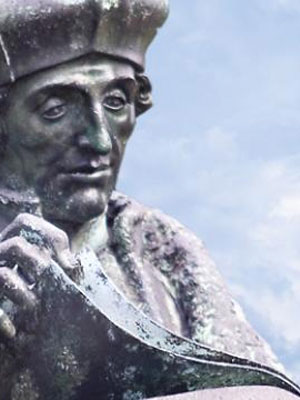 Assistant Professor
RSM - Rotterdam School of Management
Department of Organisation and Personnel Management
Location

Burg. Oudlaan 50, Rotterdam

Room

T10-42

Telephone

0104081861

Email
‹

Back to overview
Profile
Juup Essers is Assistant Professor of Models and Policy at the Rotterdam School of Management, Erasmus University (RSM).
He holds an MA in Philosophy & Political Theory from Leiden University and an MScBA and PhD from RSM.
Juup has authored and co-authored publications in the areas of philosophy of organization science, incommensurability of management theories, and ideology in organizations. He also sits on the scientific committee of the biennial conference on Rhetoric and Narratives in Management Research (RNMR) in Barcelona.
With more than 30 years of teaching experience under his belt, Juup has lectured on a variety of topics, ranging from rhetoric, philosophy of science, and cross-cultural management to business research methodology. He is a regular winner of the Best Teacher award in the Evening MScBA program at RSM.
His current research interests mainly focus on a critical appraisal of the semiotics and rhetoric of leadership discourse.
J.P.J.M. Essers (2012). Re‐writing the Organization: The Ideological Deadlock of Narrative Methodology. Journal of Organizational Change Management, 25 (2), 332-351. doi: 10.1108/09534811211213991
J.P.J.M. Essers, S. Böhm & A. Contu (2009). Corporate Robespierres, Ideologies of Management and Change. Journal of Organizational Change Management, 22 (2), 129-140. doi: 10.1108/09534810910947172
J.P.J.M. Essers (1999). Incommensurabiliteit en organisatie: over het management van verschil in organisaties. In M.J. van Riemsdijk (Ed.), Dilemma's in de bedrijfskundige wetenschap (pp. 206-234). Assen: Van Gorcum
J.P.J.M. Essers & J.F. Schreinemakers (1997). Nonaka's Subjectivist Conception of Knowledge in Corporate Knowledge Management. Knowledge Organization, 24 (1), 24-32.

J.P.J.M. Essers (2012). Re‐writing the Organization: The Ideological Deadlock of Narrative Methodology. Journal of Organizational Change Management, 25 (2), 332-351. doi: 10.1108/09534811211213991
J.P.J.M. Essers, S. Böhm & A. Contu (2009). Corporate Robespierres, Ideologies of Management and Change. Journal of Organizational Change Management, 22 (2), 129-140. doi: 10.1108/09534810910947172
J.P.J.M. Essers (1999). Incommensurabiliteit en organisatie: over het management van verschil in organisaties. In M.J. van Riemsdijk (Ed.), Dilemma's in de bedrijfskundige wetenschap (pp. 206-234). Assen: Van Gorcum
J.P.J.M. Essers & J.F. Schreinemakers (1997). Nonaka's Subjectivist Conception of Knowledge in Corporate Knowledge Management. Knowledge Organization, 24 (1), 24-32.

M.J. Flory & J.P.J.M. Essers (2016). Slawomir Magala, Generalist with a Cause. Journal of Organizational Change Management, 29 (1). doi: 10.1108/JOCM-11-2015-0217
J.P.J.M. Essers (2012). Re‐writing the Organization: The Ideological Deadlock of Narrative Methodology. Journal of Organizational Change Management, 25 (2), 332-351. doi: 10.1108/09534811211213991
J.P.J.M. Essers, S. Böhm & A. Contu (2009). Corporate Robespierres, Ideologies of Management and Change. Journal of Organizational Change Management, 22 (2), 129-140. doi: 10.1108/09534810910947172
J.P.J.M. Essers & J.F. Schreinemakers (1997). Nonaka's Subjectivist Conception of Knowledge in Corporate Knowledge Management. Knowledge Organization, 24 (1), 24-32.

J.P.J.M. Essers (1995). De idee van een bedrijfskundige methodologie als verantwoordingskader voor bedrijfskundig handelen. Memo. Nieuwsbrief van de Nederlands-Vlaamse Academie voor Management, 4 (1), 3-11.

A.J.J.A. Maas, J.P.J.M. Essers, H.K. Letiche, S.J. Magala & A.J. Roodink (1998). Managing Change: Change Perspectives. Rotterdam: Donner

H.K. Letiche & J.P.J.M. Essers (2004). Jean-François Lyotard. In S. Linstead (Ed.), Organization Theory and Postmodern Thought (pp. 64-87). London/Thousand Oaks/New Delhi: Sage doi: 10.4135/9781446217313.n4
J.P.J.M. Essers & J. van Oosterhout (2000). Het analyseren en schrijven van een betoog. In Ph. van Engeldorp Gastelaars (Ed.), Elementen van bedrijfskundig onderzoek (pp. 175-209). Nieuwerkerk a/d IJssel: ServicePost
J.P.J.M. Essers (1999). Incommensurabiliteit en organisatie: over het management van verschil in organisaties. In M.J. van Riemsdijk (Ed.), Dilemma's in de bedrijfskundige wetenschap (pp. 206-234). Assen: Van Gorcum
J.P.J.M. Essers & J.F. Schreinemakers (1996). The Conceptions of Knowledge and Information in Knowledge Management. In J.F. Schreinemakers (Ed.), Knowledge Management. Organization, Competence and Methodology. Proceedings of the Fourth International ISMICK Symposium (Advances in Knowledge Management, Volume 1) (pp. 93-104). Würzburg: Ergon
J.P.J.M. Essers & J.F. Schreinemakers (1996). Critical Notes on the Use of Knowledge in Knowledge Management. In R. Green (Ed.), Knowledge, Organization and Change. Proceedings of the Fourth International ISKO Conference (Advances in Knowledge Organization, Volume 5) (pp. 213-215). Frankfurt: Indeks
J.P.J.M. Essers, A. Huiberts & J.F.D.B. Wempe (1994). National Legislation versus International Competition: The Environmental Clean-up at Avebe. In B. Harvey, H. van Luijk & H. Steinmann (Eds.), European Casebook on Business Ethics (pp. 159-180). Hertfordshire: Prentice Hall
J.P.J.M. Essers (1991). Interdisciplinariteit en herdisciplinering: de ontwikkelingsgang van bedrijfskunde als wetenschap. In H.W. Blom & J.J. Vromen (Eds.), Bedrijfseconomie: hoe bestaat het?: aanzetten tot een filosofische plaatsbepaling (pp. 17-29). Leiden/Antwerpen: Stenfert Kroeze
J.P.J.M. Essers (1989). Over de methodologische verantwoording van bedrijfskunde als wetenschap. In J.W.M. Bertrand, J. Geersing, A. Pruyn, J.A.M. Theeuwes & H. van de Water (Eds.), Bedrijfskundig onderzoek 1989: 4e NOBO onderzoeksdag: Eindhoven, 9 november 1989 (pp. 271-280). Eindhoven: NOBO
J.P.J.M. Essers (1988). De kritische theorie van Jürgen Habermas. In C.P. Veerman & J.P.J.M. Essers (Eds.), Wetenschap en wetenschapsleer: een inleiding (second ed.) (pp. 199-251). Delft: Eburon

M.J. Flory & J.P.J.M. Essers (2011). Frits maakt geen vrienden. In J. Groenewegen & A. Dreimüller (Eds.), Frits van Engeldorp Gastelaars: vriendelijke vriendenboek (pp. 33-35). Zeist: A-D Druk
J.P.J.M. Essers (1997). Beste Erik. In Ph. van Engeldorp Gastelaars (Ed.), Liberik de Leede: sparringpartners (pp. 110-114). Nieuwerkerk a/d IJssel: ServicePost

C.P. Veerman & J.P.J.M. Essers (Ed.). (1988). Wetenschap en wetenschapsleer: een inleiding (second ed.). Delft: Eburon

G. Touburg & J.P.J.M. Essers (2019). Mythologizing Management: A Mythographic Analysis of the Case Method. 11th International Critical Management Studies Conference: Milton Keynes (2019, juni 28).
G. Touburg & J.P.J.M. Essers (2018). Mythologizing Management: A Mythographic Analysis of the Case Method. 7th International Conference on Rhetoric and Narratives in Management Research: Barcelona (2018, maart 26).
J.P.J.M. Essers (2016). Necessitas Legem Non Habet: Authority, Democracy and the Language of Leadership. 6th International Conference on Rhetoric and Narratives in Management Research: Barcelona (2016, maart 22).
J.P.J.M. Essers (2013). The Rhetoric of Repetition: Management Discourse on the Verge of Glossolalia. 5th International Conference on Rhetoric and Narratives in Management Research: Barcelona (2013, maart 25).
J.P.J.M. Essers (2013). Teaching Tolerance: Designing an MSc-Programme in Cross-Cultural Management. 12th Annual IACCM Conference: Rotterdam (2013, juni 21).
J.P.J.M. Essers (2011). Re-writing the Organization: Rhetorical Pitfalls of Narrative Research. 4th International Conference on Rhetoric and Narratives in Management Research: Barcelona (2011, maart 24). [go to publisher's site]

Journal of Organizational Change Management

Role

Occasional Reviewer

Journal of Organizational Change Management

Role

Co-Editor Special Issue

Assistant Professor

University

Erasmus University Rotterdam

School

RSM - Rotterdam School of Management

Department

Department of Organisation and Personnel Management

Telephone

0104081861

Conference on Rhetoric and Narratives in Management Research

Role

Member Scientific Committee

Best teacher in the Evening Master 'Bedrijfskunde'

Role

winner, several times

SR Professor Award 2015: best professor premaster BA

Role

nominee

SR Professor Award 2015: best professor premaster IBA

Role

nominee
Address
Visiting address
Burg. Oudlaan 50
3062 PA Rotterdam
Postal address
Postbus 1738
3000 DR Rotterdam