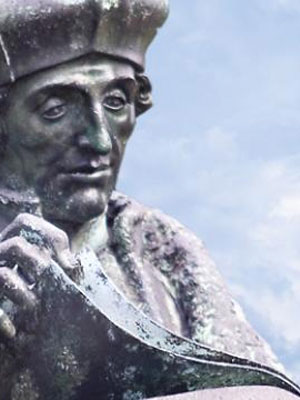 Visiting lecturer
Erasmus School of Health Policy & Management
Health Care Governance (HCG)
Location

Burg. Oudlaan 50, Rotterdam

Email
‹

Back to overview
Profile
Marianne van Bochove (1983) is an assistant professor of Sociology at the institute of Health Policy and Management at the Erasmus University Rotterdam, the Netherlands. Her research and teaching interests pertain to identity and boundary work in the fields of migration and care, including issues such as:
Migrant workers in long-term care
Migrants' local and cross-border identities
Boundary work of professionals and volunteers in care and social services
As a postdoctoral researcher at the University of Amsterdam, she worked on the project Can't we leave that to the volunteers?.
Marianne obtained her PhD degree from the Erasmus University Rotterdam in September 2012. Her dissertation Geographies of Belonging is about the transnational and local involvement of highly skilled migrants. For this research, she received a Bucerius Ph.D. Scholarship in Migration Studies from the ZEIT-Stiftung Ebelin und Gerd Bucerius.
Marianne has also written about the social functions of insult, the policy on and experiences of Dutch travellers (woonwagenbewoners), and the pros and cons of labelling successful immigrant women as role models.  
Marianne Bochove (2016) - De Oplossers: Expats kunnen maar moeilijk vriendschap sluiten met Nederlanders, zo blijkt uit onderzoek. Hoe worden we betere vrienden? - Vrij Nederland
Marianne Bochove (2016) - Hoogopgeleide migrant voelt zich minder Nederlander - Unknown

JW van der Maat, Marianne Bochove & B Da Roit (2014) - Inwonende zorgmigranten, een nieuwe trend? - Geron : tijdschrift over ouder worden en maatschappij, 16 (4)

KM Rusinovic & Marianne Bochove (2009) - Migranten en Burgerschap - Lemma

Marianne Bochove & Jack Burgers (2019) - Between Choice and Stigma: Identifications of Economically Successful Migrants - Springer
Marianne Bochove, KM Rusinovic & Godfried Engbersen (2009) - Local and Transnational Aspects of Citizenship Political Practices and Identifications of Middle-Class Migrants in Rotterdam - Amsterdam University Press

Marianne Bochove (2008) - Urban citizenship and transnationalism
Marianne Bochove (2008) - Thick or thin: transnational political practices of migrants in the Netherlands

Hester Bovenkamp, Annemiek Stoopendaal, Lieke Oldenhof, Marianne Bochove & Roland Bal (2017) - Regeldruk & Regelruimte - ESHPM
Marianne Bochove, KM Rusinovic & Godfried Engbersen (2010) - Burgerschapsbriefing Kennismigranten 2 Een kosmopolitische elite? (January 2010) - Erasmus Universiteit Rotterdam (EUR)
Marianne Bochove, KM Rusinovic & Godfried Engbersen (2010) - Burgerschapsbriefing Kennismigranten 3 Kennismigranten als lokale burgers (January 2010) - Erasmus Universiteit Rotterdam (EUR)
Marianne Bochove, KM Rusinovic & Godfried Engbersen (2010) - Burgerschapsbriefing Kennismigranten 4 Kennismigranten over stedelijk beleid in Rotterdam en Den Haag (March 2010) - Erasmus Universiteit Rotterdam (EUR)
Marianne Bochove, KM Rusinovic & Godfried Engbersen (2009) - Burgerschapsbriefing 6: Beleidsaanbevelingen van de Rotterdamse middenklasse (January 2009) - Erasmus Universiteit Rotterdam (EUR)
Marianne Bochove, KM Rusinovic & Godfried Engbersen (2009) - De stad en staat van de burger: het stadsburgerschap van de allochtone middenklasse - NICIS institute
Marianne Bochove, KM Rusinovic & Godfried Engbersen (2009) - Burgerschapsbriefing Kennismigranten 1 Kennismigranten in Rotterdam (November 2009) - Erasmus Universiteit Rotterdam (EUR)
Marianne Bochove, KM Rusinovic & Godfried Engbersen (2008) - Burgerschapsbriefing 1: Allochtone middenklasse (March 2008) - Faculteit der Sociale Wetenschappen
Marianne Bochove, KM Rusinovic & Godfried Engbersen (2008) - Burgerschapsbriefing 2: Politieke participatie (June 2008) - Faculteit der Sociale Wetenschappen
Marianne Bochove, KM Rusinovic & Godfried Engbersen (2008) - Burgerschapsbriefing 3: Maatschappelijke participatie (August 2008) - Faculteit der Sociale Wetenschappen
Marianne Bochove, KM Rusinovic & Godfried Engbersen (2008) - Burgerschapsbriefing 5: Transnationale betrokkenheid (December 2008) - Faculteit der Sociale Wetenschappen
Marianne Bochove, KM Rusinovic & Godfried Engbersen (2008) - Burgerschapsbriefing 4: Gevoelens van verbondenheid (November 2008) - Faculteit der Sociale Wetenschappen
Marianne Bochove & Lieke Oldenhof (2016) - Who Gets to Be Called a Professional in a Transforming Welfare State? - EGPA Annual Conference
Marianne Bochove & Lieke Oldenhof (2016) - Who Gets to Be Called a Professional in a Transforming Welfare State? - 3rd ISA Forum of Sociology
Marianne Bochove (2015) - Beyond Cosmopolitanism and Expat Bubbles: Challenging Dominant Representations of Highly Skilled Migrants - Seminar on Highly Skilled Migration, organized by the University of Amsterdam and DAMR
Marianne Bochove, EH Tonkens, L Verplanke & S (Suzanne) Roggeveen (2015) - Boundary Work and Welcoming Work: Collaboration between Professionals and Volunteers in Care and Social Services - 12th ESA Conference
Marianne Bochove (2015) - Kunnen we dat (niet) aan vrijwilligers overlaten? - Symposium Vrijwilligerswerk doe je Sámen, organized by In de Rooden Leeuw
Marianne Bochove (2015) - Geographies of Belonging: The Place Attachment of 'Immigrants' and 'Expatriates' - VU University Amsterdam conference Biographies of Belonging
Marianne Bochove (2015) - Kunnen we dat (niet) aan vrijwilligers overlaten? - Symposium Vrijwilligers aan zet: Grenzen aan vrijwillige inzet?, organized by Vita Welzijn en Advies and Aan-Z Amstelveen
Marianne Bochove & B van der Ent (2014) - Samenwerking tussen professionals, vrijwilligers en bezoekers in vier Utrechtse speeltuinen - Terugkoppeling onderzoeksresultaten gemeente Utrecht
Marianne Bochove (2014) - Actief burgerschap in de wijk - Netwerkbijeenkomst Prinsenhof
Marianne Bochove (2011) - Sferen van transnationalisme: De grensoverschrijdende en lokale betrokkenheid van sociaaleconomisch succesvolle migranten - Paper presented at the Masterclass Grenzen Verleggen, Instituut voor Geschiedenis
Marianne Bochove (2011) - The Economic Sphere: Staying for Stability or Moving for More - Chapter presented at the Third Students Conference 2011: The Bucerius Ph.D. Scholarships in Migration Studies "Settling into Motion"
Marianne Bochove (2010) - Transnational Involvement: Addressing the Questions What, Who, and Where. - Second Students Conference 2010: The Bucerius Ph.D. Scholarships in Migration Studies "Settling Into Motion"
Marianne Bochove (2009) - Spheres of belonging: incorporation and identification in a super-diverse city - First Students Conference 2009: The Bucerius Ph.D. Scholarships in Migration Studies "Settling Into Motion
Marianne Bochove (2009) - Disciplining the drifter: the domestication of travellers in the Netherlands - Stockholm International Conference on the Discrimination and Persecution of Roma, Sinti and Travellers

Marianne Bochove (2015) - Nieuwe verhoudingen tussen vrijwilligers en professionals in zorg en welzijn. - JSO conferentie Samen in verandering: Focus op de professional
Godfried Engbersen, Marianne Bochove & KM Rusinovic (2010) - Presentatie van rapport "Over de rode loper". Kennismigranten in Rotterdam en Den Haag - NICIS
News regarding dr. (Marianne) ME van Bochove