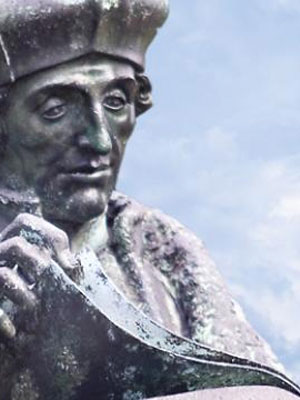 Researcher
Erasmus School of Philosophy
WP ESPhil
Location

Burg. Oudlaan 50, Rotterdam

Room

J5-61

Email
‹

Back to overview
Profile
I am a historian of philosophy and science, specialised in the Renaissance and early modern period. After being awarded a PhD cum laude from the Scuola Normale Superiore of Pisa in July 2019, I went on to take up a Frances Yates short-term fellowship at the Warburg Institute of London. My main area of expertise includes Renaissance philosophy and mathematics in general, and the life and work of Giordano Bruno in particular. 
In addition to these topics, I have recently become interested in the interdisciplinary research field of the digital humanities, more specifically in the application of network analysis to historical research. It all started with an idea on how to use tools and methods of network analysis to study the circulation of Descartes' ideas in early modern Europe. Later on, thanks to a fellowship sponsored by Elsevier, I had the possibility to turn my initial idea into a full-fledged research project, which I carried out for two months (September-October 2019) as a member of the University of Leiden's Centre for Digital Scholarship. 
Currently, I am a Marie Sk?odowska-Curie Fellow at the Erasmus School of Philosophy of Rotterdam working on a project titled "Cartesian Networks in Early Modern Europe." In my project, I combine quantitative network analysis and close reading of historical sources to study the diffusion of Cartesianism throughout 17th-century Europe.