PhD kandidaat Eric Slob wint prijs
Tijdens de poster presentatieronde van de Mendelian Randomization Conference in Bristol heeft PhD kandidaat Eric Slob de tweede prijs gewonnen. De conferentie is bedoeld voor professionals die geïnteresseerd zijn in etiologische epidemiologie en causaliteit in de maatschappelijke gezondheid en klinische geneeskunde.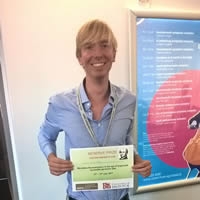 Eric Slob is verbonden aan het Erasmus University Rotterdam Institute for Behavior and Biology en PhD kandidaat bij het Erasmus Research Institute of Management. Zijn onderzoek richt zich op geno-economie. De geno-economie brengt de relatie tussen genetische variatie en economische voorkeuren en uitkomsten in kaart.
---
Terug naar overzicht
Publicatiedatum: 20 juli 2017
---