Olivier Marie benoemd tot bijzonder hoogleraar Arbeidseconomie
Dr. Olivier Marie is per 1 augustus 2017 benoemd tot bijzonder hoogleraar Arbeidseconomie aan Erasmus School of Economics vanwege de Vereniging Trustfonds. Binnen het brede terrein van de arbeidseconomie richt zijn onderzoek zich op de economie van de misdaad, de economie van het onderwijs, micro-econometrie en beleidsevaluatie.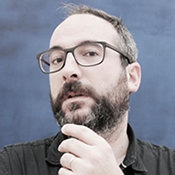 Sinds mei 2016 is Olivier Marie als universitair hoofddocent werkzaam bij de capaciteitsgroep Algemene Economie van Erasmus School of Economics. Hij is verantwoordelijk voor de vakken Macro-economie (bachelor 1) en Arbeidseconomie (bachelor 3). De komende jaren zal hij zich onder meer buigen over mogelijke verklaringen voor de 'misdaaddaling' die zich de afgelopen drie decennia in Nederland heeft voorgedaan.
Olivier Marie heeft zich de afgelopen vijf jaar op twee grote onderzoeksprojecten gericht. In het kader van zijn Marie Curie Intra-European Fellowship (2010-12) heeft hij het verband onderzocht tussen opleiding en criminele beslissingen van jongeren. In het kader van zijn NWO Veni-beurs (2012-15) heeft hij tevens onderzoek gedaan naar de dynamiek van de arbeidsmarkt en criminaliteit. Deze op natuurlijke wijze tot stand gekomen onderzoeksagenda heeft hem in staat gesteld een geheel nieuw beeld te scheppen van de complexe wisselwerking die er in een mensenleven bestaat tussen onderwijs-, arbeidsmarkt- en criminaliteitsdeelname. Dit heeft geresulteerd in een aantal publicaties in de invloedrijkste algemene peer-reviewed economietijdschriften, zoals de Journal of Political Economy en de Review of Economic Studies in 2017. Zijn onderzoek krijgt ook veel aandacht in niet-academische kringen, bijvoorbeeld in nieuwsmedia als The Economist, The Guardian, de BBC, The Wall Street Journal, The Daily Telegraph en Bild Zeitung. Olivier Marie is medeorganisator van de 9th Transatlantic Workshop on the Economics of Crime, die op 6 en 7 oktober 2017 aan de University of Pennsylvania zal worden gehouden.
Over Olivier Marie
Olivier Marie (1976) heeft een masterdiploma van de London School of Economics (LSE). Hij is in 2010 gepromoveerd aan de Royal Holloway University of London (RHUL). Marie is als hoogleraar Arbeidseconomie verbonden aan het Researchcentrum voor Onderwijs en Arbeidsmarkt (ROA) van de Universiteit Maastricht (0,2 fte's), als Research Fellow aan het Tinbergen Instituut en het Institute of Labor Economics (IZA), als Research Associate aan het Centre for Economic Performance (CEP) van de LSE en als Research Network Affiliate aan de CESifo-Gruppe in München.
---
Terug naar overzicht
Publicatiedatum: 1 augustus 2017
---