Bachelor Graduation Day 2017 groot succes!
Tijdens een feestelijke ceremonie in de Aula op campus Woudestein zijn op zaterdag 11 november de diploma's uitgereikt aan afgestudeerde bachelorstudenten van de opleidingen Economie & Bedrijfseconomie, Econometrie & Operationele Research, Econometrics, Fiscale Economie, IBEB en Bsc2 van Erasmus School of Economics.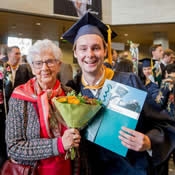 In totaal namen dit jaar 407 economie- en econometriestudenten deel aan de Bachelor Graduation Day, hetgeen resulteerde in twee keer een volle Aulazaal met studenten, familie, kennissen en vrienden.
Naast de uitreiking van de diploma's maakte op beide dagen een gasttoespraak van een alumnus deel uit van het programma. Tijdens de eerste sessie van de dag richtte Sheila Sitalsing het woord tot de aanwezigen. Sitalsing (1968) studeerde Algemene Economie aan Erasmus School of Economics. Tegenwoordig is zij freelance journalist en columnist voor de Volkskrant.
In de tweede sessie van de dag was het Jolanda Poots-Bijl die een inspirerende toespraak hield. Poots-Bijl (1969) studeerde bedrijfseconomie aan Erasmus School of Economics. Momenteel is zij de CFO van het in Rotterdam gevestigde bedrijf Van Oord, dat zich specialiseert in bagger-, waterbouw- en offshore-projecten
---
Terug naar overzicht
Publicatiedatum: 14 november 2017
---