RHV BV verandert naam in Erasmus UPT
RHV BV heeft haar naam veranderd in "Erasmus Centre for Urban, Port and Transport Economics" ook wel afgekort tot 'Erasmus UPT'.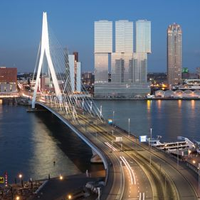 Erasmus UPT richt zich op drie kernthema's: Stedelijke economie, Haveneconomie en Transporteconomie. Het team heeft uitgebreide (internationale) ervaring in 'making science work'. De missie is om praktische onderzoeksoplossingen te leveren die verankerd zijn in de wetenschap, met als doel om de overheid en het bedrijfsleven te voorzien van relevante kennis, inzichten en concrete beleidsaanbevelingen. Daarnaast vervult de werkmaatschappij een onderwijsbehoefte met onderwijsprogramma's die bestaan uit korte cursussen, Bachelor en Master programma's en professionele opleidingen.
De nieuwe naam geeft een betere en duidelijkere profilering als gerenommeerd instituut op het gebied van economie en management van havens, steden en mobiliteit, dat sterk gelieerd is aan Erasmus Universiteit Rotterdam en in het bijzonder Erasmus School of Economics.
Vanaf heden zal de naam in correspondentie en media 'Erasmus UPT' of 'Erasmus Centre for Urban, Port and Transport Economics' zijn.
---
Terug naar overzicht
Publicatiedatum: 20 april 2017
---