On this page we provide an overview of the events our Professional Advisory Committee (PAC) organises. For more information about the PAC itself, please visit this page.
PAC Symposium - IBCoMagazine Time Capsule
In a time of great uncertainty regarding live events due to the imposed measures to prevent further spreading of COVID-19, the Erasmus School of History, Culture and Communication (ESHCC) nevertheless found a way to make the very first live event of the independent student magazine IBCoMagazine happen in collaboration with PAC and IBCoMagazine. After being postponed from June to September 18th, 2020, the happening finally took place at Podium aan de Maas in Rotterdam. This beautiful venue was chosen to organise both a PAC Symposium and an art exhibition showcasing the best works by the talented members of the IBCoMagazine 2019-2020 team.
The first bit of the afternoon was devoted to the PAC Symposium, where Media & Communication (IBCoM) alumni Anna Le Guennec and Carlijn Oosthoek and current third-year bachelor student and former IBCoMagazine editor-in-chief Cecilia Arroyo spoke about their professional careers and study experiences. The Symposium was led and moderated by Dr. Yijing Wang, chair of the PAC, who asked bright and interesting questions that allowed Anna and Carlijn to open up about their respective expertise, being quite on opposite ends of the professional spectrum. Anna, who is an assistant Marketing Manager at Unilever, and Carlijn, owner of two successful companies and currently founding a third, were able to provide insightful visions on what it is like to enter the professional field of communication and media and its job market. Furthermore, they were able to enlighten all event attendees – varying from current Media & Communication students, Media Master students, and ESHCC staff members – about their own experiences at Erasmus University Rotterdam. Being active in such different areas of the field, with Anna working at a large corporation and Carlijn as an independent entrepreneur, the audience was hooked from the first question.
The event had not been coined 'IBCoMagazine's Time Capsule' for nothing, as the three panel speakers had all studied IBCoM in different points in time and which provided ample room to provide an outline of the bachelor's programme throughout the years. Additionally, a great aspect was that Anna has been part of IBCoMagazine herself a few years ago. She and Cecilia enveloped into an in-depth conversation emphasising IBCoMagazine's growth and given they were speaking at IBCoMagazine's first live event, it soon became clear that the magazine has come a long way.
The panel discussion was concluded with a Q&A session, after which it was time for everyone to start wandering around the room to enjoy the artworks the magazine members had made. All works were connected to IBCoM in one way or another, varying from paintings, graphic designs, poems, drawings, and more. The last bit of the afternoon was spent in a beautifully sunlit room downstairs at the venue, that was catered with drinks and snacks. The get-together, including some networking opportunities and event evaluations, was welcomed with open arms by all participants, of which many had not seen each other for a while because of the pandemic situation. It was great to be able to organise such an enriching 'corona-proof' event that may have helped many students gain a sense of certainty regarding their next steps and future careers in the media and communication fields that are increasingly faced with challenges, especially in such insecure times.
Written by Sara Haverkamp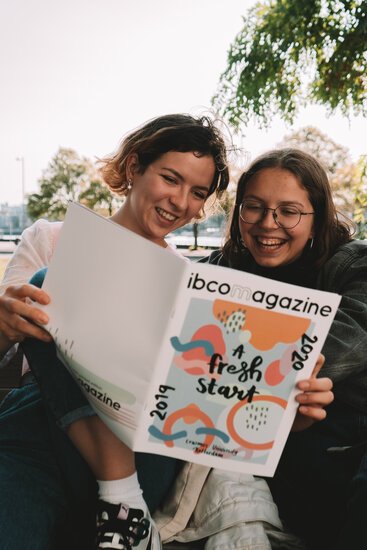 PAC Symposium - IBCoMagazine Time Capsule
PAC Symposium - Managing Corporate Communication in Digital Age 2020
On Thursday, the 27th February 2020, four experts were invited for the PAC Symposium on Managing Corporate Communication in Digital Age 2020. Each of them tackled communication management from a different perspective, including corporate communication, content strategy, thought leadership and visual thinking. They shared their professional expertise, critical minds and personal learning points with IBCoM students through presentations and a panel discussion. Below is a biography of the speakers.
Mr. Matthew Apperley is a Content Strategist at ABN AMRO. Matt had a background in academia. His current role at ABN AMRO focuses on creating and implementing brand and content guidelines for ABN's new design system. Matt is also looking into ABN's translation strategy and trialling new collaborative ways of working for content, design, and development.
Ms. Nicoleta Anton is TomTom's manager thought leadership, working to position the company as the world's leading independent location technology specialist. As a copywriter, she uses the voices of TomTom's experts to help the company gain authority in areas such as autonomous driving, maps, safety, security and technology leadership. With a master's degree in Communication and 10 years of professional experience in marketing communications and training, Nicoleta's goal is to make the complex simple and ensure each message has the desired effect on the right audience.
Mr. Laurens J. Ohlenroth is an all-round communications professional with almost 20 years of experience in corporate communications, internal communications and public affairs. From September 2019, he works at senior communications advisor at Stedin. Social inclusion, communications and writing are the three red threads in his life. He cares for social inclusion because people are still being excluded, ignored or bullied. For him, inclusion is a matter of humanity – of taking care for one another.
Mr. Robert Smit, Co-Founder and Visual Designer at Flatland Agency, a Visual Design Thinking agency based in Rotterdam. His background -like most of the team- is in product design at the TU Delft. Flatland combines design methods and the magic of drawing to design, communicate and activate complex processes together with clients, such as company strategies or team visions. He wants to use the power of visuals together with the right people to make an impact for Good.
NEWS UPDATE: A Best Essay Award was organized in association with the symposium. Students who attended the symposium wrote a reflection essay on the experts' talk and shared their views on critical questions imposed by experts. The winners of the Award are Gina Voigt and Ellen Tjiong (second-year IBCoM students). Our guest speaker Mr. Matthew Apperley, Content Strategist at ABN AMRO, will organize an "ABN AMRO Day" with both winners. After reviewing all nominated essays, Matthew concluded that both winning essays showed a detailed and thoughtful understanding of the topic and an excellent response to his question. Moreover, he was very impressed with the level of engagement with the topic in regards to positioning it within the literature. Matthew looks forward to welcoming both Gina and Ellen at ABN AMRO soon, and would also like to thank all nominated students. Congratulations!

PAC Symposium - Managing Corporate Communication in Digital Age 2020
PAC Event - Making Positive Change in the Post-Trust Era: Challenges for Organisations and Individuals
Trust and authority are challenged by fake news and misinformation in the post-trust era. What does the decline of trust mean for organizations and society at large? Do businesses and individuals carry responsibility for the pickle we find our world in? How do we make positive change through our expertise in media and communication? Which stands should we take strong and act on? These questions and more were central in the discussions during the PAC Event of Friday 4 October 2019. The event was part of the programming for the IBCoM Lustrum Event, and was accessible to alumni from the IBCoM programme, IBCoM students, and Master Media Studies students. The speakers at the event were: 
Mark Jansen, Chief communications officer @ Google Northern Europe
Dennis Naaktgeboren, Chief of news @ newspaper the Algemeen Dagblad
Claudia Verhulp, Spokesperson for the Rotterdam mayor Aboutaleb  
Christina Moreno, CEO at She Matters.
The event started with a welcome and opening by Dr. Yijing Wang to introduce the topic. This was followed by a panel discussion on "Trust & truth in media and communication" moderated by Dr. Mijke Slot. After that, further discussions happened in a World Café setting, moderated by Dr. Joep Hofhuis.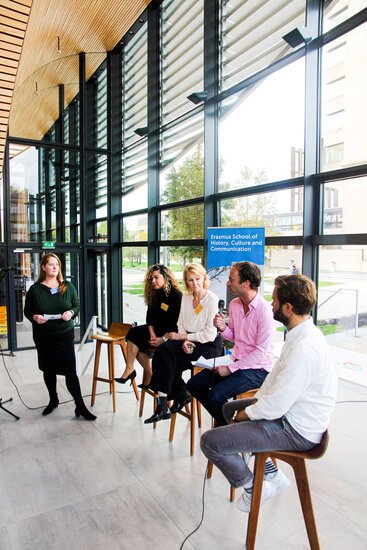 PAC Event "Making Positive Change in the Post-Trust Era: Challenges for Organisations and Individuals"
Symposium - Managing Corporate Communication in the Digital Age
On 1 March 2019 the PAC organised a symposium on Managing Corporate Communication in the Digital Age. At this symposium, five professionals from the field gave presentations on Corporate Communication Strategy and afterwards formed a panel for a Q&A session. The participating professionals were:
Hans Koeleman, Chief Corporate Communication & CSR at KPN, and President of the European Association of Communication Directors
Nicoleta Anton, Global Thought Leadership Strategist at TomTom
Laurens J. Ohlenroth, Communications Manager at Nederlandse Spoorwegen (NS)
Anne Pleun, CEO of Paper on the Rocks
Richard Spaans, Head of Communications and Public Affairs at Huawei Netherlands

PAC Symposium 1 March 2019
PAC World Café - Festivalisation and the city: A media and communication perspective
On 7 December, the PAC hosted a World Café on "festivalisation and the city – a media and communication perspective" at Platform 21 in Rotterdam. This event was organised together with Dr. Arno van der Hoeven, Dr. Erik Hitters and Dr. Tonny Krijnen. It aimed at enhancing the link between our students and the experts in the work field, and included high-profile speakers, panel session and roundtable discussions. 
Festivalisation is the process by which cultural institutions, such as cinema, theatre, arts center or gallery increasingly orient part of their program around a theme or event, concentrated in space and time. Every year, distinctive festivals are organized in Rotterdam, such as the Rotterdam Roof Days, International Film Festival Rotterdam, Rotterdam Museum Night, Festival Jazz International, amongst others, which not only reflect the themes of the city but also deeply penetrates throughout the city and into the world. The key to these successful festival lies in appropriate marketing, media campaign and advertising, regardless of the diverse purposes of the festivals. What's more, festivalisation can itself be a marketing/communication strategy for organisations: presenting the core activities of one organisation in the setting of a festival. Or in other words, festivalisation as a means of reaching out to specific/new/potential audiences. Furthermore, festivals communicate a certain image about the city: a lively place full of cultural activities. So the focus on specific themes/festivals can support urban branding.
During the 2nd PAC World Café, we explored the various aspects of festivalisation, and the important role of media and communication in its process. Our distinguished speakers shared how they made successful festivals happen in Rotterdam. They also discussed in a roundtable setup about how knowledge on media and communication may contribute to the organization of a remarkable event. The participating speakers were:
Gerdine Kruik, Marketing and Communications at Rotterdam Philharmonic Orchestra
Gilles de Sitter, Marketing Manager of Architecture Film Festival Rotterdam and Circusstad Festival
Laurens van Wesep, Co-founder of Creativ Minds and organizer of the Jaws at the Kralingse Plas
Laurin Ivetic, Front-End Specialist and Content Manager at the International Film Festival Rotterdam
David Kuiper, Marketing Manager of Baroeg Open Air

Photo album PAC Event 7 December 2018
PAC World Café #1 - The Power of Storytelling
On 1 June, the first PAC World Café on the Power of Storytelling took place. During this World Café, the various aspects of storytelling were explored, and the importance of it for the media, communication and business field. The distinguished speakers shared with our students how they use storytelling as a powerful way to inspire action. The event aimed at enhancing the link between our students and the experts in the work field.
Storytelling is an important principle to get a message across and to engage audience members, users, customers or citizens in different disciplines, such as in journalism, creative industries, media and marketing departments of organisations and brands. Since the adoption of the internet and social media, this concept seems to be more important than ever -- It is perceived as a powerful tool in our digital era to get the attention of people in a world of information overload.
The concept of storytelling has several layers: On the one hand, a story needs to be created and contains certain elements, such as characters, suspense, humour or visuals. On the other hand, storytelling can be perceived as an activity in which the story is shared with a specific audience, through one or more channels. The sender has a particular purpose in mind by telling the story, the receiver has motivations to pay attention to the story, and give his/her own interpretation – and maybe even contribute to it.

Photo album PAC Event 1 June 2018
M&B Symposium - Leading in Tumultuous Times: What Digitalisation Means For the Future of Media and Business
The PAC was formally established as an immediate follow-up to the Media and Business Symposium on Leading in Tumultuous Times - What Digitalisation Means for the Future of Media and Business, held on 8 December 2017 and hosted by the Master Media & Business. Industry professionals as well as interested MA and BA students and alumni were invited to join an inspiring event to explore what digitalisation means for the future of media and business. High-profile speakers Pascal Beucler (MSLGROUP) and Lara Ankersmit (NOS) dived into the topics of thought leadership, people's relations, and digital communication strategies in they keynotes.
In today's ever changing media environment, it is key to consider redefining communication and the communicator. Organisations are more and more influenced by the voice of their consumers and by a constant stream of technological innovations. During different breakout sessions, professionals and guests of the event explored areas such as contemporary storytelling, customer decision journeys, privacy matters, and reputation building.
In a plenary session, professionals with years of experience within the fields of communications and business discussed the changing communications landscape. Panelists for this discussion were:
Nanda Huizing, Head of Brand, Communications & Digital at Philips Benelux
Murli Poonath, Director Joint Ventures at Air France-KLM
Truus Huisman, Plastic Maker Hubs and former VP Sustainable Business and Communications at Unilever Europe
Pascal Beucler, Senior Vice President and Chief Strategy Officer at MSLGROUP
Alumni Panel & MA Thesis Award
During the M&B Symposium, a prize was awarded to the master thesis that reflects the Media and Business programme the best: a thesis that is smart, relevant, innovative, critical and well-written. The three nominees for the MA Thesis Award were:
Sarah Girod: The programmatic (R)evolution. Transformations in the German online advertising market after the introduction of programmatic trading techniques
Lina Janezic: Personalization friend or foe? Personalization as a driver for innovative business models in the online news media market
Marcus Opitz: From #InsideAmazon to #WeAreVolkswagen. Employee social-mediated crisis communication as reputational asset or threat?
The MA Thesis Award was won by Marcus Opitz for his thesis "From #InsideAmazon to #WeAreVolkswagen: Employee Social-Mediated Crisis Communication as Reputational Asset or Threat?" Marcus was present at the event to accept the award - congratulations!

PAC M&B Symposium 8 December 2017