Is this the programme you're looking for?
Do you want to discover how historical events have an influence on our daily lives? And are you looking for a more practical master, focused on the labour market, while applying historical methods? Then the master specialisation Applied History is the right programme for you.
Key Facts & Figures
Type

Master

Degree

MA

Mode of study

Full-time | Part-time

Instruction language

English

Duration

1 year

Study points (EC)

60

Location

Start date

September

Application Deadline (EEA)

15 May
The study programme in a nutshell
During the master specialisation Applied History, you will learn to put cultural, economic, political, and social historic events into perspective of the present. Because this master has a 'practical' approach, you will be prepared well for the working field. You will acquire crucial skills to gather, analyse and present data in a professional way and learn the skills to analyse and tackle contemporary challenges from a historical perspective. As part of your final project, you will have the opportunity to take a longer internship and write a documentary script or an outline for an exhibition as your final project, next to conducting an academic research.
''You can really make it your own so if you're interested in history this is really the study for you.''
What you will learn
Learn how to use long-term perspective if we want to come with sustainable solutions for global and local problems;
understand how a historical perspective can help policy makers, by studying the historical development of global challenges – such as domestic violence, climate change or gender equality;
learn digital and analogue methods to collect information;
take a longer internship to apply what you have learned directly into the field;
be able to develop more practical  products, next to classical academic research papers.
Want to know more? Meet us here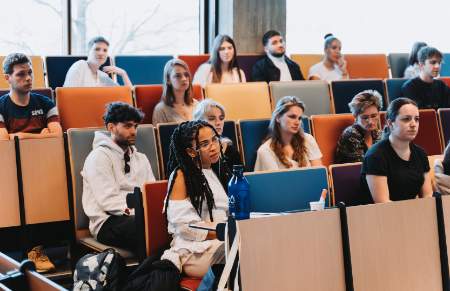 Career opportunities after graduation
The master specialisation Applied History will jumpstart your career as a historian or researcher. But you can also work as a policymaker, manager or researcher at cultural institutions, government authorities, consultancies, archives or in the media.