Is this the programme you're looking for?
Are you interested in the ever-changing media environment and the ways in which the media are shaped by and affect our personal and social lives? Are you curious, maybe worried, or hopeful about the role of the media in cultural and political transformations? Then the master specialisation Media, Culture & Society is the right programme for you.
Key Facts & Figures
Type

Master

Degree

MA

Mode of study

Full-time

Instruction language

English

Duration

1 year

Study points (EC)

60

Location

Start date

September

Application Deadline (EEA)

15 May
The study programme in a nutshell
Media, Culture & Society is one of the five master Media Studies specialisations. This specialisation offers students key tools to examine and understand the complex and changing roles of the media in our personal, political, and cultural lives. In te different courses, we pay close attention to media representation, as well as to processes of production distribution, and reception of established and emerging media. We take today's ubiquitous digitalisation seriously and critically, keeping in mind broader historical phenomena and specific socio-cultural contexts.
''It basically takes a sociological perspective on how media works in our daily lives.''
What you will learn
Gain expertise on key developments in the media world and their wider societal causes and consequences;
acquire state of the art knowledge about processes of media production, distribution, and reception;
learn how to systematically examine these processes and their implications;
analyse complex social and cultural phenomena related to the fast-changing media environment;
train academic skills such as critical reading, presenting, debating, writing, and conducting empirical research.
Want to know more? Meet us here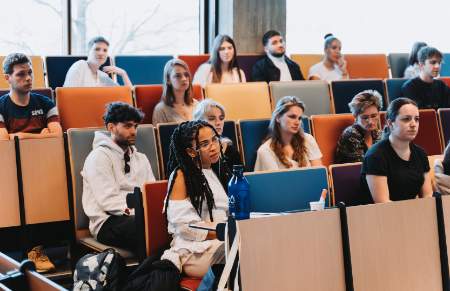 Career opportunities after graduation
Media, Culture & Society graduates are well-informed and socially committed professionals with excellent prospects on the labour market. Many of our graduates fulfil management, marketing, and public relations functions in the media and communication sector, the creative industries, or the art world. Some work as editors, journalists, or producers in various media. Others are policy makers or consultants in governmental and not governmental organisations, or follow and academic career.
What do our students think?