Is this the programme you're looking for?
Media, Culture & Society is one of the five master Media Studies specialisations. It offers students key tools to examine and understand the complex and changing roles of the media in our personal, political, and cultural lives.
Key Facts & Figures
Type

Master

Degree

MA

Mode of study

Full-time

Instruction language

English

Duration

1 year

Study points (EC)

60

Location

Start date

September

Application Deadline (EEA)

15 May
The study programme in a nutshell
Students will acquire state of the art knowledge about production, distribution, and the reception of on- and off-line media and their impact on society. They will be equipped to analyse complex social and cultural process related to the fast-changing media environment. And students will join a highly international, small-scaled classroom where interactive discussions bring together theory and practice.
''It basically takes a sociological perspective on how media works in our daily lives.''
Want to know more? Meet us here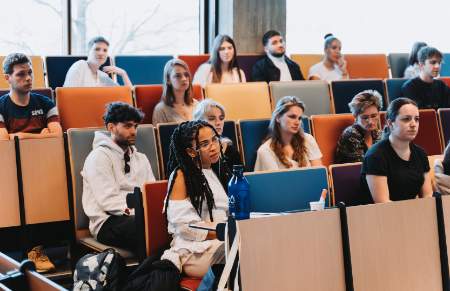 Career opportunities after graduation
Media, Culture & Society graduates are prepared to work in the media, as well as in the wide range of profit and non-profit organisations increasingly reliant on media work. Alternatively, many graduates successfully opt for an academic or research career.
What do our students think?