Is this the programme you're looking for?
IMARC is a 2-year interdisciplinary research programme in international criminology offered by two universities, focusing on the critical, cultural and global dimensions of border crossing, security and social justice. IMARC aims to address the need for internationally oriented and interdisciplinary trained researchers that can offer original insights and analyses as well as innovative, effective and ethical solutions to advance both policy and practice and academic research. The overall programme provides students with an opportunity to study a broad range of substantive criminological issues whilst simultaneously providing a robust theoretical foundation within which students can develop deeper analytical and critical thinking. As a research-intensive master's programme, there is also a strong emphasis on providing students with training in a variety of research approaches and methodologies and an extended dissertation. Because these issues cross disciplinary, cultural and national boundaries, the labor market will increasingly need employees who are able to think, communicate and act across borders. International companies and universities demand professionals with this knowledge. IMARC facilitates a programme for a multidisciplinary group of students who, on the one hand, want to develop knowledge, skills and expertise around the themes of migration, security and social issues and who, on the other hand, want to develop more research skills and have more time for research. IMARC aims to train students for the professional field at NGOs, (semi) public authorities, international private companies and research institutes within Europe and beyond.
Key Facts & Figures
Type

Master

Degree

MSc

Mode of study

Full-time

Instruction language

English

Duration

2 years

Study points (EC)

120

Location

Start date

September

Application Deadline (EEA)

30 June
The study programme in a nutshell
We offer:
Critical theoretical and practical perspectives on border-crossing, security and social justice.
Qualitative and quantitative criminological research skills. One year is allocated in the curriculum for conducting research. In this way, the program meets the research ambitions of excellent students who want to grow into research positions.
Engagement in research and being open minded to reflect and respond to new developments and current discussions in criminology and the work field of borders, security and social justice.
The programme brings together learning, research and practice through collaboration with already well-established partners among which governments, ngo's, corporate actors and other Universities, which contributes to the employability of our students.
Participation in international conferences, twice a year with students form other universities (Common Sessions).
You will have the possibility to attend a joint master programme devoting special attention to research mobility and intercultural exchange. 
Upon successful completion of the Joint Master's Programme, you will be awarded with a double degree: the national degree of the university you spent at least one semester.
What you will learn
You will learn:
to combine academic expertise and research in order to tackle complex issues from a European and global perspective. This allows you to contribute effectively to the protection of human rights. Students gain a well-founded understanding of border issues, social justice and security.
about border issues with special attention to migration. Points of view from different disciplines (legal, political, cultural and sociological approaches) are combined. The concept of social justice draws from legal, sociological, and political research traditions and includes concerns that may overlap and interact.
transversal skills such as creativity, entrepreneurship, problem-solving attitude, reflective thinking and perseverance. Through program mobility, organising social events and reflective meetings about differences in learning methods, you develop cultural sensitivity to ethics, cross-cultural differences and integrity. Skills related to leadership, communication and cooperation are included in the IMARC curriculum.
Is this the right programme for you?
Are you looking for:
a research-oriented programme? One year (2nd year) is allocated for conducting research and writing your thesis. During the first year you follow taught modules.
an interdisciplinary criminology programme that is distinctive from related offerings on the themes of border crossing, migration, human rights and social justice?
a critical-reflexive approach to these themes?
mobility in your master programme? The compulsory mobility promotes employability and personal development.
building a network during your programme? IMARC has an international collaboration with international universities and organisations (associate partners and network partners).
gaining a new experience in an informal setting with a group of international fellow students? An important part of IMARC is the Common Study Program in Critical Criminology (CSP), a 40-year collaboration with 15 international universities. Twice a year, students and staff come together in one of the university centers for a 'Common Session'. The CSP offers students the opportunity to participate in a series of structured and informal sessions.
Want to know more? Meet us here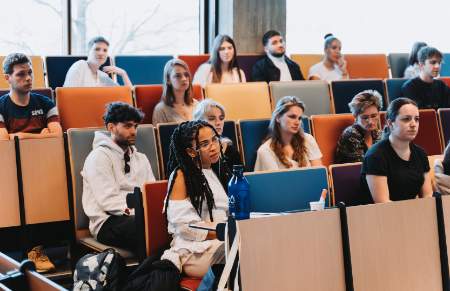 Career opportunities after graduation
The geopolitical changes show that there are more and more organisations involved in combating or preventing migration, security, crime and social justice.
Alumni can work in a variety of industries at different levels in analytical roles, policy-making roles, research roles or PhD positions.
Potential employers are inter- and non-governmental organisations, national and European government departments, consultancy firms, research and academic institutions, banks and insurance companies and consultancies.
IMARC alumni work at international organisations in the Netherlands, EU organisations or national organisations in other countries. The analysis, policy or research roles are fulfilled in both (semi-)government organisations and in the private sector, where they often work in positions to understand and explain international trends in the field of migration and social exclusion.