SSH
Erasmus University Rotterdam (EUR) offers accommodation at SSH for roughly 20% of our yearly incoming international students. These rooms are reserved for first year international Bachelor, Master or Exchange students for the maximum rental period of 12 months. 
SSH will handle the whole process – from making a room reservation to payments. But certainly EUR is constantly in touch with SSH 'behind the scenes' to make sure the quality and services level remain high.
The registration at SSH for the academic year 2020-2021 opens on:

Tuesday 7 April 2020 at 12 PM CET

Your registration will be reviewed by Erasmus University Rotterdam. After approval you can book an accommodation starting:

Tuesday 14 April 2020 at 12 PM CET

Between 7 and 14 April you cannot book a room yet, but you can orientate on the different rooms that we offer at https://booking.sshxl.nl.  

How:

You can register as of Tuesday 7 April 2020 through this website: https://www.sshxl.nl/en/select-register (Short Stay Accommodation).

To know what to expect, we strongly recommend that you read all information about the room reservation procedures as well as the information on 'Your Short Stay through SSH'. 

IMPORTANT INFORMATION

After registration at SSH the application for housing is automatically send to the contact persons of the faculty. They will verify your application and determine whether you are authorized to apply for accommodation from the housing offer reserved by the Erasmus University.

As soon as the status of your application is set to "Approved" you can make a reservation at one of the available accommodations.

Unfortunately each program at the Erasmus University Rotterdam can only approve a limited number of accounts. If your account is not approved by the faculty, this means that there are no more rooms available for your program. Even though you can still see rooms available, the faculty will not be able to approve your registration. The remaining available rooms are meant for other faculties at the Erasmus University Rotterdam. You will receive an email from the faculty when they are no longer able to approve your registration.

The rent for short stay accommodation for international students is in general always higher than rents Dutch students are paying. This is because you are renting fully furnished accommodation, including several extra services, available upon your arrival.

Prices for short stay accommodation range between € 435 and € 680 including services. You will find actual rental prices and what is included or not on the website of SSH.

Also SSH has fixed rental periods. For 2020-2021 those are:

Full year students:

15 August 2020 – 14 August 2021

Exchange Students

Fall Semester

15 August 2020 – 31 December 2020

15 August 2020 – 31 January 2021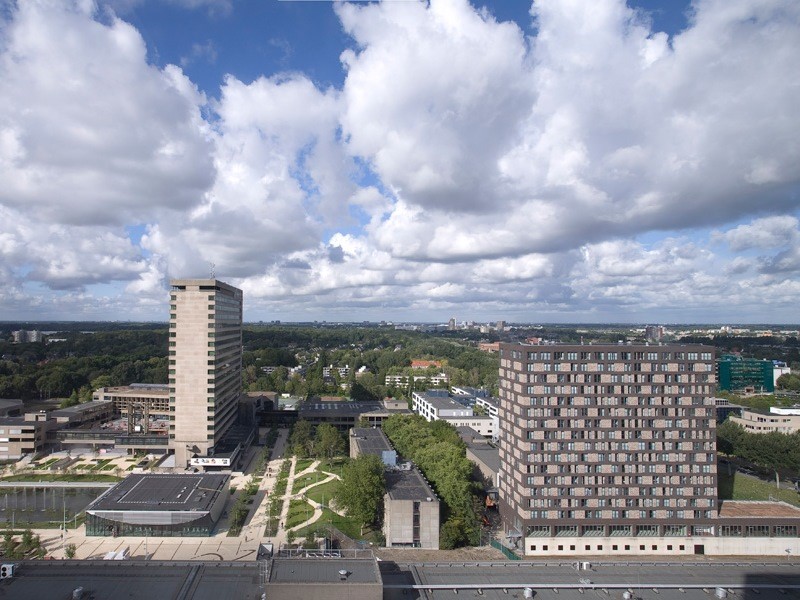 Location rooms
All SSH accommodation designated for short stay is located on Woudestein campus or within walking distance of campus.
The buildings F and Hatta are located on campus Woudestein

See pictures below of the rooms in Hatta building.

The other buildings are within walking distance (15 minutes) of the campus.
On the SSH website, you can check out the available accommodations. It goes without saying that if you're late making a reservation, fewer options will be available.
Terms of notification
Please be aware of the fact that short stay rooms are available through SSH on a fixed-rental agreement only, meaning that the tenancy cannot be terminated early. Look on the SSH website for the Terms & Conditions.