Is this the programme you're looking for?
This joint programme offers the unique opportunity for interdisciplinary studies of law and economics at multiple universities (European and non-European).
Key Facts & Figures
Type

Post-master

Degree

LLM

Mode of study

Full-time

Instruction language

English

Duration

1 year

Study points (EC)

60

Location

Start date

October

Application Deadline (EEA)

15 January
The study programme in a nutshell
This joint programme covers one academic year and is subdivided into three terms. You will study at renowned universities in an international and stimulating setting. The programme is focused on the economic analysis of law in general, followed by specialized courses in three different tracks you can opt for. These are the Public & International track, the Markets, Corporations & Regulators track and the Innovation & Intellectual Property track. You will finish the academic year by writing a thesis.
The EMLE programme allows students the unique chance to study at least at two different European universities, with the option of attending even a third European or a non-European university. This creates an international framework through the universities, scholars and lecturers, and of course, the students themselves. Within one academic year, students are coming from more than 30 different countries, which creates a global working atmosphere while providing constant opportunities to improve social skills and cultural competences.
Want to know more? Meet us here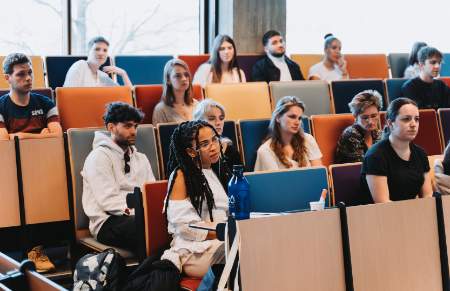 Career opportunities after graduation
Graduates will be well prepared for a professional career in public organisations, in multinational law firms or consultancy firms. Because of the interdisciplinary approach, graduates can go into either the legal or economic field or combine both backgrounds in their work. The programme also allows for a seamless transition into academia, for example, through the European Doctorate of Law and Economics (EDLE) or other PhD programs. Our alumni end up all over the world, working and continuing their studies. Read more about our career prospects.