Wat betekent een harde Brexit voor de scheepvaart in de haven van Rotterdam?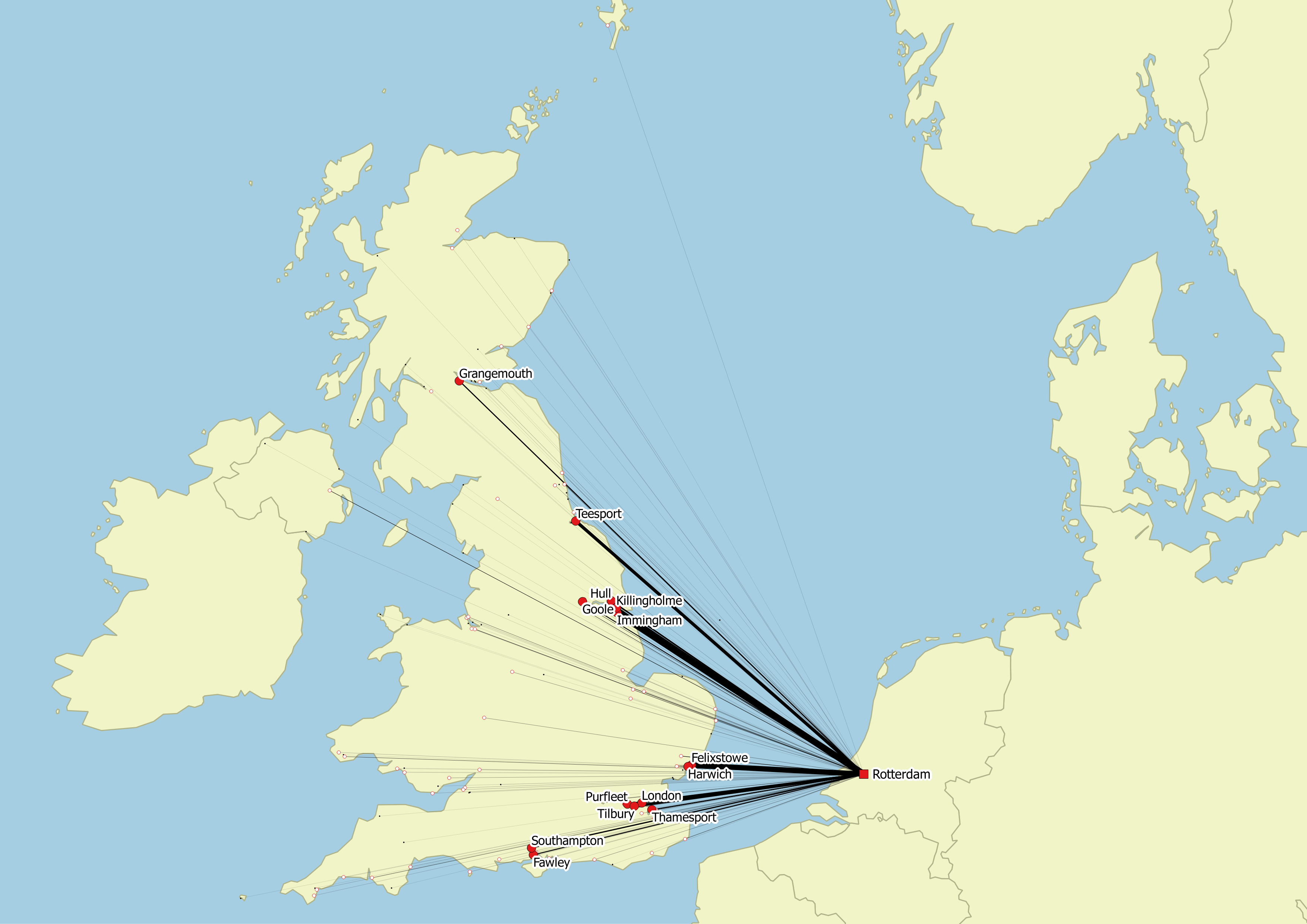 Met de recente ontwikkelingen wordt een harde Brexit een steeds reëlere uitkomst. In de studie 'Gaan we het schip in?' becijferde het KiM (2018) eerder dat ongeveer 22,3 miljoen ton lading (7,3 procent van het inkomende Rotterdamse totaal), bloot wordt gesteld aan handelsbelemmeringen als gevolg van een hardere Brexit variant. Bij een harde Brexit op 29 maart 2019, wordt het Verenigd Koninkrijk de eerst volgende dag een 'derde land' en verloopt de handel, zonder andere afspraken op basis van de regels van de Wereldhandelsorganisatie (WTO). Concreet betekent dit dat deze schepen ingeklaard moeten worden door de douane, wat naar verwachting zal leiden tot vertraging in de Rotterdamse haven. Doordat de voorbereidingen van dit inklaren tijd kosten, zullen de terminals mogelijk verstopt raken, wat in het meest extreme geval ertoe kan leiden dat schepen niet meer kunnen worden gelost. De Ierse regering is al begonnen met stukken grond kopen om kantoren, douaneposten en parkeergelegenheid voor vrachtwagens te realiseren (NOS, 2018). De onderzoekers van Erasmus UPT bieden u een beknopt inzicht in wat een harde Brexit onder meer betekent voor de scheepvaart in de haven van Rotterdam.
Het Erasmus Centre for Urban, Port and Transport Economics (Erasmus UPT) becijfert dat er in 2017 totaal 8.861 schepen zijn aangekomen in de Rotterdamse haven afkomstig uit het Verenigd Koninkrijk; in totaal voeren 7.793 schepen de omgekeerde route. Er vanuit gaande dat deze aantallen in 2019 ongeveer gelijk zijn, is er sprake van een flinke groep schepen, om en nabij de 24 schepen per dag, die potentieel overlast ervaren bij een harde Brexit. Van de schepen die in 2017 in Rotterdam aankwamen bestaat 34 procent uit Ro-Ro schepen, 30 procent uit containerschepen, 19 procent uit general cargo schepen en 15 procent uit tankers (overig bestaat uit Bulk en LNG). Voor het overgrote deel zijn dit schepen van relatief bescheiden formaat voor Rotterdamse begrippen; 60 procent tot 10 duizend DWT en 31 procent tussen de 10 en 25 duizend DWT.
In de figuur is te zien dat vanuit allerlei havens in het Verenigd Koninkrijk schepen naar Rotterdam kwamen; het zwaartepunt ligt in het oosten, waarbij vooral uit Immingham, Felixstowe, Teesport en Killingholme de meeste schepen komen. Maar wat betekent een eventuele harde Brexit nu eigenlijk concreet in euro's voor deze schepen? Een klein gedachtenexperiment. Een gemiddeld containerschip uit het Verenigd Koninkrijk heeft een capaciteit van ongeveer 2.800 TEU. Bij het laden en lossen van 600 containers in Rotterdam, aannemend dat er een vertraging van 4 uur extra ontstaat in het gehele transportproces - onder meer door congestie en administratieve lasten - én uitgaande van een gemiddelde prijs per uur aan wachtkosten voor een container van €2,00 per uur (rente, afschrijving en verzekering), leidt dit tot €4.800 extra kosten per schip. Aannemend dat de waarde van de wachttijd van andere scheepstypes ongeveer gelijk is aan dat van een containerschip, gaat het om ruim €42 miljoen aan proces- en wachttijd extra. Dit betreft slechts de kosten voor proces- en wachttijd van de stromen richting Nederland uit het Verenigd Koninkrijk en neemt bijvoorbeeld nog geen externaliteiten mee voor overige transportstromen of havenprocessen. De werkelijke impact is dus nog vele malen hoger.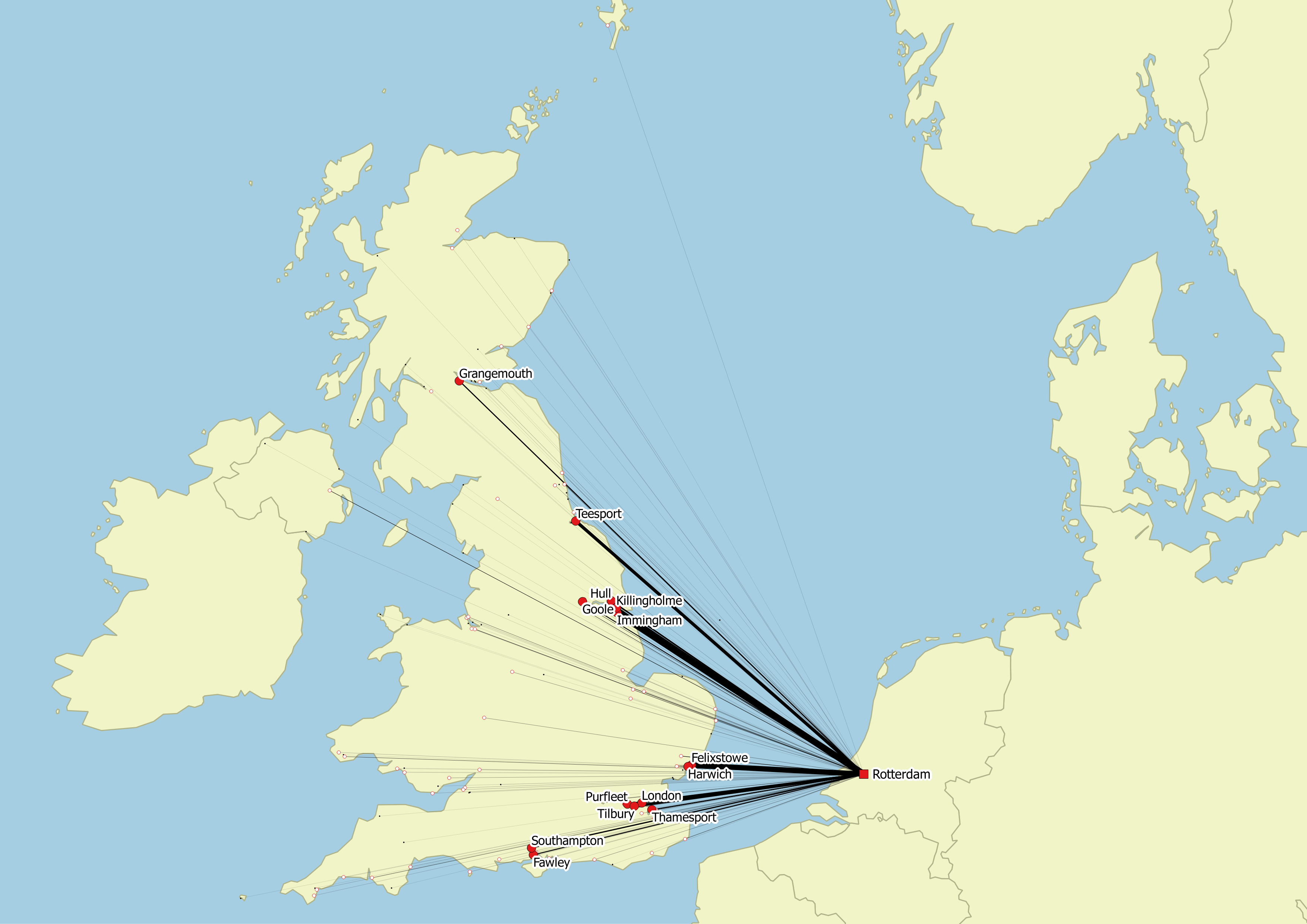 More information

Wilt u meer weten over het havenonderzoek van Erasmus UPT of heeft u inhoudelijke vragen over dit artikel, neem contact op met Martijn Streng (streng@ese.eur.nl of 010-4081556).

Related links