Is this the programme you're looking for?
If you're interested in how digital technologies might reshape how we work, organise, and govern, this new, multidisciplinary master track is the right fit for you.
Key Facts & Figures
Type

Master

Degree

MSc

Mode of study

Full-time

Instruction language

English

Duration

1 year

Study points (EC)

60

Location

Start date

September

Application Deadline (EEA)

17 June
The study programme in a nutshell
This master:
Provides multiple perspectives and tools to study digital transformation technologies in the changing world of work.
Is a new, multidisciplinary master that deals with technologies which have been at the forefront of the popular and academic imagination.
Offers professional skill development to work in organisational contexts pervaded with technological innovations.
Has dedicated professors from the fields of psychology, sociology, and public administration teaching classes together to offer different viewpoints.
Organises field trips to organisations to get an understanding of current developments in the field.
Watch the study programme video
What you will learn
The programme elaborates on questions such as the type of work that is affected by these technologies and how, the kind of perspectives and (in)equalities this brings about and for whom, the ethical and privacy concerns that may rise, and how we might deal with the consequences of these technologies on the individual, organisational, and societal level. It provides you with tools to navigate these issues, to develop your own understanding of them and to be able to advance technological interventions or intervene in them.   
Is this the right programme for you?
Rapid digital transformations, such as artificial intelligence, robotics, and algorithms, change the organisation of work. This raises questions on the individual, organisational, and societal level. For example:
How does AI reshape collaboration and communication among employees?
Are hierarchical relationships at work restructured by robotisation?
Does platformisation influence our understanding of self-employed workers?
The programme provides you with multiple perspectives and tools to study digital technologies in the changing world of work (building on insights from Psychology, Sociology, and Public Administration).
Want to know more? Meet us here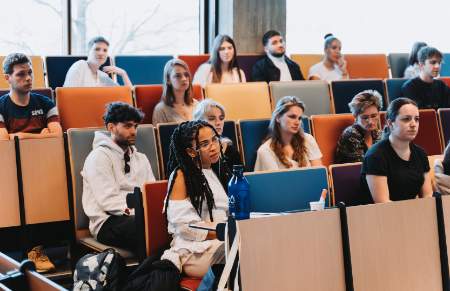 Career opportunities after graduation
Understanding of how digital technologies (re)shape organisational dynamics and how to intervene is key whether you will be a policy maker, a consultant, an HR advisor, a teacher and/or a researcher.
What do our students think?