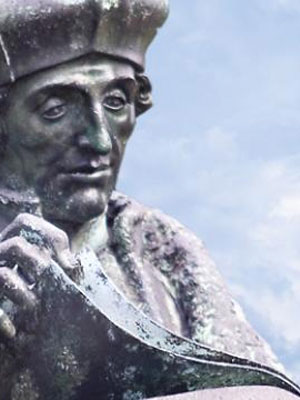 External PhD candidate
Erasmus School of History, Culture and Communication
Department of History
Location

Burg. Oudlaan 50, Rotterdam

Email
‹

Back to overview
Profile
Alice Janssens is a PhD candidate and lecturer at the Erasmus School of History, Culture and Communication.
In December 2016 she began her fully-funded research project upon fashion capitals and the business and economic history of the Berlin fashion industry, provisionally titled The Rise and Fall of Berlin as a Fashion Capital: 1924-1939. The project, supervised by Prof. Dr. Hein Klemann and Prof. Dr. Ben Wubs, aims to explore the success and decline of the Berlin fashion industry during the Interwar period. The research is the pilot of a larger project on global fashion capitals.
Alice Janssens holds a Master degree in Cultural Economics and Entrepreneurship from Erasmus University Rotterdam (2016) and has worked in the fashion, cultural heritage and contemporary art sectors. Her main research interests include fashion history, business history, economic history, economics of the cultural industries, and 20th century political history. 
Alice Janssens (4 March 2020) - Episode 9: The Future of Fast Fashion with guest star Alice Janssens - Interviewee
Alice Janssens (26 November 2019) - FASHION REVOLUTION IS EVERY DAY - FASHION REVOLUTION IS EVERY DAY
Alice Janssens (15 August 2018) - An Interview with a Fashion Economist - An Interview with a Fashion Economist
Alice Janssens (2019) - First Class Workmanship' at 'Reasonable Prices': Berliner Arbeit on the world market - CEGBI PhD Seminar
Alice Janssens (2019) - Selling Berlin in Germany: Berliner Fashion and Clothing in the Broader German Market - German Historical Society Annual Conference
Alice Janssens (2019) - Aus Pariser Modelle: French Fashions for Berliner Houses - European Business History Association Annual Conference
Alice Janssens (2019) - Interwoven Spaces: Exploring Interwar Berlin as a Fashion City - Forschungskolloquiums Wirtschafts- und Sozialgeschichte
Alice Janssens (2019) - 'First Class Workmanship' at 'Reasonable Prices': Berliner arbeit on the world market - Everyday Fashion: Extraordinary Stories of Ordinary Clothes
Alice Janssens (2019) - Selling Berlin in Germany: Berliner Fashion and Clothing in the Broader German Market - Posthumus Institute Annual Conference
Alice Janssens (2018) - Berlin als Modenstadt: Fashion as Business in Interwar Berlin - Berliner Forschungskolloquium Wirtschafts- und Sozialgeschichte
Alice Janssens (2018) - Fashioning Berlin: Exploring the Characterization of Fashion Locations - Business History of Fashion Guest Lecture
Alice Janssens (2018) - Berlin, an early 20th Century fashion port - European Business History Association
Alice Janssens (2018) - The View from the Eiffel Tower: placing Berlin and Germany within a broader fashion network - Posthumus Institute with Prof. Dr. Geoffrey Jones
Alice Janssens (2018) - Fashioning Interwar Berlin - ADNG-WDNG 10th Workshop "Creative Communities in Cities and Regions: Historical Case-Studies from Germany and the Netherlands"
Alice Janssens (2018) - Fashioning Interwar Berlin: Exploring Fashion and Clothing in the German Capital - Fashion and the Supply Chain Workshop
Alice Janssens (2017) - The Rise and Fall of Berlin as a Fashion Capital: 1924-1939 - Posthumus Institute Basic Training "My Project in a Nutshell" Seminar
Alice Janssens (2017) - Fashion Capitals - CC3203 Economic Geography of Creativity and Urban Development Guest Lecture
Alice Janssens (2017) - Fashioning Interwar Berlin: Exploring Clothing and Style in the German Capital - Posthumus Institute and ESTER Research Network Research Design Course
Alice Janssens (2017) - Fashion Capitals - Business History of Fashion (CH9010) Course Guest Lecture
Alice Janssens (2017) - An Expensive Confusing and Ineffective Suit of Armour - Business History of Fashion Class (CH9010) Guest Lecture
Alice Janssens (2017) - Fashioning Interwar Berlin: Exploring Clothing and Style in the German Capital - European Business History Association Summer School
Alice Janssens (2017) - Fashioning Interwar Berlin: Conceptualising the German Capital's Clothing Industry - European Business History Association Annual Conference, Session D2: Fashion Capitals in the 20th Century
Alice Janssens (2017) - Berliner Schick: Fashioning the Interwar German Capital - Posthumus Institute Basic Training Seminar 2

Alice Janssens (2019) - Rotterdam Fair Fashion Tour 2: Waste Not Wear Longer - Getting Closer Fashion Festival
Alice Janssens (2019) - Rotterdam Fair Fashion Tour 1: Following Fair Fashion - Getting Closer Fashion Festival
Alice Janssens (2019) - Berlin, the 'Streetwear' Capital - Inspiration and Style Talks
Alice Janssens (2018) - Voices of NFS: Intellectual Property - The New Fashion Society: Voices of the New Fashion Society Lecture

Ben Wubs, Mariangela Lavanga & Alice Janssens (2020) - Fashion Theory: The Journal of Dress, Body & Culture (Journal)