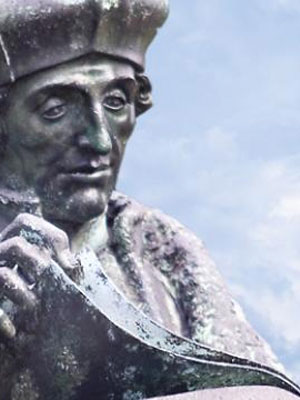 Erasmus School of Philosophy
ESPhil
Location

Burg. Oudlaan 50, Rotterdam

Room

H05-18

Telephone

0104088970

Email
‹

Back to overview
Profile
Prof. dr. Jack Vromen (1958) is professor of Theoretical Philosophy, with a special emphasis on Philosophy of Economics at Erasmus School of Philosophy. 
Jack Vromen obtained his PhD degree (cum laude) in Economics at the University of Amsterdam in 1994. Currently he is academic director of the Erasmus Institute for Philosophy and Economics (EIPE) at the Erasmus University of Rotterdam.
The main research area of Jack Vromen is the Philosophy of Economics, with an emphasis on conceptual and meta-theoretical aspects of the relation between evolutionary and economic theorizing.
Visit his personal website for more information.
Areas of PhD supervison
Philosophy of Economics

Philosophy of Social Sciences

Philosophy of (Cultural) Evolution
J.J. Vromen (2017). Ultimate and proximate explanations of strong reciprocity. History and Philosophy of the Life Sciences, 39 (3):25. doi: 10.1007/s40656-017-0151-4
S. Wouters, N.J.A. van Exel, K.I.M. Rohde, J.J. Vromen & W.B.F. Brouwer (2017). Acceptable health and priority weighting: discussing a reference-level approach using sufficientarian reasoning. Social Science & Medicine, 181 (May), 158-167. doi: 10.1016/j.socscimed.2017.03.051
C.B. Binder, H.C.K. Heilmann & J.J. Vromen (2015). The future of the philosophy of economics: papers from the XI. INEM Conference at Erasmus University Rotterdam. Journal of Economic Methodology, 22 (3), 261-263. doi: 10.1080/1350178X.2015.1071508
J.J. Vromen & N.E. Aydinonat (2012). Finding the right levers: the serious side of 'economics made fun'. Journal of Economic Methodology, 19 (3), 199-217. doi: 10.1080/1350178X.2012.714150
J.J. Vromen (2010). On the surprising finding that expected utility is literally computed in the brain. Journal of Economic Methodology, 17 (1), 17-36. doi: 10.1080/13501780903528945
J.J. Vromen & C. Marchionni (2010). Where economics and neuroscience might meet. Introduction to Special Issue of Journal of Economic Methodology. Journal of Economic Methodology, 17 (2), 103-106.
J.J. Vromen (2010). Where economics and neuroscience might meet. Journal of Economic Methodology, 17 (2), 171-183. doi: 10.1080/13501781003756691
J.J. Vromen (2010). MICRO-foundations in strategic management: Squaring Coleman's diagram. Erkenntnis. An International Journal of Analytic Philosophy, 73 (3), 365-383. doi: 10.1007/s10670-010-9237-z
J.J. Vromen & C. Marchionni (2009). The ultimate/proximate distinction in recent accounts of human cooperation. Tijdschrift voor filosofie, 71 (1), 87-117. doi: 10.2143/TVF.71.1.2036179
J.J. Vromen (2007). Neuroeconomics as a natural extension of bioeconomics: The shifting scope of standard economic theory. Journal of Bioeconomics, 2007 (9.2), 145-167. doi: 10.1007/s10818-007-9021-6
J.J. Vromen (2006). Routines, genes and program-based behaviour. Journal of Evolutionary Economics, 2006 (5), 543-560. doi: 10.1007/s00191-006-0028-2
J.J. Vromen (2004). Filosofie van de economie. Aelementair, 2 (3), 10-13.
J.J. Vromen (2004). An ambitious research agenda for studying economic evolution. Erwagen, Wissen, Ethik, 123-126.
J.J. Vromen (2004). Conjectural revisionary economic ontology: outline of an ambitious research agenda for evolutionary economics. Journal of Economic Methodology, 11 (2), 213-247.
J.J. Vromen (2003). Collective Intentionality, Evolutionary Biology and Social Reality. Philosophical Explorations, 6 (3), 251-264.
J.J. Vromen (2003). Why the Economic Conception of Human Behaviour Might Lack a Biological Basis. Theoria (San Sebastian), 18 (48 (Sep)), 297-323.
J.J. Vromen (2002). Een vruchtbare kruisbestuiving: rationele keuzetheorie en evolutie. Tijdschrift Erfrecht, 94 (1), 61-75.
J.J. Vromen (2002). Customs and Conventions. The American Journal of Economics and Sociology, 61 (2), 511-518.
J.J. Vromen (2002). Stone Age Minds and Group Selection - What differnce do they make? Constitutional Political Economy, 13 (2), 173-195.
M. van Hees & J.J. Vromen (2002). De vele gedaantes van de rationele-keuzetheorie. Tijdschrift Erfrecht, 94 (1), 3-15.
J.J. Vromen (1998). Economen en hun homo economicus: Striptease van ene persona non grata. Krisis, tijdschrift voor actuele filosofie, 20-37.

J.J. Vromen (2013). Economics Made Fun - Een nieuw genre, ter lering en vermaak. De academische boekengids, 11-13.
J.J. Vromen (1997). Markt en calculerend gedrag. Rekenschap, 45-57.

J.J. Vromen (2009). The booming economics-made-fun genre: more than having fun, but less than economics imperialism. Erasmus Journal for Philosophy and Economics (EJPE), 2 (1), 70-99.
J.J. Vromen (2009). Wat kunnen economen leren van evolutie? TPEdigitaal, 3 (4), 38-60.
J.J. Vromen (2002). Impurities all around? Some thoughts on Geoffrey M. Hodgson's Economics & Utopia: Why the Learning Economy is not the End of History (London: Routledge, 1999). Review of Social Economy, 60 (1), 115-123.

C.B. Binder, H.C.K. Heilmann & J.J. Vromen (2016). The future of the Philosophy of Economics (Routledge Special Issues as Books Series). London and New York: Routledge
J.J. Vromen & A. Lanteri (2014). The Economics of Economists: Institutional Setting, Individual Incentives, and Future Prospects. Cambridge: Cambridge Univesity Press
J.J. Vromen & C. Marchionni (2012). Neuroeconomics: Hype or Hope? Lonon: Routledge
J.J. Vromen (2010). Heterogeneous Economic Evolution: A Different View on Darwinizing Evolutionary Economics, Papers on Economics and Evolution #1015. Jena: Max Planck Institute of Economics
J.J. Vromen (2008). Ontological issues in evolutionary economics: the debate between generalized darwinism and the continuity hypothesis. Papers on economics and evolution # 0805. Jena: Max Planck Institute of Economics
P.P.M.A.R. Heugens, J. van Oosterhout & J.J. Vromen (2004). The Social Institutions of Capitalism: Evolution and Design of Social Contracts. Cheltenham: Edward Elgar Publishing
J.J. Vromen & J. Groenewegen (1999). Institutions of Capitalism. Implications of Evolutionary Economics. Cheltenham: Edward Elgar
J.J. Vromen (1995). Economic Evolution. An Enquiry into the Foundations of New Industrial Economics (Economics as Social Theory). London/New York: Routledge

J.J. Vromen & C. Marchionni (2019). Introduction. In Neuroeconomics. London: Routledge
J.J. Vromen (2019). Generalized Darwinism, Routines and Morality. In Institutions and Evolution of Capitalism; Essays in Honour of Geoffrey M. Hodgson (pp. 264-281). Cheltenham, UK: Edward Elgar
J.J. Vromen (2019). Generalized Darwinism in Evolutionary Economics: The Devil is in the Details. In Understanding Economic Change: Advances in Evolutionary Economics (pp. 120-154). Cambridge: Cambridge University Press doi: 10.1017/9781316477168
J.J. Vromen (2016). In defense of gradualism. In G.A.J.M. Jagers op Akkerhuis (Ed.), Evolution and Transitions in Complexity: The Science of Hierarchical Organization in Nature (pp. 149-155). Wageningen: Springer Verlag
J.J. Vromen (2014). The Perils of Narrative Teaching in Economics. In Lanteri & Vromen (Eds.), The Economics of Economists (pp. 256-284). Cambridge: Cambridge University Press
J.J. Vromen (2013). Competition as an evolutionary process. In M. Boumans & M. Klaes (Eds.), Rebel with Many Causes (pp. 98-124). Cheltenham: Edward Elgar
J.J. Vromen (2012). Theoretical isolation and the dynamics of dispute: Going beyond Mäki's de- and re-isolation. In A. Lehtinen, J. Kuorikoski & P. Ylikoski (Eds.), Economics for Real: Uskali Mäki and the Place of Truth in Economics (pp. 112-134). London: Routledge
J.J. Vromen (2012). Ontological issues in evolutionary economics: the debate between generalized darwinism and the continuity hypothesis. In U. Mäki (Ed.), Philosophy of economics (pp. 737-763). Amsterdam: North Holland (an imprint of Elsevier) doi: 10.1016/B978-0-444-51676-3.50024-5
J.J. Vromen (2012). Human cooperation and reciprocity. In S. Okasha & K. Binmore (Eds.), Evolution and rationality. Decisions, cooperation and strategic behaviour (pp. 158-184). Cambridge: Cambridge University Press
J.J. Vromen (2009). Advancing evolutionary explanations in economics: The limited usefulness of Tinbergen's four questions classification. In H. Kincaid & D. Ross (Eds.), Oxford Handbook of Philosophy of Economics (pp. 337-368). Oxford: Oxford University Press
J.J. Vromen (2009). Friedman's selection argument revisited. In U.I. Maki (Ed.), The Methodology of Economics. Reflections on the Milton Friedman Legacy (pp. 257-284). Cambridge: Cambridge University Press
J.J. Vromen (2008). Conjectural revisionary ontology. In E. Fullbrook (Ed.), Ontology and economics: Tony Lawson and his critics (pp. 325-334). Londen: Routledge
J.J. Vromen (2008). Routines, genes and program-based behaviour. In U. Witt (Ed.), Recent developments in evolutionary economics (pp. 458-475). Cheltenham: Edward Elgar
J.J. Vromen (2007). In praise of moderate plurality. In J.P.M. Groenewegen (Ed.), Teaching pluralism in economics (pp. 64-94). Cheltenham: Edward Elgar
J.J. Vromen (2007). What can be leart from 'serious biology and psychology'. In S. Ioannides & K. Nielsen (Eds.), Economics and the social sciences - boundaries (pp. 31-62). Cheltenham: Edward Elgar
J.J. Vromen (2006). Marshall and institutional economics: digging deeper into the interplay between institutions and individual behaviour. In T. Raffaelli, G. Becattini & M. Diardi (Eds.), The elgar companion to Alfred Marshall (pp. 679-687). Cheltenham: Edward Elgar
J.J. Vromen (2006). (Reprint) Conjectural revisionary economic ontology: outline of an ambitious research agenda for evolutionary economics. In J.B. Davis (Ed.), Recent developments in economic methodology, volume II (pp. 522-556). Cheltenham: Edward Elgar
J.J. Vromen (2006). (Reprint) Cognitive science meets evolutionary theory: what implications does evolutionary psychology have for economic theorising? In J.B. Davis (Ed.), Recent developments in economic methodology, volume II (pp. 53-81). Cheltenham: Edward Elgar
J.J. Vromen (2005). L'économie des institutions. In A. Leroux & P. Livet (Eds.), Lecons de philosophie Économique; Tome I Économie Politique en Philosophie Sociale (pp. 244-282). Parijs: Economica
P.P.M.A.R. Heugens, J. van Oosterhout & J.J. Vromen (2004). Social Contract Theories: E Pluribus Unum? In P.P.M.A.R Heugens & J. Van Oosterhout (Eds.), The Social Institutions of capitalism: Evolution and Design of Social Contracts (pp. 1-19). Cheltenham: Edward Elgar Publishing
J.J. Vromen (2004). Taking evolution seriously - What difference does it make for economics? In J.B. Davis, A. Marciano & J. Runde (Eds.), The Elgar Companion to Economics (pp. 102-131). Cheltenham: Routledge
J.J. Vromen (2003). Cognitive Science Meets Evolutionary Theory: what implications does evolutionary psychology have for economic theorising? In Salvatore Rizello (Ed.), Cognitive Developments in Economics (Routledge Frontiers of Political Economy, 48) (pp. 53-81). London: Routledge
J.J. Vromen & A. Jolink (2000). Arbeid, Organisatie en Technologie: Een Triade. In R. Weehuizen (Ed.), Toekomst@werk.nl: Reflecties op economie, technologie en arbeid (pp. 30-42). Den Haag: Stichting Toekomstbeeld der Techniek, STT
A. Jolink & J.J. Vromen (2000). Arbeid, Organisatie en Technologie: Een Triade. In R. Weehuizen (Ed.), Toekomst@work.nl: Reflecties op economie, technologie en arbeid (pp. 30-42). Den Haag: Stichting Toekomstbeeld der Techniek, STT
J.J. Vromen (1999). Implications of Evolutionary Economics: Theory, Method and Policy. In J.J. Vromen & J. Groenewegen (Eds.), Institutions of Capitalism: Implications of Evolutionary Economics (pp. 1-16). Cheltenham: Edward Elgar
J.J. Vromen & H.R.J. Vollebergh (1998). Grondbeginselen van de keuzetheorie. In H. Pellikaan & W. Hout (Eds.), Economische modellen en politieke besluitvorming; Inleiding in de rationele keuze-theorie (pp. 41-70). Bussum: Coutinho
J.J. Vromen (1997). Evolutionary Economics - Precursors, paradigmatic propositions, puzzles and prospects. In J. Reijnders (Ed.), Economics and Evolution (pp. 41-68). Cheltenham: Edward Alger
J.J. Vromen & J. Groenewegen (1997). Theories of the firm revisited: New and neo-institutional perspectives. In L. Magnusson & J. Ottoson (Eds.), Evolutionary Economics and Path Dependency (pp. 33-56). Cheltenham: Edward Elgar
J.J. Vromen & J. Groenewegen (1996). A Case for Theoretical Pluralism. In J. Groenewegen (Ed.), Transaction Cost Economics and Beyond (pp. 365-382). Boston: Kluwer Academic Publishers
J.J. Vromen (1994). Hoe kunstwerken betekenen. De wonderlijke werelden van Nelson Goodman. In H.A.F. Oosterling & A.W. Prins (Eds.), Filosofie en kunst 2. Esthetica in de 20e eeuw: een andere verstandhouding (Rotterdamse Filosofische Studies, XVII) (pp. 109-124). Rotterdam: Faculteit der Wijsbegeerte, EUR

J.J. Vromen & C. Marchionni (Ed.). (2019). Neuroeconomics (Critical Concepts in the Social Sciences). London: Routledge

J.J. Vromen & N.E. Aydinonat (Eds.). (2020-2025) Journal of Economic Methodology.
C.B. Binder, H.C.K. Heilmann & J.J. Vromen (Eds.). (2015-) Journal of Economic Methodology.

J.J. Vromen (2018, januari 12). Cooperation and Reciprocity. Leuven, Farewell Colloquium for Toon Vandevelde.
J.J. Vromen (2018, september 10). Social preferences in Behavioral Welfare Economics: Should they be left out in welfare assessment? Helsinki, TINT seminar.
J.J. Vromen (2006, juni 15). (Self-)commitment and the human brain as a producing organ. Cesne, Second international conference on business management and economics.

J.J. Vromen (2018, juni 27). Social Preferences in Behavioral Welfare Economics: Should they be filtered out in Welfare Assessment? Lyon, Economic Philosophy Conference.
J.J. Vromen (2015, november 20). What is so special about efficiency? Cape Town, INEM Conference.
J.J. Vromen (2016, november 25). Two apparently contradicting arguments for non-individualistic explanation in Social Science. Bayreuth, 1st Bayreuth Workshop in Philosophy of Economics: Explanation in Economics & The Social Sciences.
J.J. Vromen (2015, februari 4). The Case for Strong Reciprocity as an Instance of Interdisciplinary Collaboration. Ax-les-Thermes, PIREN Workshop, organized by IAST (The Institute for Advanced Study Toulouse; University of Toulouse).
J.J. Vromen (2014, januari 24). Evolution and Economics: The Case of Strong Reciprocity, Darwinism & Economics. Lille, Séminaire interdisciplinare Lille – Gand, in the series Darwinisme & sciences humaines et socials.
J.J. VromenNeuroeconomics, economics and the mechanisms of decision-making, ABEE 2013. Amsterdam, Symposium on Behavioral and Experimental Economics: A Dialogue Between Laboratory Experiments and Neuroeconomics.
J.J. Vromen (2013, november 15). Ultimate and Proximate Explanations of Strong Reciprocity. Rotterdam, OZSW (Research School in Philosophy) Conference, EUR.
J.J. Vromen (2013, augustus 23). Neuroeconomics, economics and the mechanisms of decision-making. Amsterdam, ABEE 2013 (Amsterdam Symposium on Behavioral and Experimental Economics): A Dialogue Between Laboratory Experiments and Neuroeconomics.
J.J. Vromen (2012, oktober 18). The Nature of Economic Selection: Playing with the Price Equation. Krakow, EAEPE Conference 2012.
J.J. Vromen (2012, april 10). The Nature of Economic Selection: Playing with the Price Equation. Vienna, EMCSR (European Meetings on Cybernetics and Systems Research) Conference.
J.J. Vromen (2010, oktober 28). Heterogeneous economic evolution: A different view on Darwinizing evolutionary economics. Bordeaux, EAEPE Conference 2010.
J.J. Vromen (2010, oktober 6). Social mechanisms and Rational Choice. Rotterdam, CiBaSS (Causality in the Biomedical and Social Sciences) Conference.
J.J. Vromen (2009, november 12). Is reciprocity-based human cooperation 'ultimately' selfish or altruistic? Helsinki, A red herring, Evolution and the Human Sciences workshop.
J.J. Vromen (2009, september 28). Economics and Cognition, Cognitive Approaches to Philosophy of Science and Technology. Ravenstein, 13th Workshop of the Dutch-Flemish Network for Philosophy of Science and Technology.
J.J. Vromen (2009, september 18). Is reciprocity-based human cooperation 'ultimately' selfish or altruistic? Bristol, A red herring, Evolution, Co-operation and Rationality Conference, organized by Samir Okasha and Ken Binmore.
J.J. Vromen (2008, november 19). Allusions to evolution: edifying evolutionary biology rather than economic theory. Parijs, History of Altruism Research Group Workshop (organized by Philippe Fontaine), École normale supérieure de Cachan.
J.J. Vromen (2008, september 11). On the surprising finding that expected utility is literally computed in the brain. Madrid, INEM Conference (in special plenary session on Neuroeconomics).
J.J. Vromen (2008, januari 24). Proximate and ultimate explanations of cooperation. Leuven, ICEG-Workshop over evolutionaire benaderingen in de sociale wetenschappen (georganiseerd door Andreas de Block).
J.J. Vromen (2008, november 20). Not by Brains Alone. Rotterdam, Conference Neuroeconomics: Hype or Hope?.
J.J. Vromen (2007, september 14). Allusions to evolution: edifying evolutionary biology rather than economics. Notre Dame, Conference Rethinking the Chicago School of Economics (organized by Philip Mirowski and Rob van Horn), Notre Dame University.
J.J. Vromen (2006, maart 13). Neuroeconomics as a natural extension of bioeconomics: How the profilation of 'constrained maximization' backfires. Parijs, Seminar jointly organized by Ecole Polytechnique, ENS Ulm and University of Paris.
J.J. Vromen (2006, september 27). Varieties of emergent properties. Wassenaar, Crossing boundaries: Rotterdam-Groningen workshop on philosophy and economics.
J.J. Vromen (2006, juni 15). Depicting social contracts as stable and robust equilibria. Cesne, Second international conference on business management and economics.
J.J. Vromen (2006, mei 19). Evolutionary explanations in economics. Birmingham, Conference on issues in philosophy of economics, University of Alabama.
J.J. Vromen (2006, maart 6). Conjectural revisionary ontology and theoretical pluralism. Cambridge, Paper presented for the workshop Critical Realism.
J.J. Vromen (2006, oktober 12). Depicting social contracts as robust equilibria. Jena, Workshop Naturalistic perspectives on economic behavior.
J.J. Vromen (2006, november 2). Varieties of emergent properties. Istanbul, EAEPE 2006 conference.
J.J. Vromen (2006, november 14). Depicting social contracts as stable and robust equilibria. Eindhoven, Seminarreeks van sectie filosofie, Technische Universiteit Eindhoven.
J.J. Vromen (2006, augustus 18). Organizational capabilities in evolutionary economics. Lappeenranta, International workshop "Strategic management; theoretical background, methodology and empirical evidence", Lappeenranta University.
J.J. Vromen (2005, april 3). Neuroeconomics as a natural extension of bioeconomics: How the proliferation of 'constrained maximization' backfires. Wartensee, Wartensee workshop on Evolutionary Economics (organized by Kurt Dopfer).
J.J. Vromen (2005, december 1). Organizational routines and individual skills: Beyond analogy. Kopenhagen, Conference Microfoundations of Organizational Capabilities and Knowledge Processes, Copenhagen Business School.
J.J. Vromen (2000, april 1). Survival on the fairest. Rotterdam, Studium Generale lezing, lezingreeks 'De Nobele Manager".
J.J. Vromen (1999, januari 28). Voorbij rationele keuze? Wageningen, Stafcolloquium sociologische en economische theorie, Mansholt Instituut en Studium Generale LUW.
J.J. Vromen (1999, februari 10). Evolutionary psychology and economic theory. Rotterdam, EIPE 1999 Spring seminar.
J.J. Vromen (1999, mei 28). Evolutionary psychology and economic theory. Odense (Denemarken), Business School seminar.
J.J. Vromen (1999, mei 22). In search of new theoretical impetus for evolutionary economics. Ancona, Workshop 'New Perspectives in the Study of Economic Evolution.
J.J. Vromen (1999, augustus 27). The art of finding the right model. Some notes on applied game theory. Sant'Arcangelo di Romagna, Conferentie: 'Strategic Rationality in Economics'.
J.J. Vromen & A. Jolink (1999, augustus 16). Arbeid, Organisatie en Technologie. Den Haag, ETTA seminar Economie.
J.J. Vromen (1999, november 25). Customs and Conventions. Rotterdam, EIPE workshop over Ekkehart Schlicht's On Custom in the Economy.
J.J. Vromen (1999, december 15). Evolutionary Economics and Evolutionary Epistemology. Rotterdam, Seminar met Richard R. Nelson, bedrijfskunde (georganiseerd door Bart Nooteboom).
A. Jolink & J.J. Vromen (1999, augustus 24). Arbeid, Organisatie en Technologie: Een Triade. Den Haag, Studiedag van de projectgroep Economie, Technologie en de Toekomst van Arbeid van de Stichting Toekomstbeeld der Techniek.
J.J. Vromen (1999, november 5). The Human Agent in Evolutionary Economics. Praag, Annual (1999) EAEPE (European Association for Evolutionary and Political Economics) Conference.
J.J. VromenWhy select selection? On theoretical isolation in evolutionary economics. Lissabon, Lezing in het kader van de EAEPE conferentie, 5-7 november 1998.
J.J. Vromen (1998, februari 25). The not-so-trivial truth of methodological individualism. Erasmus Institute for Philosophy and Economics, Discussiant van Maarten Franssen, EIPE Erasmus Seminar.
J.J. Vromen (1998, december 9). Economic theory: a practitioner's viewpoint. Erasmus Institute for Philosophy and Economics, Discussiant van Sanjeev Goyal, EIPE Erasmus Seminar.
J.J. VromenWhy select selection? On theoretical isolation in evolutionary economics. Paideia, Lezing in het kader van het Wereld Congres voor Filosofen, augustus 1998.
J.J. VromenHow far is Frankfurt from Chicago? From Sprachethik to Diskursethik, or from marketing to argumentation. Exeter, Lezing in het kader van de Conferentie `Culture and Economics', 23-26 juli 1998.
J.J. Vromen (1998, maart 13). Game theory as the Apex of Economic Imperialism? Erasmus Insitute for Philosophy and Economics, Lezing tijdens workshop `The Scope of Economic Theory'.
J.J. Vromen (1998, november 27). If conventions are solutions, what are the problems. Kopenhagen, Lezing tijdens RESPECT (Research in Strategy, Process and Economic Organization) seminar.
J.J. Vromen (1998, november 27). Game theory as the apex of economic imperialism? Kopenhagen, Lezing tijdens RESPECT (Research in Strategy, Process, and Economic Organization) seminar.
J.J. Vromen (1997, december 17). The Evolution of Game Theory: Rock-Paper-Scissors. Erasmus Universiteit Rotterdam, Discussant van A. Rivzi in het kader van het EIPE Erasmus Seminar for Philosophy and Economics.
J.J. Vromen (1997, november 14). Discussant en voorzitter van sessie met D. McCloskey, R. Backhouse en W. Hands. Erasmus Universiteit Rotterdam, In het kader van de conferentie `Fact of Fiction? Perspectives on Realism and Economics', 14-15 november 1997.
J.J. Vromen (1997, april 17). If homo oeconomicus survived, who is he? Athene, Voordracht tijdens ECHE Conference `Deconstructing the Canon', 17-18 april 1997.
J.J. Vromen (1997, februari 19). If homo oeconomicus survived, who is he? Erasmus Universiteit Rotterdam, Voordracht voor het EIPE Erasmus Seminar in Philosophy and Economics.
J.J. Vromen (1997, juni 6). Conventions. Rotterdam, Voordracht tijdens symposium `Economics a science: what is the payoff?' van Erasmus Institute for Philosophy and Economics en de Nederlandse Vereniging voor Wetenschapsfilosofie.
J.J. Vromen (1997, november 7). Path-dependent structures in scientific evolution. Athene, Presentatie tijdens EAEPE-conferentie.
J.J. Vromen (1997, november 5). Path-dependent structures in scientific explanation. Rotterdam, Presentatie tijdens EIPE Erasmus seminar in Economics and Philosophy.
J.J. Vromen (1997, juni 12). If conventions are solutions, what are the problems? Groningen, Voordracht tijdens conferentie `Recent Issues in Institutional Economics', 12-13 juni 1997.
J.J. Vromen (1997, april 9). Evolution of Rules and Evolution within Rules. Erasmus Universiteit Rotterdam, Disscussant van Viktor Vanberg in het kader van EIPE Erasmus Seminar in Philosophy and Economics.
J.J. Vromen (1996, november 20). Comments on U. Witt (Max Plack Institute, Jena) Economics and Darwinism. Erasmus Universiteit Rotterdam, Erasmus Seminar in Philosophy and Economics.
J.J. Vromen (1996, november 9). How Far is Chicago from Frankfurt? From Diskusethik to Sprachethik, or from Habermas to McCloskey. Antwerpen, Paper presentatie tijdens European Association for Evolutionary Political Economy (EAEPE).
J.J. Vromen & I.U. Maki (1996, november 6). How Far is Chicago from Frankfurt? From Diskursethik to Sprachethik, or from Habermas to McCloskey. Erasmus Universiteit Rotterdam, Paper presentatie tijdens Erasmus Seminar in Philosophy and Economics.
J.J. Vromen (1996, februari 20). An Ontology of Evolutionary Economics. Universiteit van Amsterdam, Paper gepresenteerd tijdens leerstoel-colloquium `Philosophy and History of Economics'.
J.J. Vromen (1995, maart 29). What philosophy, if any, does philosophy of economics need? San Francisco, Jaarlijks congres van de `American Philosophical Association, Pacific Division', sectie Economics, rhetoric and philosophy.
J.J. Vromen (1995, maart 24). What do economists really believe. Notre Dame, Friday lunch seminar van de Dept. of Economics, Notre Dame University.
J.J. Vromen (1995, februari 10). Mechanistic Evolution in Institutional Economics. Rotterdam, Congres van "European Society for the History of Economics Meeting", 10-11 februari 1995, EUR.
J.J. Vromen (1995, maart 15). Discussie met A. Klamer over `Evolution and Efficiency. An Inquiry into the Foundation of `new Institutional Economics'. Rotterdam, Stafcolloquium Faculteit der Wijsbegeerte, EUR.
J.J. Vromen (1995, november 10). Evolutionary economics - precursors, paradigmatic proposition, puzzles and prospects. onbekend, Conferentie van de Studiekring Post-Keynesiaanse Economie, `Economics and Evolution'.
J.J. Vromen (1995, mei 20). Theories of the firm revisited. New and neo-institutional perspectives. Stockholm, Lezing met J. Groenewegen tijdens congres `Evolutionary economics and path dependency', Uppsala University.
J.J. Vromen (1995, oktober 11). Institutions as tacit agreements in evolutionary games. Rotterdam, Bijdrage aan `Erasmus Seminar in Philosophy and Economics'.
J.J. Vromen (1995, oktober 21). Institutions as tacit agreements in evolutionary games. Krakow, European Association for Evolutionary Political Economy (EAEPE) -conference.
J.J. Vromen (1995, december 6). What's wrong with Geoff Hodgson's `Economics and Evolution', gevolgd door discussie met G. Hodgson. Rotterdam, Erasmus Seminar in Philosophy and Economics.
J.J. Vromen (1994, juni 6). Is transaction cost economics a progressive scientific research programme? Erasmus Universiteit Rotterdam, Presentatie en commentaar op papers van E. Khalil en G. Hodgson tijdens congres `Transaction cost economics and beyond, June 6-7.
J.J. Vromen (1994, oktober 26). Flipsides of the free market. Moskou, Lezing voor studenten van de Higher School of Economics op uitnodiging van dispuut R d'ECO in samenwerking met de vakgroep Economische Organisatievormen (EUR).
J.J. Vromen (1994, december 1). Evolutionaire economie. Universiteit van Amsterdam, Gastcollege binnen college `Institutionele economie' van dr. J. Beus.

J.J. Vromen (2010). The two faces of Neuroeconomics. Workshop on "The social sciences and neuroscience: How can they inform each other?" Center for Interdisciplinary Studies in Economics, Psychology and the Social Sciences (CISEPS): Bicocca (2010, december 17).
J.J. Vromen (2004). Routines, genes and program-based behaviour. Papers on Economics and Evolution: .

J.J. Vromen (2007). Generalized Darwinism in evolutionary economics - The devil is in the details. Papers on economics and evolution #0711, Max Planck Institute: Jena.
J.J. Vromen (2000). Evolutionary pscychology and evolutionary economics. Workshop on Behavioral Economics: Amsterdam, UvA (2000, maart 10).
J.J. Vromen (2000). What has evolutionary economics brought us so far? ESHET Conference "Is There Progress in Economics?": (2000, februari 24).
J.J. Vromen (2000). A worn out convention in the economics of convention. HES Conference: Vancouver (2000, juli 1).
J.J. Vromen (2000). If conventions are solutions, what are the problems? INEM Conference: Vancouver (2000, juni 30).
J.J. Vromen (2000). Moral behaviour in evolutionary theorising: variations on a theme? Erasmus Summer School on Social Ontology: Rotterdam, EUR (2000, juli 9).
J.J. Vromen (2000). What is there to be learnt from 'serious' psychologie and biology? annual EAEPE Conference: Berlin (2000, november 2).
J.J. Vromen (2000). What can be learnt from 'serious psychology and biology'? EIPE 2000 Autumn Seminar Series: Rotterdam, EUR (2000, december 18).
J.J. Vromen (2000). Evolutionary psychology and evolutionary economics. workshop Cognition ant Evolutionary Economics: Alessandria/Torino (2000, november 14).

J.J. Vromen (2004). Conjectural revisionary ontology. Symposium on Tony Lawson's Reorienting Economics, Part II: .
J.J. Vromen (1996). Chairman of a `Methodology' session. 1996 EAEPE Conference te Antwerpen: (1996, november 8).
J.J. Vromen (1996). Chairman of organizing committee of the 18e Nederlands-Vlaamse Filosofiedag. Erasmus Universiteit Rotterdam: (1996, oktober 26).
J.J. Vromen (1995). 1995 Gunnar Myrdal Prize. Uitreiking tijdens de 1995 EAEPE-conference te Krakow: Krakow (1995, oktober 21).

J.J. Vromen (2007). The evolutionary foundations of economics [Bespreking van het boek The evolutionary foundations of economics]. Economics and Philosophy, 23.1, 131-138.
J.J. Vromen (1998). Recensie [Bespreking van het boek Het verhaal van de moraal]. .
J.J. Vromen (1998). Recensie [Bespreking van het boek The Methodology of Macroeconomic Thought]. .
J.J. Vromen (1997). Alles omvattende theorie van economische groei ondenkbaar [Bespreking van het boek Groei en instituties]. .
J.J. Vromen (1997). Book Note [Bespreking van het boek Evolution, Order and Complexity]. .
J.J. Vromen (1996). Book note [Bespreking van het boek Economics and Biology]. .
J.J. Vromen (1996). Review [Bespreking van het boek Knowledge of Persuasion in Economics]. .
J.J. Vromen (1996). Review [Bespreking van het boek Economics and Evolution]. .
J.J. Vromen (1994). Recensie [Bespreking van het boek Post-Popperian Methodology of Economics. Recovering Practice]. .

J.J. Vromen (1994, juni 16). Evolution and Efficiency. An Inquiry into the Foundations of `New Institutional Economics'. Universiteit van Amsterdam (298 pag.) Prom./coprom.: Prof.dr. N.B. de Marchi.

University

Erasmus University Rotterdam

School

Erasmus School of Philosophy

Department

ESPhil

Country

The Netherlands

Telephone

0104088970
Address
Visiting address
Burg. Oudlaan 50
3062 PA Rotterdam
Postal address
Postbus 1738
3000 DR Rotterdam