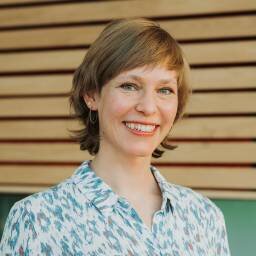 Visiting fellow
Erasmus School of History, Culture and Communication
Department of Arts and Culture Studies
Location

Burg. Oudlaan 50, Rotterdam

Email
‹

Back to overview
Profile
Since October 2017, I work as a postdoctoral researcher on the project 'Gameful Music Performances for Smart, Inclusive, and Sustainable Societies' (GAMPSISS). In this interdisciplinary project, I am investigating listening cultures and classical music audiences in order to explore if and how music listening culture can be altered through gamification. Using classical music pieces as case-studies, I am drawing on interviews, survey data and experiments to examine values realized in the aesthetic experience of music listening. Within the project at large, altering the listening experience with gameful music performances is explored for its potential to maximize the ethical impact of confrontations with the arts. This is expected to be achieved by helping audiences to engage with artworks in a playful, yet deep and multi-layered way.
Next to my postdoctoral research, I work as a lecturer in the Ba and Ma program Arts, Culture and Society at the Department of Arts and Culture Studies. I have taught various courses such as 'Arts, Culture and Engagement', 'Methods of Qualitative Research' in IBaCs, and tutorials in Statistics, 'Introduction to Social Science Research', 'Contemporary Approaches to Cultural Sociology' and also 'Economic Geography of Creativity and Urban development'.
I hold Ba in Sociology from the University of Hamburg and a Master of Science degree in Sociology of Culture, Media and the Arts. In January 2017, I received my Ph.D. from the Erasmus University Rotterdam. My PhD research evolved around questions of inequality in cultural participation of diverse social groups within Northern Europe. It addressed how status distinction is practiced and boundaries are negotiated in discourse about taste in fashion, music and visual arts. This research has led me to interview young business professionals, service workers and voracious cultural consumers and tied in with my broader interest in the complex relations between identity and consumption.
Koen Eijck, Janna Michael & MI Diaz (2019) - Worse than Screaming Frogs or a Warm Blanket? The Impact of Repeated Listening on How People Experience Music
Janna Michael & Evert Bisschop Boele (2019) - The Avant-garde Meets the People. How Cultural Hub WORM has become an Experimental Community Center
Michael Berghman & Janna Michael (2018) - Organizer of Cultural Sociology Lowlands (Expert meeting)
Janna Michael & Koen Eijck (2017) - Current Contestations of Cultural Capital
Mariangela Lavanga & Janna Michael (2015) - Music Talks #2: Rotterdam Music Scenes: Überhip or Pretty Dead? (CO-ORGANISER, CHAIR and CURATOR)

Janna Michael & Laura Braden (2018) - Capitalizing on Morals? Connecting Cultural Capital and Moral Judgments
Janna Michael (2018) - Legitimate but popular? The field of classical music and its efforts to mobilize new audience
Janna Michael (2016) - Negotiating difference and taste in style: Comparing Northern European class fractions
Janna Michael (2015) - Highbrow culture for high-potentials? Cultural orientations of an economic elite in the making
Julia Peters, L (Lotte) van der Jagt, Koen Eijck, Janna Michael & Pauwke Berkers (2014) - Irony as boundary work: Engagement and detachment in karaoke bars
Niels Poecke & Janna Michael (2014) - Bringing the Banjo Back to Life: The Field of Dutch Independent Folk Music as Participatory Culture
Janna Michael (2014) - Cultural orientations of an economic elite in the making
Niels Poecke & Janna Michael (2014) - Bringing the Banjo Back to Life: Prosumerism in the Field of Folk Music
Janna Michael & Niels Poecke (2013) - Bringing the banjo back to life: Prosumerism in the field of folk music
Koen Eijck, Janna Michael, Pauwke Berkers, L (Lotte) van der Jagt & Julia Peters (2013) - The ironic versus the sincere? Bonding and distancing with ironic consumption
Janna Michael (2013) - What is Coolness? Deconstructing and Contextualizing a Buzzword
Janna Michael (2012) - The Unease of the Hipster: Negotiating Trends and Authenticity among Cultural Consumers
Janna Michael (2012) - It's really not hip to be a hipster: symbolic boundaries and individuality in urban culture
Koen Eijck & Janna Michael (2010) - Cultural consumption and the aesthetisation of everyday life
Janna Michael (3 May 2018) - Art & Science Talk Show: (Inclusive) Gentrification - Art & Science Talk Show: (Inclusive) Gentrification
Janna Michael (23 January 2017) - Radio 1, Nieuwe feiten - interview
Janna Michael (19 January 2017) - Een hekel aan hipsters? Geeft niks, want ze verdwijnen toch vanzelf (Interview in Trouw) - Een hekel aan hipsters? Geeft niks, want ze verdwijnen toch vanzelf (Interview in Trouw)
Janna Michael (18 January 2017) - Waarom hipster zo wordt gehaat? 'Té hip, niet authentiek, geen eigen smaak' (Interview Volkskrant) - Waarom hipster zo wordt gehaat? 'Té hip, niet authentiek, geen eigen smaak' (Interview Volkskrant)
Frans Brouwer, Ellen Loots, Janna Michael & , et al. (2020) - Unknown event - Unknown event
Frans Brouwer, Ellen Loots, Janna Michael & , et al. (2020) - Webinar for ESHCC alumni, staff members and current MA students Arts & Culture - Webinar for ESHCC alumni, staff members and current MA students Arts & Culture

M Hamel & Janna Michael (2019) - GAmeful Music Performances for Smart, Inclusive, and Sustainable Societies - Transdisciplinary Compositions –Contemporary Challenges, towards collaborative practices in the Arts & Sciences
Koen Eijck & Janna Michael (2019) - Worse than screaming frogs or a warm blanket? The impact of repeated listening on how people experience music - 14th conference of the European Sociological Association
Evert Bisschop Boele, Janna Michael, J Brands & CLB Stein (2018) - WORM in the Neighbourhood - Sharing Arts & Heritage conference
Janna Michael (2018) - Worm in dialogue. Looking for a new relation between WORM and the neighborhood - Symposium 'Music, Place and Belonging'
Laura Braden & Janna Michael (2017) - Capitalizing on Morals: Connecting Cultural Capital and Moral Judgments - Current Contestations of Cultural Capital Symposium
Janna Michael (2015) - What do 'common people' have in common? An expedition into pastimes, music and apparel taste - Internal Seminar of the Sustainable Consumption Institute
Julia Peters & Janna Michael (2013) - The ironic versus the sincere? Bonding and distancing through irony - ERMeCC Lunch Lecture

Janna Michael, Annebeth Erdbrink & Dorus Hoebink (2019) - Waar ben ik? Een luistergame over Rotterdam - Rotterdam Kennisfestival
Janna Michael (2017) - Identity and Identification - 'Dragging about Art' Current Practice series
Janna Michael (2017) - Waarom haten wij hipsters? Cultuursocioloog Janna Michael over smaak, status en het belang van uitsluiting - Studio Erasmus (Talkshow)

Janna Michael (2018) - Muziek en maatschappij beluisteren - LKCA Onderzoeksconferentie 2018
Janna Michael (2016) - Cultureel niet actief? Vrijetijdsbestedingen en culturele smaak van alledaagse mensen - LKCA onderzoeksconferentie 2016