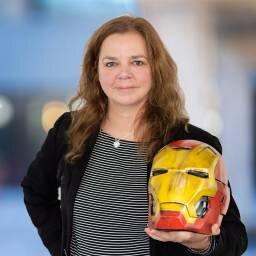 Assistant Professor
Erasmus School of History, Culture and Communication
Department of Media and Communication
Location

Burg. Oudlaan 50, Rotterdam

Room

M8-50

Telephone

0104089186

Email
‹

Back to overview
Profile
Julia Kneer is Assistant Professor in the Department of Media and Communication at Erasmus University Rotterdam. Before moving here, she worked as a postdoc researcher and lecturer at the University of Cologne, Department of Social and Media, where she taught theoretical and methodical courses in Media, Social, and Organizational Psychology.
Julia studied Psychology at Saarland University from 1996 to 2001. From 2003 to 2008 she worked at the Department of Social Psychology (Prof. Wintermantel, head), Saarland University. In May 2006 she received her PhD in Social Psychology ("Causal Person Model").
Her research focus lies on digital games, especially how digital games and players are perceived, generation differences, and digital game addiction. Further research interests include interactive and digital media in general, health communication, heavy metal music, music in movies, and social cognition. She has published in Computers in Human Behavior, Psychology of Popular Media Culture, Journal of Media Psychology, Cyberpsychology, Behavior and Social Networking, Applied Psychology: Health and Well-Being, and Social Psychology. Julia is currently member of the Editorial Board of the Journal of Media Psychology. In addition, she is the current chair of the Games Studies Divison of the International Communication Association.
Current research projects are:
Homies: wijkgerichte op media gebaseerde identiteiten met empowermentstrategieën (together with Jeroen Jansz)
Urban Media Engagement (together with Jeroen Jansz and Liesbet van Zoonen)
Former projects:
Private homepage of Julia
R.S. Jacobs, S. Werning, J. Jansz & J. Kneer (2020). Procedural Arguments of Persuasive Games. Journal of Media Psychology: Theories, Methods, and Applications. doi: 10.1027/1864-1105/a000278
J. Kneer & M.R. Ward (2020). With a rebel yell: Video gamers' responses to mass shooting moral panics. New Media & Society. doi: 10.1177/1461444819901138, hdl.handle.net/1765/124209
S. Eischeid, J. Kneer & B. Englich (2019). Peace of Mind: The influence of metal gestures on stress and power. Metal Music Studies, 5 (2), 137-150. doi: 10.1386/mms.5.2.137_1, hdl.handle.net/1765/117681
A.K. van Eldik, J. Kneer & J. Jansz (2019). Urban & online: Social media use among adolescents and sense of belonging to a super-diverse city. Media and Communication, 7 (2), 242-253. doi: 10.17645/mac.v7i2.1879
J. Kneer, S. Franken & S. Reich (2019). Not only for the (tom)boys: Gender variables as predictors for playing motivations, passion, and addiction for MMORPGs. Simulation & Gaming, 50 (1), 44-61. doi: 10.1177/1046878118823033
A.K. van Eldik, J. Kneer, R.O. Lutkenhaus & J. Jansz (2019). Urban Influencers: An Analysis of Urban Identity in YouTube Content of Local Social Media Influencers in a Super-Diverse City. Frontiers in Psychology, 10. doi: 10.3389/fpsyg.2019.02876
J. Kneer, A.K. van Eldik, J. Jansz, S. Eischeid & M. Usta (2019). With a little help from my friends: Peer coaching for refugee adolescents and the role of social media. Media and Communication, 7 (2), 264-274. doi: 10.17645/mac.v7i2.1876, hdl.handle.net/1765/117512
J. Kneer, R.S. Jacobs & C. Ferguson (2018). You could have just asked: The perception of motivations to play violent video games. Studies in Media and Communication, 6 (2). doi: 10.11114/smc.v6i2.3389
J. Kneer & R.S. Jacobs (2018). Grow up, level up, and game on: Evolving games research. Media and Communication, 6 (2), 56-59. doi: 10.17645/mac.v6i2.1566
J. Kneer, M. Elson & F. Knapp (2016). Fighting fire with rainbows: Effects of violent content versus complexity of digital games on aggression. Computers in Human Behavior, 54 (January), 142-148. doi: 10.1016/j.chb.2015.07.034
J. Kneer (2016). Are we evil? Yes we are – but at least not crazy! How to test implicit associations of fans and non-fans with metal music. Metal Music Studies, 2 (1), 69-86. doi: 10.1386/mms.2.1.69_1
J. Kneer & D. Rieger (2015). Problematic game play: The diagnostic value of playing motives, passion, and playing time in men. Behavioral Science, 5 (2), 203-213. doi: 10.3390/bs5020203
D. Rieger, T. Wulf, J. Kneer & G. Bente (2015). The winner takes it all: The effect of in-game success and need satisfaction on mood repair and enjoyment. Computers in Human Behavior, 39 (October), 281-286. doi: 10.1016/j.chb.2014.07.037
J. Kneer & D. Rieger (2015). The memory remains: How Heavy Metal fans buffer against the fear of death. Psychology of Popular Media Culture, 5 (3), 258-272. doi: 10.1037/ppm0000072
J. Kneer, D. Rieger, J.D. Ivory & C. Ferguson (2014). Awareness of risk factors for digital game addiction: Interviewing players and counselors. International Journal of Mental Health & Addiction, 12 (5), 585-599. doi: 10.1007/s11469-014-9489-y
D. Rieger, L. Frischlich, T. Wulf, G. Bente & J. Kneer (2014). Eating Ghosts: The Impact of Interactive and Non-Interactive Media on Mood Repair and Physiological Arousal. Psychology of Popular Media Culture, 4 (2), 138-154.
V. Kocher & J. Kneer (2013). 'Ich spiele also bin ich?' Risikofaktoren fuer die Entstehung einer Computerspielsucht. In-Mind Magazin, 4, 1-2.
S. Glock, J. Kneer & C. Kovacs (2013). Student teachers' implicit attitudes toward students with and without immigration background: A pilot study. Studies in Educational Evaluation, 39 (4), 204-210. doi: 10.1016/j.stueduc.2013.09.003
M. Elson, J. Breuer, J. Van Looy, J. Kneer & T. Quandt (2013). Comparing Apples and oranges? Evidence for pace of action as a confound in research on violence in digital games. Psychology of Popular Media Culture.
J. Kneer & S. Glock (2013). Escaping in digital games: The relationship between motivations for play and addictive tendencies in males. Computers in Human Behavior, 29 (4), 1415-1420. doi: 10.1016/j.chb.2013.01.030
J. Kneer, S. Glock, S. Beskes & G. Bente (2012). Are digital games perceived as fun or danger? Suppressing and supporting different game-related concepts. Cyberpsychology, Behavior and Social Networking, 15 (11), 604-609. doi: 10.1089/cyber.2012.0171
J. Kneer, S. Glock & D. Rieger (2012). Fast and not furious? Cognitive dissonance reduction in smokers. Social Psychology, 43 (2), 81-91.
J. Kneer, D. Munko, S. Glock & G. Bente (2012). Defending the Doomed: Implicit Strategies concerning Protection of First Person Shooter Games. Cyberpsychology, Behavior and Social Networking, 15 (5), 251-256. doi: 10.1089/cyber.2011.0583

T. Rothermund, M. Elson, M. Appel, J. Kneer, J. Pfetsch & F. Schneider (2015). Macht Gewalt in Unterhaltungsmedien aggressiv? Gehirn & Geist, 10, 28-35.

J. Kneer (2017). Range. In M..A. Allen (Ed.), Encyclopedia of Communication Research Methods (pp. 1401-1402). London: SAGE
J. Kneer (2017). Effect sizes. In M. Allen (Ed.), Encyclopedia of Communication Research Methods (pp. 406-408). London: SAGE
J. Kneer, S. Krolak-Schwerdt, M. Wintermantel & D. Renaud (2015). Eye movement measures to study the processing of social information. In S. Freyermuth, D. Keller & J.-F.P. Bonnot (Eds.), Semiotique du movement (pp. 329-354). Bern: Peter-Lange
J. Kneer, S. Krolak-Schwerdt, M. Wintermantel & N. Junker (2014). Reading about persons: The mental representation of person descriptions. In S.R. Nasato (Ed.), Advances in Social Cognition Research (pp. 329-354). Southport: NOVA Science Publishers

R.S. Jacobs, S. Werning, J. Jansz & J. Kneer (2018, februari 9). Procedural Arguments of Persuasive Games: An Elaboration Likelihood Perspective. Ghent, 24 hours of Communication Science.
S. Franken, J. Kneer & S. Reich (2018, mei 26). Not only for the (tom)boys: Gender variables as predictors for playing motivations, passion, and addiction for MMORPGs. Czeck, Prague, 67th Annual International Communication Association Conference.
N. Schroeder & J. Kneer (2018, februari 9). Characters as Friends: Exploring Influences of Media Interactivity on Parasocial Relationships. Belgium, Ghent, Etmaal2018.
R.S. Jacobs, S. Werning, J. Jansz & J. Kneer (2017, december 7). Procedural Arguments of Persuasive Games: An Elaboration Likelihood Perspective. Lisbon, Games and Learning Association Conference 2017.
R.S. Jacobs, J. Jansz & J. Kneer (2017, januari 27). Playing Against Abuse: Effects of Procedural and Narrative Persuasive Games. Tilburg, 24 hours of Communication Science (Etmaal).
J. Kneer, J. Jansz & M. Bas (2017, januari 1). Developing and testing a serious games for smokers. Landau, Germany, 10th Conference of the Media Psychology Division of the DGPs.
D. Rieger, J. Kneer & S. Glock (2012, september 26). Blond, thin, & dumb? Model casting shows. Bielefeld, 48 Fachgruppentagung der Deutschen Gesellschaft fuer Psychologie.
J. Kneer (2012, september 26). Activation and suppression of digital game related contents. Bielefeld, 48 Fachgruppentagung der Deutschen Gesellschaft fuer Psychologie.

A.K. van Eldik, J. Kneer, R.O. Lutkenhaus & J. Jansz (2020). Influencers & the Super-Diverse City: Expressions of urban identity in local influencers' YouTube content. Etmaal van de Communicatiewetenschap: Amsterdam, the Netherlands (2020, februari 6 - 2020, februari 7).
A.K. van Eldik, J. Kneer & J. Jansz (2019). Online in the City: Young people's social media use and it's relation to a sense of belonging to the (super-diverse) city. Etmaal van de Communicatiewetenschap: Communication Science & Artificial Intelligence: Nijmegen, the Netherlands (2019, februari 7 - 2019, februari 8).
J. Kneer & J. Krijgsman (2018). Computer animated imagery for deceased actors – Does this affect the enjoyment of the audience? Etmaal2018: Belgium, Ghent (2018, februari 8).
A.K. van Eldik, J. Kneer & J. Jansz (2018). Empowering Children through Media. Empowering Cities and Citizens: Learning and co-creating in an urbanising world: Rotterdam, The Netherlands (2018, november 6 - 2018, november 7).
J. Kneer, J. Jansz & M. Bas (2017). Creating a game for smokers and applying new methods to test its effectiveness. Etmaal2017: Tilburg, the Netherlands.
J. Trixxa & J. Kneer (2017). When I know what I am doing and when less is more: Developing and testing the Facebook Usage Questionnaire (FUQ) and the Perceived Facebook Usage Questionnaire (P-FUQ). 65th Annual International Communication Association Conference: Fukuoka, Japan.
J. Kneer & J. Trixxa (2016). To post or not to post? Two new instruments for Facebook usage (FUQ) and perceived Facebook usage (P-FUQ). 50. Kongress der deutschen Gesellschaft für Psychologie: Leipzig, Germany.
R.S. Jacobs, J. Jansz & J. Kneer (2016). A Validation-Oriented Approach to Persuasive Games. 6th European Communication Conference (ECREA): Prague (2016, november 10).
N.D. Bowman, R. Kowert, J. Breuer, M. Elson, K. Kieslich, J. Kneer, T. Quandt, A. Lange & R. Lange (2016). "It's too dirty for me, so it's too dirty for the kids": A cross-comparison of German and US gamers' differential reactions to an explicitly sexual or violent video game. National Communication Association: Las Vegas, U.S. (2016, november 10 - 2016, november 13).
J. Breuer, N.D. Bowman, K. Kieslich, M. Elson, R. Kowert, J. Kneer, T. Quandt & A. Lange (2016). Grand theft morals: The role of cultural differences and moral views for the evaluation of violent and sexual content in video games. ICA Game Studies Pre-Conference "Just Games?": Tokyo, Japan (2016, juni 8).

A.K. van Eldik, J. Kneer, R.O. Lutkenhaus & J. Jansz (2020). #010 #mijnstad: De rol van sociale media en influencers in het leven van jongeren in de stad. Werkconferentie: Kennis van Mediawijsheid: Hilversum (2020, januari 31).

S. Shishechian, D. Rieger, J. Kneer & G. Bente (2013). Distraction from the negative emotion fear. 54th Conference of Experimentally Working Psychologists (TEAP): Mannheim (2012, april 2).
J. Kneer, D. Munko & G. Bente (2013). Implicit Defense Strategies concerning First Person Shooter Games. 62th Annual International Communication Association Conference: Phoenix (2012, mei 25).
S. Hinz, D. Rieger, J. Kneer & G. Bente (2012). Limits of the emotion regulation of negative emotions. 54th Conference of Experimentally Working Psychologists (TEAP): Mannheim (2012, april 2).
M. Elson, J. Breuer, J. Van Looy & J. Kneer (2012). Comparing apples and oranges? The effects of confounding factors in experimental research on digital games and aggression. 62th Annual International Communication Association Conference: Phoenix (2012, mei 25).

A. Oberts & J. Kneer (Eds.). (2015-2015) In-Mind Magazin, 3.
A. Oberts & J. Kneer (Eds.). (2015-2015) In-Mind Magazin, 5.

Assistant Professor

University

Erasmus University Rotterdam

School

Erasmus School of History, Culture and Communication

Department

Department of Media and Communication

Country

The Netherlands

Telephone

0104089186
Address
Visiting address
Burg. Oudlaan 50
3062 PA Rotterdam
Postal address
Postbus 1738
3000 DR Rotterdam