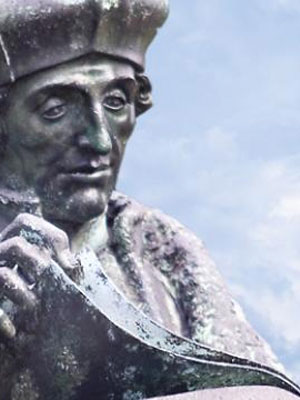 Researcher
Erasmus School of Social and Behavioural Sciences
Public Administration
Location

Burg. Oudlaan 50, Rotterdam

Email
‹

Back to overview
Profile
I am academic researcher at the Erasmus School of Social and Behavioural Sciences of Erasmus University Rotterdam. I am a member of the Knowledge Platform Urban Big Data, a collaboration between the municipality of Rotterdam, Erasmus University Rotterdam, and the Rotterdam University of Applied Sciences. Currently I am working on the research project Image Recognition, Society and Policy in collaboration with the municipality of Rotterdam, in which I study the development and implementation of image recognition policies and technologies. I draw on the intersections of organizational politics, public management and systems theory, often using the philosophy of technology and narrative methods to open up relevant sociological questions.
I am a multidisciplinary researcher at heart and draw on several quite different fields in my work, because I think that relating common lines and themes between disciplines makes for a more fertile world.
During my PhD in Science and Technology Studies (STS) I researched how knowledge is made from the ground up in archaeological excavation practices. Archaeologists relate to the soil through their embodied senses and a variety of interrelated practices of knowing. The dimension of sensory and embodied doings of archaeologists is however not much researched, and I provided unique contributions to the field.
I taught several courses, amongst which Operations Management, Strategy, Economics for Management, the Business Environment, and Social Corporate Responsibility. At the Erasmus University Rotterdam I supervise Sociology students writing their master theses, and I teach the course Technology, Policy and Society with dr. Rebecca Moody.
I furthermore worked as an consultant and coach in software development and IT operations (dev-ops and agile/scrum) teams in businesses from 2018 – 2020, before returning to a post in academia.
Kevin Pijpers (2021) - Worlding Excavation Practices - Open Archaeology, 7 (1), 889–903 - doi: 10.1515/opar-2020-0177

Kevin Pijpers (2018) - Speculative Knowing: Lure of Entanglements in Excavations
Kevin Pijpers (2018) - Sensory Excavation Practices: Insights for Sustainable Degrowth
Kevin Pijpers (2016) - Crafting Knowledge by Means of Touch during Archaeological Excavations
Kevin Pijpers (2014) - Hybrid Methods: Researching Messy Issues of Artisanal Science
Kevin Pijpers (2014) - Moving from Critique to Criticality
Kevin Pijpers (2014) - Bodies, Sites and their Affectual Rhythms in Practices of Archaeology
Kevin Pijpers (2013) - Struggling with the Body in the Sciences: Hybridity and the Scientific Enactment of Knowledge
Kevin Pijpers (2013) - Bodily Hybridity and Innovative Enactment of Knowledge
KMJP (Kevin) Pijpers (2021) - Usages of technology and data for municipalities - BOLD Cities Talk

KMJP (Kevin) Pijpers (2021) - Image Recognition in the City: Potentials and Barriers for Policy and Society
K.M.J.P. Pijpers (2018) - Early Career Researcher Conference Funding Award
K.M.J.P. Pijpers (2012) - Graduate Teaching Fellowship
K.M.J.P. Pijpers (2012) - PhD Scholarship