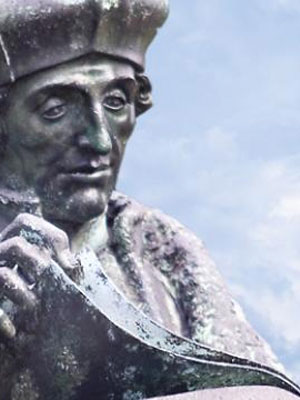 Full professor
Erasmus School of Health Policy & Management
Health Care Governance (HCG)
Location

Burg. Oudlaan 50, Rotterdam

Email
‹

Back to overview
Profile
Prof.dr. Kim Putters (1973) is Professor of Health Management at the institute of Health Policy and Management of the Erasmus University Rotterdam. As a public administration scientist he is part of the Healthcare Governance department. He wrote his PhD on the reforms in Dutch healthcare towards more entrepreneurship in health management (Geboeid ondernemen: een studie naar het management in de Nederlandse ziekenhuiszorg,Van Gorcum, Assen, 2001). Putters was worked at the department of Public Administration within the Faculty of Social Sciences at the Erasmus University until 2003, and at the Tilburg School of Politics and Administration at the Tilburg University until 2008. From 1997 until 2003 he also worked as an advisor to the Ministry of Health at the Council for Health and Social Service (de Raad voor de Volksgezondheid en Zorg).
Research
Two methods are central in the research of professor Kim Putters:
A multidisciplinary approach of health management and its behavior in between market, government, professional domains and civil society.
An intersectoral orientation on the causes and consequences of blurring boundaries between health and other sectors and networks (amongst which are housing, mobility and welfare).
The research issues are:
Hybrid organisations within a public-private and professional context. Healthcare institutions have to respond to incentives of the market, government policies, professional demands and societal needs all at the same time. Changing markets, increasing needs and new technological possibilities ask for studies how this works and can be improved.
Entrepreneurship and innovation can improve healthcare services in terms of efficiency, quality and patient centeredness. Yet, several barriers hinder innovation. We study how innovations are being developed and spread, what chances and limitations look like and how this influences the roles and responsibilities of suppliers, providers, financers, patients, doctors and governmental bodies.
Relationship between research, knowledge, policy and practice. How can professional and policy practices be improved by science and knowledge? How do new ways of quality management, patient empowerment and transparency improvement work out in practice? And how can we bring science and practice closer to each other in health management.


Jeroen Postma & Kim Putters (2010) - Optimale schaalgrootte is een misleidend begrip - Het Financieele Dagblad

Kim Putters & AAWM (Adriana Antonetta Wilhelmina Maria) van de Veerdonk (2012) - De toezichthouder anno 2012 - Vele competenties vereist - Zorgvisie Magazine, 1 (2), 42-43
LG Tummers & Kim Putters (2012) - Waarom bezuinigingen vaak niet werken - Unknown
Jeroen Postma & Kim Putters (2011) - Optimale schaal bestaat niet - Zorgvisie Magazine, (12), 68-70
ESG Mogendorff & Kim Putters (2011) - TOPGGz: daar heeft (ook) de professional wat aan! - Psychopraktijk, 3 (6), 35-37
Kim Putters & M (Maarten) Janssen (2011) - Synergie tussen toezicht en innovatie - Tijdschrift voor Toezicht, 2 (1), 52-65
Kim Putters (2010) - Zorgen waar het moet, ondernemen waar het kan - Socialisme en Democratie, 9-20
B Steenkamer, J de Goede, HF (Henriette) Treurniet, Kim Putters & H van Oers (2010) - Het gebruik van (volks)gezondheidsinformatie door beleidsmakers: een studie in Midden-Holland - TSG, 88 (8), 461-469
MPM Bekker & Kim Putters (2009) - Totstandkoming intersectoraal gezondheidsbeleid vergt meer dan heldere systeemvoorwaarden - TSG, 87 (6), 239-240
E den Breejen & Kim Putters (2009) - Voorwaarden voor innovatiekracht - Zorgmarkt, 5, 27-29
Rik Wehrens, MPM Bekker, C (Stans) van Egmond, Kim Putters & Roland Bal (2008) - De Academische Werkplaats als grensorganisatie. De coördinatie van onderzoek, praktijk en beleid in de Academische Werkplaatsen - TSG, 86 (6), 1-8
E van Hout, Wilma Scheer & Kim Putters (2007) - Managers en professionals in de zorg. Over verschuivende verantwoordelijkheden en hybridisering. - Bestuurskunde, 16 (4), 16-24
M Meindertsma & Kim Putters (2007) - De herontdekking van nationale kaderstelling - Proeflokaal, 22, 13-21
Kim Putters (2007) - Twee handen op een buik? Levert het spanningsveld tussen concurreren en samenwerken innovatiekracht op? - HMF, 2, 7-11
Kim Putters (2007) - Een PvdA keurmerk voor de WMO - Proeflokaal, 7 (24), 19-26
KG Luijkx & Kim Putters (2007) - Prosumerisme in de zorg - TSG, 8 (6), 307-311
Kim Putters & Marcus Twist (2007) - Bijdragen aan beleid of tegenspel bieden? Modaliteiten voor een vernieuwd adviesstelsel - Bestuurswetenschappen, 61 (2), 11-19
Kim Putters & Tom Grinten (2006) - Nieuwe bestuurlijke verhoudingen in de gezondheidszorg en de rol van de overheid - Bestuurskunde, 15 (2), 44-52
Tom Grinten & Kim Putters (2006) - De rollen verdeeld: het veranderende speelveld in de zorg - Bestuurskunde, 15 (2), 2-4
Tom Grinten, JK (Jan-Kees) Helderman & Kim Putters (2004) - Gezondheidszorg: een stelsel van stelsels - Beleid en Maatschappij, 31, 200-251
Kim Putters, JK (Jan-Kees) Helderman & Tom Grinten (2004) - Stelsel-matig hervormen - Beleid en Maatschappij, 31, 4-4
MPM Bekker & Kim Putters (2004) - Sturing van lokaal gezondheidsbeleid: de verknoping van gescheiden netwerken - Handboek sturing in de sociale sector, 4, 101-128
Kim Putters (1999) - Het gedrag van zorgverzekeraars op de quasi-markt:gevolgen voor financiering en verantwoording in de zorg - FSR Forum, 1 (5), 17-21
Kim Putters (1999) - Huisartsen in Europa: huisartsengeneeskunde in België, Denemarken en Duitsland - Medisch Contact, 54 (13), 450-453

Kim Putters (1998) - Maatschappelijk ondernemen in de zorg - Raad voor de Volksgezondheid en Zorg

Kim Putters, E den Breejen & PHA Frissen (2009) - De winst van zorgvernieuwing - Koninklijke Van Gorcum BV
JK (Jan-Kees) Helderman, Pauline Meurs & Kim Putters (2006) - Besturen met rationaliteit en redelijkheid. Orkestratie van gezondheidszorgbeleid - Koninklijke Van Gorcum BV
PPT (Patrick) Jeurissen & Kim Putters (2001) - Over de schotten in care en cure: opvattingen en werkwijzen. Ordeningen in de Nederlandse gezondheidszorg - Raad voor de Volksgezondheid en Zorg
Kim Putters (1997) - Health Impact Screening: rational models in their administrative context - Ministerie van Volksgezondheid, Wetenschap en Sport

Kim Putters & AAWM (Adriana Antonetta Wilhelmina Maria) van de Veerdonk (2012) - Hoofdstuk 6: Voorbij de governancecode. Inzicht in de handelingen en afwegingen van toezichthouders - Boom / Lemma Uitgevers
Kim Putters & TED Grinten (2001) - Schuivende institutionele verhoudingen in de gezondheidszorg - Boom
Kim Putters & TED Grinten (1999) - Maatschappelijk ondernemen in de zorg - De tijdstroom
Kim Putters (1999) - Health Impact Assessment as an Instrument for Healthy Public Policies - STAKES

M Vrielink, EJTh Hout & Kim Putters (2007) - Governance van lokale zorg- en dienstverlening - Lemma
Kim Putters, JK (Jan-Kees) Helderman & Tom Grinten (2007) - Gezondheidszorgonderzoek: de bestuurswetenschappelijke invalshoek - Bohn Stafleu van Loghum
E van Hout & Kim Putters (2007) - Leiderschap in maatschappelijke organisaties - Lemma
Kim Putters, EJTh Hout & T Cardoso Ribeiro (2007) - Consequenties van de Wet Maatschappelijke Ondersteuning - Koninklijke Van Gorcum BV
Kim Putters, Pauline Meurs & M Schulz (2007) - Van government naar governance in de hybride sectoren zorg en onderwijs - Sdu Uitgevers
Kim Putters (2007) - Marktgedrag en innovatie: over de ruimte voor innovatie tussen samenwerking en concurrentie - STG Health Management Forum
Kim Putters (2007) - Passende instrumenten voor onderwijsbeleid - Onderwijsraad
Kim Putters (2006) - De maatschappelijk ondernemer in de zorg: een schaap met vijf poten! - Koninklijke Van Gorcum BV
Erik Schut, JK (Jan-Kees) Helderman, Pauline Meurs & Kim Putters (2006) - Marktordening met beleid - Koninklijke Van Gorcum BV
MPM Bekker & Kim Putters (2003) - Sturing van lokaal gezondheidsbeleid: de verknoping van gescheiden netwerken - Elsevier
MPM Bekker & Kim Putters (2003) - Sturing van lokaal gezondheidsbeleid: de verknoping van gescheiden netwerken - Elsevier
Kim Putters & Tom Grinten (2001) - Schuivende institutionele verhoudingen in de besturing van de Nederlandse gezondheidszorg
Kim Putters (2000) - Ondernemersgedrag in de gezondheidszorg - Raad voor de Volksgezondheid en Zorg
Kim Putters & Tom Grinten (1999) - Maatschappelijk ondernemen in de zorg - Elsevier/De Tijdstroom

Kim Putters (2001) - Geboeid Ondernemen: Een studie naar het management in de Nederlandse Ziekenhuiszorg - Erasmus Universiteit Rotterdam (EUR)
Kim Putters (2001) - Geboeid ondernemen; een studie naar het management in de Nederlandse ziekenhuiszorg - EUR

Kim Putters (2009) - Besturen met duivelselastiek - Eigen beheer

Kim Putters & Sandra Thiel (2004) - Conceptualizing and measuring efficiency in health care
Sandra Thiel & Kim Putters (2004) - Conditions for efficiency improvement in Dutch health care
WGM (Wendy) van der Kraan, TED Grinten & Kim Putters (2004) - The meaning of demand-driven care for the empowerment of patients
Kim Putters & WGM (Wendy) van der Kraan (2004) - The entrepreneurial spirit and patient empowerment: coping with hybridity in Dutch Health care
Kim Putters (2001) - New roles and responsibilities in Dutch healthcare
Kim Putters (1998) - Strategisch ziekenhuismanagement in de regio Leeuwarden

Kim Putters (1999) - Social entrepreneurship: effective and legitimate public-private cooperation in the Dutch 'polder'
Kim Putters (1999) - Health Impact Screening as an instrument for healthy public policies

MJ (Matthijs) Faber, JWM Aarts, M (Marco) van Eijk, FD Vennik, E den Breejen, Kim Putters, JAM Kremer & BR Bloem (2012) - Het zorgnetwerk van de patiënt. De eerste ervaringen en zichtbare gevolgen voor de gezondheidszorg - MijnZorgnet
E den Breejen, Pauline Meurs, Kim Putters & J Meems (2008) - Patient centerend governance. Een exploratief onderzoek naar de positie en invloed van patienten en consumenten in de governance - Instituut Beleid & Management Gezondheidszorg
Kim Putters, AJ Boendermaker, E den Breejen & P Frissen (2008) - De urgentie van innovatie - NSOB
Wilma Scheer, Kim Putters & Pauline Meurs (2008) - Besturen tussen kunst en kunde. De geneeskundige bestuurder in het ziekenhuis gewaardeerd - NVZD-GV
BPA Mil, Kim Putters, Roland Bal, BJM Frederiks, WL Vreeman & M Noordink (2007) - Onderzoek naar de uitbreiding van de Wet gelijke behandeling op grond van handicap of chronische ziekte voor het terrein van goederen en diensten. - Health policy and management (BMG)
Kim Putters & PHA Frissen (2007) - Vertrouwen voor en door innovatie Over de noodzaak van checks & balances bij vernieuwingsprocessen in de zorg - Universiteit Tilburg
Sandra Thiel & Kim Putters (2003) - Evaluatie Lijst van 31: doelmatig werken aan doelmatige zorg - CVZ
Kim Putters (1999) - Management van beleidsadvisering: over de effectiviteit van strategische beleidsadvisering - Raad voor de Volksgezondheid en Zorg
Kim Putters (1997) - Ziekenhuismanagement in Zuid-Oost Brabant: van ZBZ tot Zornetwerk
Kim Putters (1999) - Social Entrepreneurship, the next step - Presentation at the Annual Conference of the European Health Management Association
Kim Putters (1999) - Health Impact Screening: the possibilities for European public health policies - Expert conference on health impact assessment in the countries of the European Union
Kim Putters (1998) - The political and administrative context of health impact assessment - Federation of Swedish County Councils
Kim Putters, Tom Grinten & Pauline Meurs (1998) - Social Entrepreneurship in Dutch healthcare - Congres van de European Healthcare Management Association
Kim Putters (1998) - De bestuurlijke inbedding van gezondheideffectsscreening - Conferentie van de landelijke vereniging van GGD's
Kim Putters (1997) - Governance of Dutch Health Care: Hospital Management within a mixed Public-Private Context - 4th National Public Management Conference at University of Georgia
Kim Putters, Lieke Oldenhof & J. Postma (2015) - Best Article Award Academy of Management for 'Justification work: how compromising enables public managers to deal with conflicting values'