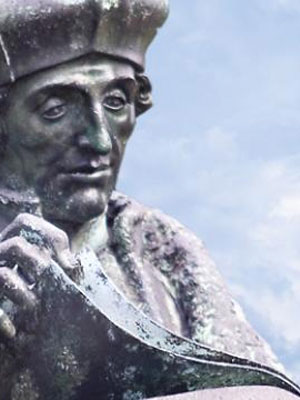 Assistant professor
Erasmus School of Health Policy & Management
Health Care Governance (HCG)
Location

Burg. Oudlaan 50, Rotterdam

Room

J6-31

Email
‹

Back to overview
Profile
Biography
After studying philosophy and economics at the University of Groningen (RuG), I did my PhD about the advance of economic discourse. In 2000 I defended my PhD thesis at the RuG 'Economisering als probleem. Een studie naar de bedrijfsmatige stad en de ondernemende universiteit' (van Gorcum, Assen, 2000). Since 2000 I work as postdoc and later as assistant professor Health Policy at the institute of Health Policy and Management.
Fields of interest & projects
My main fields of expertise are science and technology studies, the supervision of the quality of healthcare, and the ethics and governance of the health care sector. I have done several projects within the Academic Collaboration Inspection (Academische Werkplaats Toezicht), which aim to combine theoretical insights with practiced-based approaches. Methodologically, I am specialized in qualitative methods.
Currently, I research regulatory mechanisms and quality assurance systems within research and healthcare.
I supervised the following dissertation:
Femke Vennik. 2016. Interacting Patients. The Construction of Active Patientship in Quality Improvement Initiatives
Currently, I am the co-supervisor of:
Jacqueline van Oijen. Supervision and Quality Assurance of Clinical Research
David de Kam.Governance and (external) regulation and supervision of the quality and safety of healthcare
 Other activities
I am member of the Exam Board and chair of the Test Committee for the education program of the Institute of Health Policy and Management.
Kor Grit & Pauline Meurs (2005) - Verschuivende verantwoordelijkheden. Dilemma's van zorgbestuurders - Koninklijke Van Gorcum BV

Paul Robben, Kor Grit & Roland Bal (2016) - Inspectie voor de Gezondheidzorg - Wolters Kluwer
Kor Grit (2005) - De zoektocht naar verantwoord bestuur - Sdu Uitgevers
Kor Grit & Pauline Meurs (2004) - Integriteit in de zorgbesturing - Media business press
Kor Grit & Pauline Meurs (2004) - Stilstaan - De Baak managementcentrum
Kor Grit & Pauline Meurs (2004) - Stilstaan.. - Scriptum
Kor Grit (2002) - Boekrecensie - Sage

Kor Grit, David Kam, R Bouwman, HJM Harmsen, R Friele & Roland Bal (2018) - Kennissynthese calamiteitentoezicht - [link] - Erasmus University Rotterdam, ESHPM
J (Johan) Legemaate, Kor Grit, E Plomp, M Die, de, Hester Bovenkamp, T Broer, R Bouwman, MC Bomhoff, RD Friele & Roland Bal (2013) - Thematische wetsevaluatie - Bestuursrechtelijk toezicht op kwaliteit van zorg - ZonMw
Kor Grit, J Dwarswaard & Roland Bal (2012) - Adviseren met beleid Een onderzoek naar de doorwerking van adviezen van de Gezonheidsraad - Erasmus Universiteit Rotterdam (EUR)
JBM Versteegen, Kor Grit & Pauline Meurs (2012) - De Cliënt heeft de Regie De (door) ontwikkeling van zelfsturende teams naar een ondersteuningsnetwerk - Erasmus Universiteit Rotterdam (EUR)

M Triemstra, Kor Grit, Bert Graaff, J Venderbos & R Friele (2019) - Sectorbreed leren van calamiteiten in de jeugdhulpverlening - NIVEL
Kor Grit, M Bomhoff, R Friele & Roland Bal (2017) - Toezicht in onzekere situaties. Op zoek naar een passend toezichtkader in een veranderende gezondheidszorg - [link] - Instituut Beleid & Management Gezondheidszorg
FD Vennik, Hester Bovenkamp, I Raats, F de Wit, E Visserman & Kor Grit (2013) - Handleiding kwaliteitsverbetering ziekenhuiszorg vanuit de ervaring van patienten - Instituut Beleid & Management Gezondheidszorg
Hester Bovenkamp, Kor Grit & Roland Bal (2008) - Inventarisatie patiëntenparticipatie in onderzoek, kwaliteit en beleid - Instituut Beleid & Management Gezondheidszorg
Kor Grit, Hester Bovenkamp & Roland Bal (2008) - De positie van de zorggebruiker in een veranderend stelsel - Instituut Beleid & Management Gezondheidszorg
Hester Bovenkamp, Kor Grit & Roland Bal (2008) - Zaakwaarnemers van de patiënt. Naar een overzicht van activiteiten ter versterking van de positie van PGO-organisaties - Instituut Beleid & Management Gezondheidszorg
Kor Grit & Antoinette Bont (2007) - Zorgaanbieders en de ethische aspecten van marktwerking De Praktijopgave van het creëren van een passende zorgmarkt - iBMG - Erasmus MC
Anne Goossensen, Marc Koopmanschap, Kor Grit, Marleen Mul, AHE Koolman & P Zijlstra (2007) - Evaluatie Proeftuin Farmacie Groningen - Health policy and management (BMG)