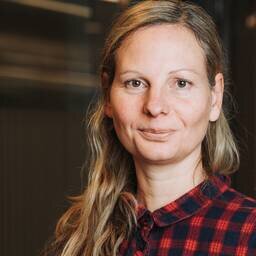 Assistant professor
Erasmus School of Philosophy
WP ESPhil
Location

Burg. Oudlaan 50, Rotterdam

Email
‹

Back to overview
Profile
**Maren Wehrle is assistant professor in practical philosophy at Erasmus School of Philosophy. **
Maren Wehrle, obtained a Master degree in Philosophy, German Literature and Historical Anthropology at the University of Freiburg, Germany (2006). In 2011 she received a doctorate in Philosophy from the University of Freiburg with a dissertation entitled 'Horizonte der Aufmerksamkeit. Entwurf einer dynamischen Konzeption der Aufmerksamkeit aus phänomenologischer und kognitionspsychologischer Sicht'. From 2012 until 2017 she worked as Post-Doctoral Researcher and Lecturer at the Faculty of Philosophy (Center of Phenomenoloigcal and Continental Philosophy: Husserl Archives) of KU Leuven, Belgium.
Her areas of specializations are Phenomenology, Philosophical and Historical Anthropology, Feminist Philosophy and Cognitive Psychology. Wehrle has authored many articles, a monography on Attention in Phenomenology and Cognitive Psychology, 'Horizonte der Aufmerksamkeit' (München: Wilhelm Fink Verlag 2013), and edited (together with M. Ubiali) 'Feeling and Value, Willing and Action'(Phaenomenologica: Springer 2015) and a Handbook on Edmund Husserl (together with S. Luft), 'Husserl Handbuch. Leben-Werk-Wirkung' (Metzler: Stuttgart 2018).
Areas of competence (for PhD supervision): Phenomenology, Philosophical and Historical Anthropology, Cognitive Sciences, Feminist Philosophy/Gender Studies, Philosophy of Technology
Most of her recent work is available here.
Maren Wehrle (2020) - Bodies (that) Matter. The Role of Habit Formation for Identity - Phenomenology and the Cognitive Sciences - doi: 10.1007/s11097-020-09703-0
Maren Wehrle (2020) - Normaliteit of de stilte van de (lichamelijke) ervaring - Algemeen Nederlands Tijdschrift voor Wijsbegeerte, 11 (1), 33-41
Maren Wehrle (2019) - Being a body and having a body. The twofold temporality of embodied intentionality - Phenomenology and the Cognitive Sciences - doi: 10.1007/s11097-019-09610-z
Maren Wehrle (2019) - 'There is a Crack in Everything'. Fragile Normality: Husserl's Account of Normality Re-visited - Phainomenon: Journal of Phenomenological Philosophy, 28 (2018), 49-76 - [link]
Maren Wehrle (2018) - The Normative Body and the Embodiment of Norms. Bridging the Gap Between Phenomenological and Foucauldian Approaches - Yearbook for Eastern and Western Philosophy, 2017 (2), 323-337 - doi: 10.1515/yewph-2017-0023
Maren Wehrle (2016) - Normative Embodiment. The role of the body in Foucault's Genealogy. A Phenomenological Re-Reading - Journal of the British Society for Phenomenology, 47 (1), 56-71 - doi: 10.1080/00071773.2015.1105645
Maren Wehrle & T Breyer (2016) - Horizonal Extensions of Attention: A Phenomenological Study of the Contextuality and Habituality of Experience - Journal of Phenomenological Psychology, 47 (1), 41-61 - doi: 10.1163/15691624-12341304
Maren Wehrle (2016) - Zwischen den Diskursen oder inmitten der Erfahrung, wie und wo entsteht Geschichte? - Danish Yearbook of Philosophy, 48 (2013), 169-184
Maren Wehrle (2015) - Feelings as the Motor of Perception"? The Essential Role of Interest for Intentionality - Husserl Studies, 31 (1), 45 - doi: 10.1007/s10743-014-9159-8
Maren Wehrle (2013) - Konstitution des Sozialen oder soziale Konstitution? Gemeinschaftshabitualität als Voraussetzung und Grenze sozialer Erfahrung - Phänomenologische Forschungen, 2013 (1), 301-317
Maren Wehrle (2010) - L'attention. plus ou moins que la perception? Au croisement des perspectives de la phénoménologie et des sciences cognitives - Alter: Revue de phénoménologie, 18, 145-164
Maren Wehrle (2010) - Die Normativität der Erfahrung. Überlegungen zur Beziehung von Normalität und Aufmerksamkeit bei E. Husserl - Husserl Studies, 26 (3), 167-187 - doi: 10.1007/s10743-010-9075-5
Maren Wehrle (2013) - Horizonte der Aufmerksamkeit. Entwurf einer dynamischen Konzeption der Aufmerksamkeit aus phänomenologischer und kognitionspsychologischer Sicht - Wilhelm Fink Verlag
S Luft & Maren Wehrle (2017) - Husserl Handbuch: Leben-Werk-Wirkung - Metzler Verlag (Springer Nature)
Maren Wehrle & M Ubiali (2015) - Feeling and Value, Willing and Action. Essays in the Context of a Phenomenological Psychology - Springer
Maren Wehrle (2020) - Körper im Zwiellicht. Inkorporierte Geschichte und leibliche Praxis - In Ulrike Kadi & Gerhard Unterthurner, Macht-Knoten-Fleisch. Topographien des Körpers bei Foucault, Lacan und Merleau-Ponty. (pp. 7-25) - J.B. Metzler (Springer Nature)
Maren Wehrle & M Doyon (2020) - Body - In D. De Santis, B.C. Hopkins & C. Majolino, The Routledge Handbook of Phenomenology and Phenomenological Philosophy (pp. chapter 9) - Routledge
Maren Wehrle (2020) - Simone de Beauvoir (part II: historical perspectives, chapter 16) - In Thomas Szanto & Hilge Landweer, The Routledge Handbook of the Phenomenology of Emotions - [link] - Routledge
Maren Wehrle (2020) - Bodily Performativity: Enacting Norms - In Lucilla Guidi & Thomas Rentsch, Phenomenology as Performative Exercise (pp. 120-140) - doi: 10.1163/9789004420991 A - [link] - Koninklijke Brill NV
Maren Wehrle (2020) - Becoming Old. The Gendered Body and the Experience of Aging - In Mark Schweda, Michael Coors & Claudia Bozzaro, Aging and Human Nature. Perspectives from Philosophical, Theological, and Historical Anthropology (pp. 61-74) - doi: 10.1007/978-3-030-25097-3 - [link] - Springer
Maren Wehrle (2020) - Doing Gender Differently? The Embodiment of Gender Norms as Between Permanence and Transformation - In Thomas Bedorf & Steffen Herrmann, Political Phenomenology. Experience, Ontology, Episteme (pp. 300-325) - [link] - Routledge
Maren Wehrle (2018) - Habits We (Can) Share: Human-Animal Encounters - In Thiemo Breyer & Thomas Widlok, The Situationality of Human-Animal Relations. Perspectives from Anthropology and Philosophy (pp. 51-68) - [link] - Transcript Verlag
Julia Jansen & Maren Wehrle (2018) - The Normal Body: Female Bodies in Changing Contexts of Normalization and Optimization - In Fischer, Clara/Dolezal, Luna, New Feminist Perspectives on Embodiment (pp. 37-55) - Palgrave Macmillan
Maren Wehrle (2018) - Rückkehr der Autorität? Auf der Suche nach der verlorenen (Geschlechter-)Normalität. - In H. Landweer & C. Newmark, Wie männlich ist Autorität? Feministische Kritik und Aneignung. (pp. 219-241) - Campus Verlag
Maren Wehrle & T Breyer (2016) - Attentionale Horizonte zwischen Phänomenologie und Psychologie - In Reh, Sabine/Berdelmann, Kathrin/Dinkelaker, Jörg, Aufmerksamkeit. Geschichte - Theorie - Empirie (pp. 371-387) - Springer VS
Maren Wehrle (2016) - Normale und normalisierte Erfahrung. Das Ineinander von Diskurs und Erfahrung - In Landweer, Hilge/Marcinski, Isabella, Dem Erleben auf der Spur. Feminismus und die Philosophie des Leibes (pp. 235-257) - Transcript Verlag
Maren Wehrle (2015) - Normality and Normativity in Experience - In Doyon, Maxime/Breyer, Thiemo, Normativity in Perception (pp. 128-140) - Palgrave Macmillan
Maren Wehrle (2013) - Medium und Grenze: Der Leib als Kategorie der Intersubjektivität. Phänomenologie und Anthropologie im Dialog - In Breyer, Thiemo, Grenzen der Empathie. Philosophische, psychologische und anthropologische Perspektiven (pp. 217-238) - Wilhelm Fink Verlag
Maren Wehrle (2010) - Art. 'Konstitution' - In Hans-Helmuth Gander, Husserl-Lexikon (pp. 172-174) - WBG
Maren Wehrle (2010) - Art. 'Intersubjektivität' - In Hans-Helmuth Gander, Husserl-Lexikon (pp. 158-164) - WBG
Maren Wehrle (2010) - Art. 'Leib' - In Hans-Helmuth Gander, Husserl-Lexikon (pp. 188-190) - WBG
Maren Wehrle (2010) - L'attention. plus ou moins que la perception? Au croisement des perspectives de la phénoménologie et des sciences cognitives - In Alter: Revue de Phénoménologie, n?18 (L' Attention) (pp. 145-165) - Éditions Alter
Maren Wehrle (2010) - Intentionalität, Interesse, Affektion. Das Phänomen der Aufmerksamkeit als Umschlagstelle zwischen Aktivität und Passivität - In Merz, Philippe/Staiti, Andrea/Steffen, Frank, Geist-Person-Gemeinschaft. Freiburger Beiträge zur Aktualität Husserls (pp. 77-109) - Ergon Verlag
Maren Wehrle (2010) - Art. 'Primordialsphäre' - In Hans-Helmuth Gander, Husserl-Lexikon (pp. 242-243) - WBG
Maren Wehrle (2021) - Normale/anormale Körper - In Heidi Wilm, Gerhard Unterthurner, Timo Storck, Ulrike Kadi & Artur R. Boelderl, Körper Glossar (pp. 100-106) - Verlag Turia + Kant
T Breyer, J Sprondel & Maren Wehrle (2011) - Cyberanthropology-Being human on the internet - In Working Paper Series on Internet & Society. Contributions to the 1st Berlin Symposium on Internet and Society. Exploring the Digital Future
Maren Wehrle (2020) - Being a body and having body (Phenomenology of the Body) - Bioethics Webinars (State University California)
Maren Wehrle (2020) - Husserl and Foucault: The power of reduction and the reduction of power - international conference ' Phenomenology: From Method to Critique'
Maren Wehrle (2019) - 'Bodies (that) matter': Norms, Identity and the role of habit formation - International Conference: 'Phenomenology and Personal Identity II'
Maren Wehrle (2019) - 'Bodies (that) matter': Norms, Identity and the role of habit formation - International Conference: 'Phenomenology and Personal Identity II'
Maren Wehrle (2019) - Bridging the gap between the individual and the social: the phenomenological concept of situation - panel paper, 17th annual conference of the Nordic Society for Phenomenology: Phenomenology of social life
Maren Wehrle (2019) - Returning to Normality? A (Phenomenological) Bottom-Up Approach to Normativity - invited lecture, workshop 'Norms, Goals and Values. A Phenomenological Approach to Normativity'
Maren Wehrle (2018) - Medium und Grenze: Leiblichkeit und Intersubjektivität - invited lecture/key note
Maren Wehrle (2018) - Internet as Extension of the Human Lifeworld? Phenomenology as a tool for describing internet-mediated Experience - Workshop: Phenomenology of Changing Lifeworlds: Exploring Human-Machine Interactions
Maren Wehrle (2018) - Ist das noch normal? Husserls Konzept der Normalität und seine sozial-politischen Implikationen - Workshop: Husserl heute!
Maren Wehrle (2018) - Unmittelbare Vermittlung: Die Vernetzung von Menschen, Daten und Dingen - Workshop: Öffentlichkeit, Privatheit und Pluralität im digitalen Zeitalter
Maren Wehrle (2017) - Das ist doch nicht (mehr) normal! Soziale Rollen und Normalität - Workshop: Soziale, kulturelle, fiktive Rollen
Maren Wehrle (2017) - The Social Role of Habit –(Social) Capital or Constraint? - Workshop: Subject, Character, Habit
Maren Wehrle (2017) - Körper im Zwielicht. Inkorporierte Geschichte und leibliche Praxis - Conference: Topographien des Körpers. Foucault, Lacan, Merleau-Ponty in der Diskussion
Maren Wehrle (2017) - Normative Embodiment - meeting German Society for Philosophy (DGPhil) XXIV
Maren Wehrle (2017) - The Normative Body and the Embodiment of Norms: Habit and Normalization - Kongress Deutsche Gesellschaft für Philosophie (DGPhil) 2017
Maren Wehrle (2017) - Die Inkorporierung von Geschlechtsnormen: Permanenz und Performativität - Jahrestagung der Deutschen Gesellschaft für phänomenologische Forschung
Maren Wehrle (2017) - Embodied Experience: Between Normalization and Performativity - Conference: Phenomenology as Performative Exercise
Maren Wehrle (2017) - Experiences We (Can) Share: Human-Animal Interrelations - Conference: Phenomenology and Ecology
Maren Wehrle (2017) - The Embodiment of Gender Norms: Permanence and Performativity - 15th Annual Conference of the Nordic Society for Phenomenology (NOSP)
Maren Wehrle (2017) - Normalization and Symbolic Violence: How Norms and Power Shape Our Embodiment and Experience - Memorial European Summer School in Philosophy: Politics in the Phenomenological Tradition
Maren Wehrle (2017) - Habits We (Can) Share: Shared Situations and Habits in Human-Animal Encounters - Workshop: The Situationality of Human-Animal Relations: Perspectives from Anthropology and Philosophy
Maren Wehrle (2017) - Eccentric Positionality: Embodiment in Virtual and Augmented Realities - Workshop: Simulation and Embodied Cognition in Neuroscience and AI
Maren Wehrle (2016) - The Lifeworld as Condition for Normal Perception - 3rd International Symposium of the Yearbook for Eastern and Western Philosophy
Maren Wehrle (2016) - Being a Body and Having a Body. The Twofold Temporality of Embodied Intentionality, conference - International Conference :Time and Intentionality
Maren Wehrle (2016) - The Normative Body and the Embodiment of Norms. Bridging the Gap Between Phenomenological and Postmodern Approaches - International Conference: Embodiment. Phenomenology in East and West
Maren Wehrle (2016) - Habit and normalization: Towards a genealogy and critique - 14th Annual Conference of the Nordic Society for Phenomenology (NOSP)
Maren Wehrle (2015) - Normative Embodiment - Jaarvergadering van het gezelschap van fenomenologische wijsbegeerte
Maren Wehrle (2015) - Normative Embodiment. The Role of the Body in Foucault's Genealogy. A Phenomenological Re- Reading - 13th Annual Conference of the Nordic Society for Phenomenology (NOSP)
Maren Wehrle (2015) - Normalisierung und Normalität. Husserl und Foucault - Husserl-Arbeitstage
Maren Wehrle (2014) - Normality in Experience - 53rd annual meeting of the Society for Phenomenology and Existential Philosophy
Maren Wehrle (2014) - Von Affen, Hühnern, Mäusen und Menschen. Warum wir Tiere brauchen, um menschlich zu sein - workshop on behalf of the 80th birthday of Bernhard Waldenfels: 'Tiere als Fremdlinge. Bruchstellen der Erfahrung'
Maren Wehrle (2013) - Konstitution des Sozialen oder soziale Konstitution? Gemeinschaftshabitualität als Voraussetzung und Grenze sozialer Erfahrung - meeting of the German Society for Phenomenological Research (DGPF)
Maren Wehrle (2013) - Normality and normativity in experience - International conference "Normativity in Perception: Phenomenological, Analytical and Psychopathological Perspectives"
Maren Wehrle (2013) - Internet as an extension of the lifeworld? - International conference, Conditions of mediation. Phenomenological approaches to media, technology and communication
Maren Wehrle (2013) - Auf der Suche nach der verlorenen Identität. Verankerungen und Vervielfältigungen des Ichs bei Merleau-Ponty und Husserl - interdisciplinary workshop: 'Ich und Ich-Störungen. Philosophie, Neuropsychologie und Psychiatrie im Gespräch'
Maren Wehrle (2013) - Zwischen den Diskursen oder inmitten der Erfahrung, wie und wo entsteht Geschichte - Zwischen den Diskursen oder inmitten der Erfahrung, wie und wo entsteht Geschichte, International conference, The Phenomenon of History - Das Phänomen Geschichte - Le Phénomène de l'Histoire
Maren Wehrle (2012) - Feelings as the motor of perception. Intentionality and interest in Husserl - Husserl-Arbeitstage
Maren Wehrle (2012) - The Internet as a new field of research for Phenomenology? What can Phenomenology offer for the description of internet-mediated experience? - Conference, 'Phenomenology in Belgium'
Maren Wehrle, JT Sprondel & T Breyer (2011) - CyberAnthropology – Being Human on the Internet. - 1st Berlin Symposium for Internet and Society
Maren Wehrle (2011) - Medium und Grenze. Der Leib als Kategorie der Intersubjektivität - Conference, 'Grenzen der Empathie. Philosophische, psychologische und anthropologische Perspektiven'
Maren Wehrle (2011) - Die Grenzen der Philosophie und ihre empirischen Horizonte - 9th Congress of the Austrian Society of Philosophy (OEGP)
Maren Wehrle (2011) - Leibliches und intersubjektives Selbst - Interinterdisciplinary workshop: 'Konzepte des Selbst'
Maren Wehrle & T Breyer (2011) - Phenomenality and Mediality: Connections between Lifeworld and Selective Attention in Virtual Space - 13th Annual Meeting of the Society for Phenomenology and Media
Maren Wehrle (2009) - Die Normativität der Erfahrung - Husserl-Arbeitstage
Maren Wehrle (2008) - L'attention. plus ou moins que la perception? Au croisement des perspectives de la phéno-ménologie et des sciences cognitives - Séminaire des Archives Husserl
Maren Wehrle (2016) - Normale und normalisierte Erfahrung: Das Ineinander von Diskurs und Erfahrung - key note in public lecture series 'Offener Hörsaal FU Berlin': Feminismus und die Philosophie des Leibes