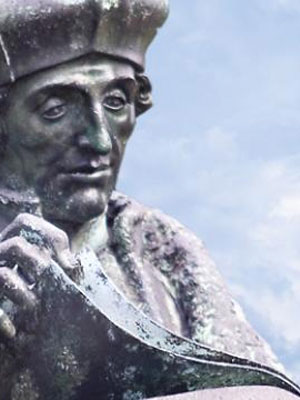 Assistant professor
Erasmus School of Social and Behavioural Sciences
Public Administration
Location

Burg. Oudlaan 50, Rotterdam

Room

T17-03

Email
‹

Back to overview
Profile
Rebecca Moody (1981) is an Assistant Professor at the Department of Public Administration at Erasmus University Rotterdam. Currently she is working on the project Visual Culture and Public Policy Making as well as the project Socio-technical deteminants for knowledge creation.
Moody studied political science, and specifically the field of international relations at the University of Leiden. In 2005 she obtained her Masters degree on the basis of her thesis on coalition formation strategies in the United Nations Security Council. In 2010 she obtained her PhD degree on the influence of Geographical Information Systems on policy design and agenda-setting at the department of Public Administration at the Erasmus University in Rotterdam. She specifically focuses on how forms of ICT such as Geographical Information Systems can help or hinder issues from reaching the political agenda and how processes of policy design might be altered by the use of Geographical Information Systems.
Furthermore, in 2008 she has cooperated in an NWO funded research on the influence of Web 2.0 technologies on processes of micro mobilization.  The project focuses on the relation between traditional and new media in these processes.
From 2010 onwards she researched visual culture at the Erasmus Studio.  New technologies for distributing but also creating visual images can have a profound impact on the way public policy is made.
From 2012 onwards she was part of the Unite Europe research project, an FP7 funded project in which grid modelling in social media monitoring was explored.
Currently she is working on a research project determining socio-technical factors influencing knowledge creation.
Victor Bekkers & Rebecca Moody (2014) - Visual culture and public policy: towards a visual polity? - doi: 10.4324/9781315776132 - Routledge
Victor Bekkers, HJG Beunders, Arthur Edwards & Rebecca Moody (2009) - De Virtuele Lont in het Kruitvat: Welke rol spelen de oude en nieuwe media in de micromobilisatie van burgers en hun strijd om politieke aandacht? - Lemma

Rebecca Moody (2017) - Media, Margins and Civic Agency - Information Polity, 1

Rebecca Moody & Lasse Gerrits (2015) - Values in computational models revalued: the influence of designing computational models on public decision-making processes - Springer Science
Rebecca Moody, M Kouw & Victor Bekkers (2013) - Virtually Visual: the visual rethoric of geographical information systems in policy making - The MIT Press
Rebecca Moody & Victor Bekkers (2012) - Visual Connections: The power of the visual in the policy process in two Dutch - IOS Press BV
Victor Bekkers, Arthur Edwards & Rebecca Moody (2012) - Micro-mobilization, new media power and the management of strategic surprises - IOS Press BV
Lasse Gerrits & Rebecca Moody (2011) - Envisaging futures: Analyzing the use of computational models in public decision making - Emergent Publications
Rebecca Moody, D de Kool & Victor Bekkers (2010) - Virtual Neighborhoods and E-Government: A Case Study Comparison - IGI Global Publishing
Victor Bekkers & Rebecca Moody (2009) - Visual Culture and Electronic Government: Exploring a New Generation of E-Government - Springer
Rebecca Moody (2008) - Has Incrementalism Murdered the Hype? An Assessment of the Actual and Potiential Use of Geographical Information Systems in Policy Design - IOS Press BV
Rebecca Moody (2007) - Assessing the Role of GIS in E-Government. A Tale of E-Participation in Two Cities - Springer
Victor Bekkers & Rebecca Moody (2006) - Geographical Information Systems and the Policy Formulation Process: the Emergence of a Reversed Mixed Planning Mode? - IOS Press BV

Rebecca Moody (2017) - Barriers to big and open data
Rebecca Moody, VA Plat & Victor Bekkers (2017) - Barriers to big data use in municipalities: look before you leap
Rebecca Moody (2017) - De glazen bol
M Dijk, van & Rebecca Moody (2016) - Love or Hate: A new approach to local debate
Rebecca Moody & Lasse Gerrits (2016) - Secret information: knowledge creation and ICT in illegal or socially unacceptable matters
Rebecca Moody & B Broekema (2016) - Rediscovering Self Sufficiency, How big data redefines and poses new challenges
Rebecca Moody (2016) - The influence of the visual in public policy making
Rebecca Moody (2013) - Changing images, changing arenas
Rebecca Moody & V Bekkers (2013) - The influence of the visual in public policy making
Rebecca Moody & Victor Bekkers (2012) - Visual Technologies in Agenda Setting Processes: The role of technology in persuasive stories
Victor Bekkers & Rebecca Moody (2011) - Visual technologies, the power of framing and accountability
Rebecca Moody & Victor Bekkers (2011) - The Power of the Visual in the Policy Process in two Dutch Cases
Victor Bekkers & Rebecca Moody (2011) - Visual Innovations. Innovations in technology for visualization and the policy process
M Hosli, Rebecca Moody, B O'Donovan, S Kaniovski & CH Little (2011) - Squaring the circle? Collective and distributive effects of United Nations Security Council reform

Rebecca Moody (2019) - Het beste van twee werelden

Rebecca Moody (2011) - The Power of the Visual in the Policy Process in two Dutch Cases - Trauner Verlag

B Jager, G Dissauer, M Bartenberger, P Leitner, V Grubmuller & Rebecca Moody (2014) - Interface designs and dashboard mockups 2
B Bourgeouis, J Neubarth, K J Lassen, Rebecca Moody, H Emilsson, B Jäger & K Götch (2013) - Customization and calibration report
B Jager, G Dissauer, M Bartenberg, V Grubmuller, P Leitner, J Neubarth, Rebecca Moody & H Emilsson (2013) - Technical requirements and functionality specifications 2
Rebecca Moody, J Neubarth & B Bourgeois (2013) - Grid Model and Multi Layer Logic Patterns description 2
Rebecca Moody & Lasse Gerrits (2011) - Assessing the Role of Computational Models in Public Decision Making
Victor Bekkers, Arthur Edwards & Rebecca Moody (2010) - Micro-mobilization, social media and coping strategies: some Dutch experiences
Victor Bekkers & Rebecca Moody (2010) - Visual Events and Electronic Government: What Do Pictures Mean in Digital Government for Citizen Relations?
Lasse Gerrits & Rebecca Moody (2010) - Envisaging futures: analyzing the use of computational models in public decision making
Rebecca Moody (2008) - Assessing the Role of GIS in Agenda-Setting: How Flooding Streams Towards Agenda Status
Rebecca Moody, Victor Bekkers, Arthur Edwards & HJG Beunders (2008) - Micro-mobilization, political resonance and the role of new and old media: towards a conceptual framework
Rebecca Moody (2008) - Assessing the Implementation of Geographical Information Systems Innovations in Water Management, Internal Risk Assessment and Dealing with Particulate Matter
Victor Bekkers, Arthur Edwards, Rebecca Moody & HJG Beunders (2008) - New media, micro-mobilization and political agenda setting: how young people have used web 2.0 to change the education agenda in the Netherlands
Arthur Edwards, Victor Bekkers, HJG Beunders & Rebecca Moody (2008) - The role of web technologies in mobilization and agenda-setting on environmental issues: new intermediaries in the public discussion on climate change
Rebecca Moody (2008) - Assessing the Role of GIS in Agenda-Setting: How Flooding Streams Towards Agenda Status
Arthur Edwards, Victor Bekkers, HJG Beunders & Rebecca Moody (2008) - Mobilization by new web technologies: Dutch secondary school students revolt against the `1040 hours norm
Rebecca Moody, Victor Bekkers, Arthur Edwards & HJG Beunders (2008) - Micro-mobilization, political resonance and the role of new and old media: towards a conceptual framework
Rebecca Moody (2007) - Assessing the Role of GIS in E-Government: A Tale of E-Participation in Two Cities
Rebecca Moody (2007) - Assessing the Role of GIS in E-Government: A Tale of E-Participation in Two Cities
Rebecca Moody (2007) - Assessing the Role of GIS in E-Government: A Tale of E-Participation in Two Cities
Rebecca Moody (2006) - Geographical Information Systems, Agenda Setting and Policy Formation. A Theoretical Exploration

Rebecca Moody, B Krieger, J Neubarth & B Bourgeois (2013) - Integration issue related parameter and indicator library 2 - Unite Europe
P Leitner, Rebecca Moody, B Jager, H Emilsson, V Grubmuller & B Bourgeois (2012) - User survey, usability study and performance test status report 1 - Unite Europe
B Krieger, Rebecca Moody, R (Rianne) Dekker & H Emilsson (2012) - Public administration workflow and key role report - Unite Europe
B Krieger, L Creusen, Rebecca Moody, R (Rianne) Dekker, Victor Bekkers, H van der Lugt, H Emilsson & P Odhelius (2012) - Public administration technical systems report - Unite Europe
R (Rianne) Dekker, Rebecca Moody, Peter Scholten, B Krieger, H van der Lugt, L Creusen, Victor Bekkers, D Odukoya & H Emilsson (2012) - Integration Policies and Measures Report - Unite Europe
I Stockl, B Krieger, Rebecca Moody, V Grubmuller, H Emilsson & C Schaeffer (2012) - Legal, cultural and ethical aspects report - Unite Europe
H Emilsson, B Krieger, D Odukoya, Rebecca Moody & R (Rianne) Dekker (2012) - Integration issues report - Unite Europe
H Emilsson, V Grubmuller, Rebecca Moody, K Gotsch, R (Rianne) Dekker, B Krieger, P Odhelius & H van der Lugt (2012) - Multi-lingual semantic tag library 1 - Unite Europe
Rebecca Moody & Victor Bekkers (2012) - Integration issue-related parameter and indicator library 1 - Unite Europe
Rebecca Moody, Peter Scholten & Victor Bekkers (2012) - Grid model and multi layers logic patterns description 1 - Unite Europe
P Leitner, Rebecca Moody, V Grubmuller, B Krieger, H Emilsson, J Neubarth & B Bourgeois (2012) - Concept for the monitoring and decision support tool - Unite Europe
B Jager, Rebecca Moody, P Leitner, V Grubmuller, B Krieger & H Emilsson (2012) - Interface designs and dashboard mockups 1 - Unite Europe
B Jager, Rebecca Moody, H Emilsson, V Grubmuller, J Neubarth & B Bourgeois (2012) - Technical requirements and functionality specifications 1 - Unite Europe

Rebecca Moody (2019) - Innovation flow - Ministry of Defense
Rebecca Moody (2018) - Evaluatie logistieke pilot - Ministry of Defense
Rebecca Moody (2018) - Logistic force - Ministry of Defense
Rebecca Moody (2018) - Operation Civil Force - Ministry of Defense
Victor Bekkers, Arthur Edwards, Rebecca Moody & HJG Beunders (2009) - De virtuele lont in het kruitvat. Welke rol spelen de oude en nieuwe media in de micromobilisatie van burgers? Eindrapportage van het project `Micromobilisatie en resonantie door oude media en nieuwe webtechnologieën - Nederlandse Organisatie voor Wetenschappelijk Onderzoek (NWO)
Rebecca Moody (26 August 2020) - Studio P: Stem van de straat - Lecture
Rebecca Moody (2018) - Unknown event - Unknown event
Rebecca Moody (2018) - Unknown event - Unknown event
Rebecca Moody (2017) - Unknown event - Unknown event
Rebecca Moody & V Plat (2017) - Kennisbijeenkomst Gemeente Rotterdam - Kennisbijeenkomst Gemeente Rotterdam

Rebecca Moody & V Bekkers (2019) - Big Data, Arenas, Public Administration and Computer Science: A Research Agenda - EGPA conference

Rebecca Moody (2021) - Datagedreven werken - Bijeenkomst Dienst Datagedreven Werken Gemeente Rotterdam
Rebecca Moody (2020) - Big data en het sociaal domein - Bijeenkomst BAR organisatie
Rebecca Moody & M Van Dijk (2020) - Citizen Science - Bijeenkomst Provincie Zuid Holland

Rebecca Moody (2019) - Scanning: a garbage can model - Gemeente Rotterdam
Rebecca Moody (2019) - Big data in de publieke sector - Big data in de publieke sector
Vincent Homburg, Qiaomei Yang, Rebecca Moody & Victor Bekkers (2018) - Promises and pressures in China's digital democracy - Scandinavian Workshop on E-Government (SWEG) 2018

W Drechsler, Rebecca Moody, C (Christopher) Pollitt & M Vintar (2011) - The NISPAcee Journal of Public Administration and Policy (Journal)