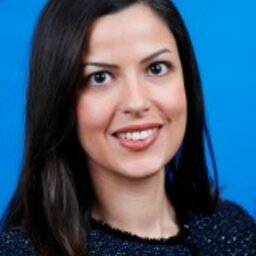 Lecturer
Erasmus School of History, Culture and Communication
Department of Media and Communication
Location

Burg. Oudlaan 50, Rotterdam

Room

M8-35

Email
‹

Back to overview
Profile
Sergül is a Lecturer in Organizational and Corporate Communication at the Department of Media and Communication of Erasmus University Rotterdam. Her ongoing PhD research in Media and Communication Studies at Galatasaray University, Istanbul focuses on the intersection of cosmopolitanism, framing and crisis reporting. She received her European Studies (M.A.) degree from Sciences Po Paris and Sociology (B.A.) degree from Bogazici University, Istanbul.  
She has experiences as an educator, researcher and practitioner. Before joining the Department in February 2020, she worked as a Lecturer at the University of Applied Sciences Utrecht. 
She was a visiting fellow at Cardiff University School of Journalism, Media and Culture Studies in 2018, where she found the opportunity to deepen her understanding of research and teaching. 
From 2011 to 2014 she worked for the news channel CNN Turk as a correspondent covering local and foreign news. She then transferred her skills in journalism into corporate communications and worked for the Turkish conglomerate Sabanci. 
Outside academia, she still retains a vast and strong network with the professional field by contributing to two prestigious digital media platforms (Journo and NewsLabTurkey) that aims at enhancing journalism in Turkey; here she writes about the future of journalism, media and technology. 
C. Saran, C. Acun, Ç. Koşal Akpınarlı, G. Arıkan, A. Ölmezses Şentürk & S. Nguyen (2016). Barış Gazeteciliği Bağlamında Türkiye Medyasında Ezidiler ve Türkmenler. Ileti-s-im.

I. Cinarli & S. Nguyen (2020). Mediating Fear by Breaking News: A Case Study of CNN Türk and NTV. In D. Nguyen, I. Dekker & S. Nguyen (Eds.), Understanding Media and Society in the Age of Digitalisation (pp. 131-156). Switzerland: Palgrave MacMillan doi: 10.1007/978-3-030-38577-4_7

S. Nguyen (2019, maart 22). Framing in the Media. Institute for Communication at Hogeschool Utrecht, Guest Lecture.
S. Nguyen (2021, januari 6). Journalism in Turkey. International Journalism CM2043 at Erasmus University Rotterdam, Guest Lecture.
S. Nguyen (2020, september 2). New Media Psychology. University of Applied Sciences Utrecht, Visiting Lecturer during Term 1.
S. Nguyen (2018, april 16). Global Media Ethics. Cardiff School of Journalism, Media and Culture, Guest Lecture.
S. Nguyen (2016, februari 1). Média et Droit des Enfants. Galatasaray University, Istanbul, Teaching Assistant, Spring Semester.

S. Nguyen (2017, september 30). Dijital Dönüşüm Gazetecilik Sektörünü Nasıl Etkiliyor? TGS Akademi (Journalists Union of Turkey's Media Academy), Istanbul, Public Training.

S. Nguyen (2017). The Myth of Global Journalism: BBC World News Online Coverage of the Syrian Refugee Crisis. 13th European Sociological Association Conference: Athens, Greece.
S. Nguyen (2017). Media, Politics & Migration: Reporting on Syrian "guests" in Turkey. The Migration Conference: Athens, Greece.
I. Cinarli & S. Nguyen (2017). Cultivating Fear, Harvesting Uncertainty: How Breaking News Concept is 'Broken' in the Post-Truth Era? International Conference on Media Studies: Warsaw, Poland.

J.F. Pérouse, I. Gilles, A.G. Corte-Real Pinto, C. Scalbert-Yücel, C. Saran & S. Nguyen (2017). Ambiguités turques: La réception des attentats de 2015 en France dans les médias et réseaux sociaux turcs (la Turquie aujourd'hui, 25). Istanbul: OpenEdition Books doi: 10.4000/books.ifeagd.2240

Lecturer

University

Erasmus University Rotterdam

School

Erasmus School of History, Culture and Communication

Department

Department of Media and Communication

Country

The Netherlands
Address
Visiting address
Burg. Oudlaan 50
3062 PA Rotterdam
Postal address
Postbus 1738
3000 DR Rotterdam