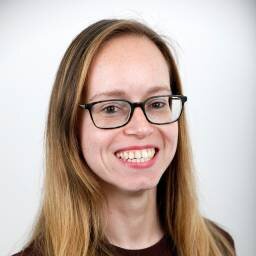 Lecturer
Erasmus School of History, Culture and Communication
Department of Media and Communication
Location

Burg. Oudlaan 50, Rotterdam

Room

M8-48

Email
‹

Back to overview
Profile
Simone Driessen (1987) is a lecturer in the Media and Communication Department of Erasmus University Rotterdam.
As a lecturer she is involved in several courses in the IBCoM-bachelor programme (i.e. International & Global Communication, Communication as a Social Force, and Media Entertainment & Popular Culture). She also supervises theses for the Master Media Studies.
In June 2017, Simone obtained her PhD from the Erasmus Research Centre for Media, Communication and Culture (ERMeCC). Her PhD-project focused on the affordances of mainstream popular music in the everyday life of ageing audiences. In several empirical cases, she studied how a particular generation explains and legitimises the consumption and appreciation of music from its recent past in different contexts, such as commercially based reunion events (e.g. of Dutch pop act Doe Maar) or the long-term fandom of boy bands (like the Backstreet Boys).
Before joining Erasmus University Rotterdam, Simone studied Journalism at the Fontys University of Applied Science. After her bachelor, she enrolled in the pre-master and master Media and Journalism at Erasmus University, which she completed in 2011.
Simone Driessen (2020) - Meidenbands, pop feminisme, en Wannabe - Atlas Contact

Simone Driessen (2017) - Music Brings Us Together: Does it? - Uitgeverij Komma

Simone Driessen (2020) - "I did something bad" – How fans give meaning to Taylor Swift's political awakening
Simone Driessen (2015) - Main Organizer European Fan Cultures Conference

Simone Driessen (2019) - 'Look what you made me do': When affect becomes problematic in popular music fandom
Simone Driessen (2019) - The fandom strikes back: exploring vigilantism in popular culture fandoms
Simone Driessen (2019) - 'For the greater good': vigilantism in online pop culture fandoms
Simone Driessen (2018) - The fandom strikes back: On vigilantism in online pop culture fandoms
Simone Driessen (2018) - Making things whole again - Reading the Pop-music Reunion in Fans' Life-courses
Simone Driessen (2018) - Voicing 40 years of fandom - Exploring the meanings of recurring reunions & fandom across the life course
Simone Driessen (2017) - Exploring ageing fans' continued engagement with the recurring reunions of Doe Maar
Simone Driessen (2015) - Back to the Future: Popular Music and Time
Simone Driessen (2015) - Reliving pop music memories at The Big Reunion concert
Simone Driessen (2014) - Insights in the longterm fandom of the Backstreet Boys
Simone Driessen (2014) - Paper presentation: 'As long as you love me' - Insights in the longterm Dutch Backstreet Boys fandom
Simone Driessen (2013) - Popular music and aging minds
Simone Driessen (2013) - Tunes of Identity
Simone Driessen (2013) - Back to the '90s & '00s: reliving the past through popular music
Simone Driessen (2013) - Tunes of Identity: Audience memories of local music
Simone Driessen (2013) - Tunes of Identity: How localities can be remembered through music-narratives of the audience
Simone Driessen (2012) - The Discourse of regional popular music (re)considered
Simone Driessen (2012) - Het is een kwestie van geduld: publiek en het vertoog van regionale populaire muziek
Simone Driessen (28 February 2019) - Hablando de: Backstreet Boys - Interview

Simone Driessen (6 November 2019) - Wetenschappelijke conferentie Songfestival - Interview
Simone Driessen (23 October 2019) - Nieuw tv-programma: een weekend zonder ouders in een villa - Interview
Simone Driessen (16 October 2018) - YouTube trending: BTS Fans - Interview
Simone Driessen (13 October 2018) - NOS Jeugdjournaal - Interview
Simone Driessen (19 September 2017) - Studio Erasmus - Interview
Simone Driessen (27 June 2017) - Langs de Lijn en Omstreken - Interview
Simone Driessen (26 October 2016) - Gillen! Waarom gillen de fans van Justin Bieber bij een concert? - Interview
Simone Driessen (25 August 2015) - BNR Ochtendspits - Interview
Simone Driessen (2020) - 'Good Fan, Bad Fan?' On politics, appropriateness, and toxicity - Fan Studies Network America

Simone Driessen (2018) - De Grote Roddelshow - Dit was 2018! - Dit was 2018!
Simone Driessen (2018) - Our fascination with Flawed Celebrities - International Film Festival Rotterdam
Simone Driessen (2017) - Waarom je levenslang fan kunt zijn van de Backstreet Boys - Pop-up Lecture "World's shortest lecture"
Simone Driessen (2016) - The future of music - CHiFTalk
Simone Driessen (2018) - ICA top paper award Popular Communication Division
Simone Driessen (2014) - DAME: Dean's Award for Multidisciplinary Excellence
News regarding dr. (Simone) SMR Driessen