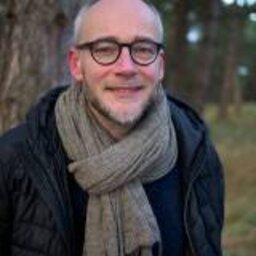 Associate professor
Erasmus School of Philosophy
WP ESPhil
Location

Burg. Oudlaan 50, Rotterdam

Email
‹

Back to overview
Profile
Dr. Sjoerd van Tuinen is associate professor of philosophy at Erasmus School of Philosophy.
Rooted in continental philosophy, I am interested in metaphysics, aesthetics, social and political theory, and the history of philosophy. My work consists of commentary in classical and contemporary philosophy and multimedia engagements across the arts and humanities. I specialize in critical theories of art, image, affect, habit, debt, history, and care. All of my work is grounded in a pedagogical practice, and ecophilosophical reinterpretation, of the principle of sufficient reason (PSR), which replaces the question 'what is?' with 'by what right?'.
I currently supervise projects on 'The Principle of Sufficient Reason: From Critique to Care' (PhD), 'Bergson, Synthetic Biology, and Neuroscience' (PhD), 'The Logic of Deliciousness: To Think Food Differently in the Case of Nordic Cuisine' (PhD), 'Reasonable Machines: Rational Paths, Models and Prospects in the Philosophy of Artificial Intelligence' (PhD), 'The Politics of Austerity in Europe' (PhD), 'Articulations of Desire: Populism and the Future of Democracy' (Postdoc), and coordinate a long-standing study group in post-Kantian philosophy.
Key publications
Matter and Manner: From Mannerism to Continental Modal Metaphysics (forthcoming 2022, Bloomsbury Academic): Starting from an analogy between the sixteenth century and our own, revolving around the problem of 'composition,' this book demonstrates what it means to move 'from matter to manner,' that is, to counter reductionist tendencies and acquire a sense of the incompleteness of things. Drawing on Bruno, Leibniz, Bergson, Whitehead, Souriau, Simondon, Deleuze, Stengers and Agamben, it provides a unique combination of art history and philosophy centered around the theme of modal individuation, an original interpretation of Leibniz as practical philosopher, and a constructivist take on 'the contemporary' based on the notions of craftsmanship, alchemy and design.
Deleuze's Mannerist Aesthetics (forthcoming 2022, Edinburgh University Press): A critical and clinical perspective on mannerism in art history and media and visual studies. In distinguishing mannerism from the baroque, this book develops unknown aspects of Deleuze's hermeticist inspiration in philosophy as well as affinities of his work with contemporary questions pertaining to the agency of images, the interface of psychiatry and art, and the politics of affect. With a focus on painting, music, and cinema.
Papers on critique and care: 'Elasticity and Plasticity: Immunology and the Crisis of Repetition', in: A. Radman & H. Sohn (eds). Critical and Clinical Cartographies. Edinburgh University Press (2017), 243-68. pdf  'Common Sense: From Critique to Care (Arendt beyond Arendt)' in: J. Brouwer & S. van Tuinen (eds.) To Mind is to Care (V2 Publishers, 2019), 124-57. pdf and a 2020 follow-up: 'Philosophy in the Light of AI: Hegel or Leibniz', in Angelaki. Journal for the Theoretical Humanities 25(4), 97-109, doi 
Two edited volumes on philosophy and art history: Speculative Art Histories. Analysis at the Limits (ed.) Edinburgh University Press, 2017. pdf Art History after Deleuze and Guattari (ed.) Leuven University Press, 2017. With Stephen Zepke. pdf and pdf
Papers on ressentiment: 'The Drama of Ressentiment: The Philosopher versus the Priest', in: C. Meiborg & S. van Tuinen (eds). Deleuze and the Passions, Punctum Books (2016), 79-102. pdf 'The Resentment-Ressentiment Complex: A Critique of Liberal Discourse', Global Discourse, 10.2 (2020), 237-53. doi  2021: 'Authentic Ressentiment? The Polemics of Jean Améry', Philosophy Today 65.4, 807-27. doi
Papers on the PSR: 'Difference and Speculation: Heidegger, Meillassoux and Deleuze on Sufficient Reason', in: A. Beaulieu & E. Kazarian & J. Sushytska (eds.), Deleuze and Metaphysics,  Lexington Books (2014), 63-90. pdf  2015: 'Deleuze: Speculative and Practical Philosophy', in: Armen Avanessian & Suhail Malik (eds.), Genealogies of Speculation. Materialism and Subjectivity since Structuralism. Bloomsbury (2015), 93-114. pdf  
Two Dutch volumes on French philosophy: Deleuze compendium, Boom. (2009, 1st, 2nd, 3rd editions) With E. Romein & M. Schuilenburg. pdf en pdf And: De nieuwe Franse filosofie. Denkers en thema's voor de 21e eeuw, Boom, 2011. With B. Ieven, A. van Rooden & M. Schuilenburg. pdf en pdf
Papers on anarchism and constituent power: 'Biomacht en biopolitiek: de inbedding van Foucault in het autonoom marxisme', in: Krisis. Tijdschrift voor actuele filosofie 2009.3 (2009), 68-85. With A. Griffioen. pdf And forthcoming 2021: 'Intersubjectivity and Transindividuality, or, Animal Monadology: Leibniz, Husserl, Deleuze, and the Composition of Worlds', Lo Sguardo. Rivista di filosofia.
Peter Sloterdijk – Ein Profil. München: Wilhelm Fink Verlag / Stuttgart: UTB. (1st and 2nd editions, 2006) pdf and 2004 Dutch version English follow-ups: 'Critique Beyond Resentment. An Introduction to Peter Sloterdijk's Jovial Modernity', Cultural Politics, 3/3 (2007) 275-306 doi 'Air Conditioning Spaceship Earth: Peter Sloterdijk's Ethico-Aesthetic Paradigm', in: Society and Space, Vol. 27.1 (2009), 105-18. doi  'A Thymotic Left? Peter Sloterdijk and the Psychopolitics of Ressentiment', in: Symploke, 18.1/2 (2011), 217-34. doi
Current writing
I am in the finishing stages of a monograph entitled Ressentiment: Pedagogy of a Concept. Starting from novel interpretations of Nietzsche and Améry, this book offers a comprehensive critique of discourses on ressentiment (and 'resentment'), demonstrating their polemical (in)consistencies and ideological performances, and proposing a new dialectic in which ressentiment and polemics no longer set the tone.
Short CV
After having studied sociology and philosophy in Rotterdam, Rome and Leipzig, I received a PhD in philosophy from Ghent University (2009, chapters) for a dissertation on Deleuze and Leibniz. In 2008-9 I worked as a lecturer at Maastricht University. Among many visiting appointments, I was visiting lecturer at Stellenbosch University (2005), visiting professor at the Academy of Fine Arts Vienna (2013), research fellow at Humboldt University (2014) and Fordham University (2016), and a Fung Global Fellow at Princeton University (2017-18). I have received several research grants, among them the NWO VENI scholarship, and edited about two dozen volumes and special issues, including a series of theory books in collaboration with V2_, Lab for the Unstable Media (Rotterdam). I am also a founding member of the Erasmus Institute for Public Knowledge (EIPK) and editor for various journals including De Uil van Minerva, SATS, and Palgrave Communications. Some of my work is available here.
Courses taught
Graduate courses: The Principle and Function of Reason; Mannerism and Modernity; Political Affect; Leibniz Today (Neo-Monadologies); The Expressionist Aesthetics of Deleuze and Guattari; Alfred North Whitehead's 'Process and Reality'; Art Theory and Art Criticism; Metaphysics in Spinoza and Leibniz.
Undergraduate courses: Science, Culture and Technology; Ecophilosophy; Ontology and Metaphysics; Dialects and Difference; Aesthetics; Plasticity of the Human; Philosophy and Rhetorics; Philosophy and Film; Philosophy of History; Bergson and Continental Empiricism; Thesis Writing; Culture and Identity in a Globalizing Europe; Style and Modernity; Philosopy of Language; Disenchantment and Ideology; Cultural Pluralism; Philosophical Reading.
X
S (Sjoerd) van Tuinen (2020) - PHILOSOPHY IN THE LIGHT OF AI - Angelaki - Journal of the Theoretical Humanities, 25 (4), 97-109 - doi: 10.1080/0969725X.2020.1790838
Sjoerd Tuinen (2020) - The Resentment-Ressentiment Complex: A Critique of the Liberal Discourse - Global Discourse: An Interdisciplinary Journal of Current Affairs and Applied Contemporary Thought (online), 10 (2) - doi: 10.1332/204378920X15828100918561
Sjoerd Tuinen (2017) - Die beste aller moeglichen Welten? - Substance, 2017, 3-17 - doi: 10.5817/pf17-3-1646 - [link]
Sjoerd Tuinen & J (Judith) Wambacq (2017) - Interiority in Deleuze and Sloterdijk - Palgrave Communications (online), 3, 1-7 - doi: 10.1057/palcomms.2017.72 - [link]
Sjoerd Tuinen & C Meiborg (2015) - Brewing Dissonance: Conceptualizing Mannerism and Baroque in Music (with Deleuze) - Diacritics, 42 (3), 54-82
Sjoerd Tuinen (2014) - Disegno - A Speculative Constructivist Interpretation - Speculations, 5, 434-473
Sjoerd Tuinen (2014) - Mannerism, Baroque and Modernism. Deleuze and the Essence of Art - Substance, 43 (1), 166-190
Sjoerd Tuinen (2013) - Links of rechts ressentiment? Pedagogie van een concept - Krisis, tijdschrift voor actuele filosofie, (1)
Sjoerd Tuinen & M Schuilenburg (2012) - Ten geleide - Wijsgerig Perspectief op Maatschappij en Wetenschap, 52 (4), 4-7
Sjoerd Tuinen (2012) - Cinematic Neo-Mannerism or Neo-Baroque? Deleuze and Daney - Image & Narrative, 13 (2), 53-75
Sjoerd Tuinen (2011) - Forum section on 'Deleuze and visual art' of Deleuze Studies (contributions by Bram Ieven, Vlad Ionescu, Stephen Zepke a.o.) - Deleuze Studies, 5 (1)
Sjoerd Tuinen (2011) - A Thymotic Left? Peter Sloterdijk and the Psychopolitics of Ressentiment - Symploke, 18 (1/2), 217-234
Sjoerd Tuinen (2011) - Michelangelo, Leibniz and the Serpentine Figure - Deleuze Studies, 5 (1), 63-72
Sjoerd Tuinen (2011) - Introduction - Deleuze Studies, 5 (1), 49-51
Sjoerd Tuinen (2010) - Matter, Manner and Idea in Michelangelo and Deleuze - Inflexions: A Journal for Research Creation, (4)
Sjoerd Tuinen & M Schuilenburg (2009) - Special issue on Foucault en Biopolitiek - Krisis, tijdschrift voor actuele filosofie
Sjoerd Tuinen & Aetzel Griffioen (2009) - Biomacht en biopolitiek: de inbedding van Foucault in het autonoom marxisme - Krisis, tijdschrift voor actuele filosofie, 2009 (3)
Sjoerd Tuinen (2009) - Air Conditioning Spaceship Earth: Peter Sloterdijk¿s Ethico-Aesthetic Paradigm - Environment and Planning D: Society and Space, 27 (1), 105-118
Sjoerd Tuinen (2009) - Verwikkeld in een soort van serpentine: Deleuzes concept van het maniërisme tussen Bacon en de barok (online) - Esthetica tijdschrift voor Kunst en Filosofie
Sjoerd Tuinen & M Schuilenburg (2009) - Michel Foucault: biopolitiek en bestuurlijkheid - Krisis, tijdschrift voor actuele filosofie, 2009 (3)

Sjoerd Tuinen (2017) - Ressentiment - rekto verso, (75), 66-66
Sjoerd Tuinen (2013) - Een nieuw elan in de Wijsbegeerte (My contribution to De Groene's investigation into the state of the Dutch humanities) - De Groene Amsterdammer
Sjoerd Tuinen (2013) - Non-filosofie of nieuwe klassieker? (Interview on the new Dutch translation of Peter Sloterdijk's Critique of Cynical Reason) - Trouw

Sjoerd Tuinen (2017) - Van kritiek naar zorg: Stengers en het ressentiment - nY - website en tijdschrift voor literatuur, kritiek en amusement, (32), 111-127
Sjoerd Tuinen & M Schuilenburg (2012) - Special issue on Bruno Latour. (Contributions by Huub Dijstelbloem, Steven Dorresteijn, Gert Verschraegen, Matthijs Kouw). - Wijsgerig Perspectief op Maatschappij en Wetenschap, 53 (4)

Sjoerd Tuinen (2018) - The Polemics of Ressentiment: Variations on Nietzsche - Bloomsbury
Sjoerd Tuinen (2017) - Speculative Art Histories. Analysis at the Limits - Edinburgh University Press
Sjoerd Tuinen & S (Stephen) Zepke (2017) - Art History after Deleuze and Guattari - [link] - Leuven University Press
Sjoerd Tuinen, J Brouwer & L Spuybroek (2016) - The War of Appearances: Transparency, Opacity, Radiance - V2 / NAi Publishers
Sjoerd Tuinen & C Meiborg (2016) - Deleuze and the Passions - Punctum Books
Sjoerd Tuinen & J Brouwer (2015) - Giving and Taking. Antidotes to a Culture of Greed - V2/NAi Publishers
Sjoerd Tuinen, RA de Brabander, P Molendijk & T Rahimy (2012) - Voorstellen tot werkelijkheid. Het denken en doen van Henk Oosterling (liber amicorum) - Trichis
Sjoerd Tuinen & N McDonnell (2010) - Deleuze and The Fold. A Critical Reader - Palgrave Macmillan
Sjoerd Tuinen & K Hemelsoet (2009) - Measuring the Monstrous. Peter Sloterdijk's Jovial Modernity, conference proceedings - KVAB
Sjoerd Tuinen, Edwin Romein & M Schuilenburg (2009) - Deleuze compendium - SUN
Sjoerd Tuinen, K Hemelsoet & M Jongen (2009) - Die Ermessung des Ungeheuren. Versuche über Peter Sloterdijk - Wilhelm Fink Verlag

Sjoerd Tuinen, B Ieven, A Rooden & M Schuilenburg (2011) - De nieuwe Franse filosofie. Denkers en thema's voor de 21e eeuw - Boom

Sjoerd Tuinen & A Kleinherenbrink (2020) - The Politics of Debt. Essays and Interviews - Zero Books
Sjoerd Tuinen & J Brouwer (2019) - To Mind is to Care - V2 / NAi Publishers
Sjoerd Tuinen & MB Schuilenburg (2019) - Leven in het antropoceen - Boom Uitgevers

Sjoerd Tuinen (2013) - Ressentiment als het hedendaagse kwaad, ressentimenteel benaderd - Civis Mundi
Sjoerd Tuinen (2012) - review of Sonja Lavaert, Het perspectief van de multitude. Agamben, Machiavelli, Negri, Spinoza, Virno - Algemeen Nederlands Tijdschrift voor Wijsbegeerte, 103, 301-305

Sjoerd Tuinen (2019) - Mannerism and Hysteria: On the Mode of Existence of Painting - Aarhus University Press
Sjoerd Tuinen (2019) - Hermeticism instead of Hermeneutics. The History of Philosophy Conceived Of as Mannerist Portraiture - Bloomsbury
Sjoerd Tuinen & A Kleinherenbrink (2019) - Der repolisisierte Staat - Nomos Verlag
Sjoerd Tuinen (2018) - The Power of Ambivalence. A Conversation with Peter Sloterdijk - Bloomsbury
Sjoerd Tuinen (2018) - Mannerism and Vitalism: Bergson and the Mannerist Image - Bucharest University Press
Sjoerd Tuinen (2018) - Introduction - Bloomsbury
Sjoerd Tuinen (2018) - The Power of Ambivalence. A Conversation with Peter Sloterdijk - Bloomsbury
Sjoerd Tuinen (2018) - The Irenics of Ressentiment - Bloomsbury
Sjoerd Tuinen (2017) - The Cosmic Artisan: Mannerist Virtuosity and Contemporary Crafts - Rowman & LIttlefield International
Sjoerd Tuinen (2017) - Physiology versus Psychology. The Priest and the Biopolitics of Ressentiment - Transkript Verlag
Sjoerd Tuinen (2017) - The Late and the New: Mannerism and Style in Art History and Philosophy - Leuven University Press
Sjoerd Tuinen (2017) - Introduction - Leuven University Press
Sjoerd Tuinen (2017) - Elasticity and Plasticity: Immunology and the Crisis of Repetition - Edinburgh University Press
Sjoerd Tuinen (2017) - Serpentine Life: On the Nature of Movement in Gothic, Mannerism, and Baroque - Edinburgh University Press
Sjoerd Tuinen (2017) - Introduction - Edinburgh University Press
Sjoerd Tuinen (2016) - Deleuze: Speculative and Practical Philosophy - Bloomsbury
Sjoerd Tuinen & C Meiborg (2016) - Introduction - Punctum Books
Sjoerd Tuinen (2016) - The Drama of Ressentiment: The Philosopher versus the Priest - Punctum Books
Sjoerd Tuinen (2016) - Painting versus Theatre: The Hysteria of the Hand - Düsseldorf University Press
Sjoerd Tuinen & M Kouw (2015) - Blinded by Science? Speculative Realism and Speculative Constructivism - Mimesis International
Sjoerd Tuinen (2015) - Populism and Grandeur: From Marx to Arafat - Rodopi
Sjoerd Tuinen (2014) - Difference and Speculation: Heidegger, Meillassoux and Deleuze on Sufficient Reason - Lexington Books
Sjoerd Tuinen (2012) - From Psychopolitics to Cosmopolitics: The Problem of Ressentiment - Polity Press
Sjoerd Tuinen (2011) - Leibniz und das psychophysische Gehirn - Transcript Verlag
Sjoerd Tuinen (2011) - Transgenous Philosophy. Post-Humanism, Homeotechnique and the Poetics of Natal Difference - Amsterdam University Press
Sjoerd Tuinen (2011) - From Psychopolitics to Cosmopolitics: The Problem of Ressentiment - Polity Press
Sjoerd Tuinen & N McDonnell (2010) - Reading Leibniz through Baroque Allegory - Palgrave Macmillan
Sjoerd Tuinen (2010) - A Transcendental Philosophy of the Event. Deleuze's Non-Phenomenological reading of Leibniz and the fold - Palgrave Macmillan
Sjoerd Tuinen (2009) - Über philosophischen Selbstgenuss, therapeutische Gelassenheit und natale Differenz - Wilhelm Fink Verlag
Sjoerd Tuinen (2009) - Pris dans une sorte de serpentin. Le concept de maniérisme de Deleuze entre Bacon et le baroque - Presses de l'Universite Laval
Sjoerd Tuinen (2009) - Breath of Relief. Peter Sloterdijk and the Politics of the Intimate - Palgrave Macmillan

Sjoerd Tuinen & A Kleinherenbrink (2020) - The "Financial" Crisis: Ten Years Later - Zero Books
Sjoerd Tuinen & E Bordeleau (2020) - Debt is Another Way to Make War - Zero Books
Sjoerd Tuinen (2019) - Weg met de rekenmachine - Boom Uitgevers
Sjoerd Tuinen (2019) - Denken in het antropoceen: scepcis en verbeelding - Boom Uitgevers
Sjoerd Tuinen (2019) - Introduction - V2 / NAi Publishers
Sjoerd Tuinen & M Puig de la Bellacasa (2019) - Care in Spire of Carelessness - V2 / NAi Publishers
Sjoerd Tuinen (2019) - Common Sense: From Critique to Care (Arendt beyond Arendt) - V2 + NAi Publishers
Sjoerd Tuinen (2018) - Gilles Deleuze - Prometheus
Sjoerd Tuinen (2017) - Plasticity - Pelckmans Pro
Sjoerd Tuinen (2016) - What Does a Human Have that He Can Give Away? - National Gallery
Sjoerd Tuinen, J Brouwer & L Spuybroek (2016) - In the Thick of Things - V2 / NAi Publishers
Sjoerd Tuinen (2015) - Deleuze en de schilderkunst. Nawoord. - Octavo
Sjoerd Tuinen (2015) - Het drama van het ressentiment en de politieke rede - Garant
Sjoerd Tuinen (2015) - Deleuze's modernistische begrip van maniërisme en barok - Artez Academie
Sjoerd Tuinen (2014) - What Does a Human Have that He Can Give Away? Conversation with Peter Sloterdijk - V2/NAi Publishers
Sjoerd Tuinen (2014) - What does a human have that he can give away? - V2/NAi Publishers
Sjoerd Tuinen (2014) - Filosofie in de 21e eeuw - Uitgeverij Atlas Contact
Sjoerd Tuinen (2013) - Ecosophical Activism between Micropolitics and Mesopolitics. A Conversation with Henk Oosterling and Isabelle Stengers - JapSam Books
Sjoerd Tuinen (2012) - Overvloed - Trichis
Sjoerd Tuinen & L de Bolle (2011) - Gilles Deleuze - Boom
Sjoerd Tuinen, B Ieven, A Rooden & M Schuilenburg (2011) - De nieuwe Franse filosofie - Boom
Sjoerd Tuinen & E Bordeleau (2011) - Isabelle Stengers - Boom
Sjoerd Tuinen (2011) - Why Discipline? - Wilfried Lentz
Sjoerd Tuinen (2010) - Interfaces en oerbegeleiders - Over muren in de algemene immunologie van Peter Sloterdijk - Academia press
Sjoerd Tuinen (2009) - Qu'est-ce que la philosophie? De voorwaarden van het denken volgens Deleuze en Guattari - SUN
Sjoerd Tuinen (2009) - Le pli: Deleuzes transformatie van monadologie in nomadologie - SUN

Sjoerd Tuinen (2015) - Panel on The Biopolitics of Ressentiment
Sjoerd Tuinen (2015) - Symposium on Debt and Gift: Conflict, Patronage and Recognition at the End of the Economy
Sjoerd Tuinen (2015) - Accelerating Capitalism
Sjoerd Tuinen (2015) - Philosophical Perspectives on the Commons

Sjoerd Tuinen (2019) - The Toxic Reigns of Resentment (film)
Sjoerd Tuinen (2017) - Aesthetics (video lectures for a flipped classroom course)

Sjoerd Tuinen (2009) - Mannerism in Philosophy. A Study of Gilles Deleuze's Development of Monadology into Nomadology, of Leibnizian Approaches to the Problem of Constitution, and, of Deleuze's Concept of Mannerism - Universiteit Gent
Sjoerd Tuinen (24 October 2015) - Interview met Marlene Dumas - Brainwash Festival
Sjoerd Tuinen (2017) - Centre for Art and Philosophy (External organisation)
Sjoerd Tuinen (2017) - Northern European Journal of Philosophy (External organisation)
Sjoerd Tuinen (2016) - Fordham University (External organisation)
Sjoerd Tuinen (2016) - University of Bucharest, conference 'New Treatments of the Figure in Literature and Visual Arts', 11-12 November (External organisation)
Sjoerd Tuinen (2016) - Kamer Ethiek/Praktische Filosofie of OZSW (External organisation)
Sjoerd Tuinen (2015) - Palgrave Communications (External organisation)
Sjoerd Tuinen (2015) - De Uil van Minerva (External organisation)

Sjoerd Tuinen (2020) - The Time of Mannerism? Actuality, Lateness, Eternity - Invited talk for the Seminários dela de Arte Contemporânea
Sjoerd Tuinen (2020) - The Return of Mannerism: Art, Philosophy, History - 3-day seminar
Sjoerd Tuinen (2019) - The Time of Mannerism - The Time of Mannerism
Sjoerd Tuinen (2019) - Nietzsche on Politics and the Reactive Affects - seminar CRC Affective Societies
Sjoerd Tuinen (2019) - The History of Philosophy in the Light of AI: Hegel or Leibniz - Paper for Cyberpolitics: Political Philosophy for the Future
Sjoerd Tuinen (2019) - The Resentment-Ressentiment Complex - PIIRS COnference The Culture and Politics of Resentment
Sjoerd Tuinen (2019) - Ressentiment - Nietzsche Seminar
Sjoerd Tuinen (2019) - Recursivity in Hegel and Leibniz - Regenerative Feedback
Sjoerd Tuinen (2019) - Three Problems in the Genealogy of the Concept of Ressentiment: Proportionality, Authenticity, Justice - Berliner Nietzsche Kolloquium
Sjoerd Tuinen (2019) - Hallucination: A Copernican Revolution of the Mind - ASCA Workshop Realities & Fantasies
Sjoerd Tuinen (2019) - Philosophy and Common Sense: From Critique to Care - Invited talk for The Metaphysical Society
Sjoerd Tuinen (2018) - Sophistication: Good Sense and Common Sense - Sophistication 2 conference
Sjoerd Tuinen (2018) - Is All Materialism Reductionist? - WOrkshop on materiaism
Sjoerd Tuinen (2018) - Why the process of internalizaion may never be reduced to ressentiment - Nietzsche Studies conference
Sjoerd Tuinen (2018) - Leibniz on Modal Individuation (and the vinculum substantiale) - Workshop on Leibniz
Sjoerd Tuinen (2018) - How Actual is Mannerism? - Talk for Intensive Cartographies series Architecture chair
Sjoerd Tuinen (2017) - Old New Materialism: Artistic Research before the Bifurcation of Nature - Contribution to roundtable on New Materialism(s) for Artistic Research
Sjoerd Tuinen (2017) - Polemology: Ressentiment in Public Discourse - Invited talk at PIIRS lecture series
Sjoerd Tuinen (2017) - Critique and Care: Two Modes of Thought - Invited Seminar in Theorizing at Rowan lecture series
Sjoerd Tuinen (2017) - Grounds for Optimism: The Best of all Possible Worlds? - Invited talk
Sjoerd Tuinen (2017) - From Critique to Care: A Transformation of the Principle of Sufficient Reason - Conference on Contemporary European Philosophy and the Idea of Care
Sjoerd Tuinen (2017) - Critical Notes on Harari's Sapiens - Talk + discussion at De Leesclub van Alles
Sjoerd Tuinen (2017) - The Cosmic Artisan: From Mannerism to Metamodernism - Invited talk
Sjoerd Tuinen (2017) - Sloterdijk und die beste aller möglichen Welten - Invited talk
Sjoerd Tuinen (2017) - Good sense and common sense - nY invited talk
Sjoerd Tuinen (2017) - Latour and the Anthropocene - Gastcollege EUC
Sjoerd Tuinen (2017) - The Politics of Debt - Organiser of the Symposium on 'The Politics of Debt'
Sjoerd Tuinen (2016) - Parmigianino's Selfie: Deleuze against Lacan - Conference on 'New Treatments of the Figure in Literature and the Visual Arts'
Sjoerd Tuinen (2016) - Mannerism in Philosophy: Deleuze and Agamben - Paper presentation for the annual SEP-FEP conference
Sjoerd Tuinen (2016) - Anthropos-anthropotechnics-anthropocene - Participation in expert panel with Bernard Stiegler and Peter Sloterdijk
Sjoerd Tuinen (2016) - Ressentiment and the Politics of Voluntary Servitude - Invited lecture at the Social/Political Philosophy Workshop
Sjoerd Tuinen (2016) - Speculating with Established Sentiments: the Empiricist Conversion and the Problem of Ressentiment - Concordia University
Sjoerd Tuinen (2016) - The Fluidity and Spontaneity of Manners - Invited talk for the workshop on 'Ecology of Manners: Against Identity Politics'
Sjoerd Tuinen (2015) - Pastoral Power and the Psychopolitics of Ressentiment - Invited talk for the Biopolitics workshop organized by the Centre for Critical Thought
Sjoerd Tuinen (2015) - Anthropotechnics and the Crisis of Repetition - ISIS colloquium
Sjoerd Tuinen (2015) - Speculative Art History: Mannerism and Modernism - PhD seminar
Sjoerd Tuinen (2015) - The Philosopher and the Priest: The Askesis of Foucault and Deleuze - Paper presentation for the annual Deleuze Studies Conference
Sjoerd Tuinen (2015) - Deleuze en Beckett - Felix en Sofie
Sjoerd Tuinen (2015) - The Biopolitics of Ressentiment - Invited lecture for the 'Immunity and Modernity: Picturing Threat and Protection' conference
Sjoerd Tuinen (2015) - Seminar on Biopolitics as philosophical concept - Seminar on Biopolitics as philosophical concept
Sjoerd Tuinen (2015) - Hysteresis of Images - Paper presentation for the Refrains of Freedom conference
Sjoerd Tuinen (2015) - 38CC Delft Repetition and Creativity - 38CC Delft Repetition and Creativity Invited lecture for the exhibition 'Repeat
Sjoerd Tuinen (2015) - Reclaiming the Principle of Sufficient Reason - Lunchtime talk for the Faculty of Philosophy
Sjoerd Tuinen (2015) - Europe, Modernism, Ressentiment (Charlie Hebdo) - Seminar for the Faculty of Humanities
Sjoerd Tuinen (2015) - A Return of Mannerism? - Lecture for Plein 2015
Sjoerd Tuinen (2014) - Systems, Practices, and Technologies of Immunity: Between Medicine and Design - Keynote for conference Critical and Clinical Cartographies
Sjoerd Tuinen (2014) - Mannerist vs Mannered: On the Difference between Affect and Affectedness - Paper for symposium on The Concept of the Pathological in Kant and Contemporary Aesthetics
Sjoerd Tuinen (2013) - Manieristische intermedialiteit in Fontainebleau - ERA lezing
Sjoerd Tuinen (2013) - Physiology versus Psychology: Foucault and Deleuze on the Ascetic Priest and his Successors - Invited lecture for the symposium 'Innen. Außen. Anders. Zur Frage des Körpers im Werk von Gilles Deleuze und Michel Foucault', Kunstakademie Munster
Sjoerd Tuinen (2013) - Maniera dolce and maniera grande: The hysteria of little girls and boys - Invited lecture at the symposium 'The Girl on "Subject" Perspectives of radical ontologies, Acedemy of fine arts, Vienna
Sjoerd Tuinen (2013) - Breath of Relief - On Political Toxicology - Invited lecture for the symposium on/with Peter Sloterdijk, University college Dublin
Sjoerd Tuinen (2013) - Disegno: from Representation to Production - Research seminar for ALEPH, KABK
Sjoerd Tuinen (2013) - Whitehead's 'Mannerism' - 9th International Whitehead Conference, Pontifical University of John Paul II (Dept. of Philosophy
Sjoerd Tuinen (2013) - Hatred of God: Leibniz on Ressentiment - Annual Deleuze Studies Conference 2013, Universidade de Lisboa
Sjoerd Tuinen (2013) - Speculating with Established Sentiments - Keynote lecture at the conference in political theory 'Life, Matter and Resistance' at the Centre for Critical Thought, University of Kent
Sjoerd Tuinen (2013) - Hysteria as Lived Abstraction: Mannerism and the BwO of Painting - Keynote lecture at the workshop What Images Do, Technical University Delft
Sjoerd Tuinen (2013) - Serpentine Life: A Speculative Reading of Mannerist Art Theory - Paper presentation at the CAP conference 'Speculative Art Histories', Witte de With Center for Contemporary Art
Sjoerd Tuinen (2013) - De waarde van waarden: libidinaal-economische overwegingen - TENT Rotterdam
Sjoerd Tuinen (2013) - Leibniz's world of infinite and continuous variation - Invited lecture and seminar at ASCA, University of Amsterdam
Sjoerd Tuinen (2013) - The mannerist conception of the world. An affirmationist proposal based on modal philosophy - Invited lunchtalk at the Institute for Philosophy, University of Vienna
Sjoerd Tuinen (2013) - Brewing Dissonance: Mannerism and Modernism in Music - Research seminar, Academy of Fine Arts, Vienna
Sjoerd Tuinen (2013) - Deleuze and Daney on Mannerism in Cinema - Research seminar at the Department of Fine Arts and Media Arts (Media Theory), University of Applied Art, Vienna
Sjoerd Tuinen (2012) - Over Gilles Deleuzes Logica van de gewaarwording - Passaporta
Sjoerd Tuinen (2012) - The event in new French philosophy - Invited lecture Maison Descartes, for the occasion of a visit of Michel Serres
Sjoerd Tuinen (2012) - Schuld en geld: een nietzscheaanse geschiedenis van het kapitalisme - Invited lecture Radboud Universiteit Nijmegen
Sjoerd Tuinen (2012) - De actualiteit van het ressentiment - Invited lecture Studium Kronoz
Sjoerd Tuinen (2012) - Immanentie en duurzaamheid: Gilles Deleuzes denken par le milieu - Invited Studium Generale lecture, Wageningen University
Sjoerd Tuinen (2012) - Idea and maniera: Bergson and Deleuze on Mannerist diagrams - Invited lecture, University of Basel
Sjoerd Tuinen (2012) - On distinguishing Leftist and Rightist Concepts of ressentiment - Keynote lecture at the Dutch cultural studies and critical theory symposium on The politics of culture, University of Tilburg
Sjoerd Tuinen (2012) - Noble anthropology: reclaiming the concept of ressentiment - Invited lecture, University of Antwerp
Sjoerd Tuinen (2012) - Reason and Representation: Heidegger, Meillassoux, Deleuze - Utrecht University
Sjoerd Tuinen (2012) - (Non-)Economical Origins of Ressentiment - Invited lecture / seminar on genealogical method, University of Utrecht
Sjoerd Tuinen (2012) - (Non-)Economical Origins of Ressentiment - Invited lecture / seminar on genealogical method, Utrecht University
Sjoerd Tuinen (2012) - Introduction to Continental Speculative Philosophy - Erasmus University Rotterdam / De Machinist
Sjoerd Tuinen (2012) - Deleuze's Mannerist Portraiture in Philosophy - Paper for the conference on Deleuze, Philosophy, Transdisciplinarity, Goldsmiths University
Sjoerd Tuinen (2011) - Franse filosofie voor de eenentwintigste eeuw Overzicht van speculatieve filosofie en wetenschapsfilosofie - ISVW
Sjoerd Tuinen (2011) - Deleuze on Grandeur - Paper for the conference Fourth International Deleuze Studies Conference 27.06.2011 Copenhagen Business School
Sjoerd Tuinen (2011) - Speculation as a Noble Relating to the Future - Paper for the symposium on Speculative Generosity 30.03.2011 McGill University
Sjoerd Tuinen (2011) - On Renewing the Concept of Ressentiment ONOUPS - Seminar at the School of Political Studies
Sjoerd Tuinen (2011) - Critique and Clinique: Peter Sloterdijk and Giorgio Agamben - seminar in Contemporary Theory at the East Asia Studies Department 24/31.03.2011 McGill University Montreal
Sjoerd Tuinen (2011) - The Possible as Aesthetic Category: Conceptualizing Mannerism with Leibniz and Bergson - Paper for the conference Bergson and His Postmodern and Immanent Legacies 26.02.2011 The Courtauld Institute of Art
Robin Akker & Sjoerd Tuinen (2010) - Twee filosofische polemieken: Marx en Sloterdijk - Gastcollege Retorica Wijsbegeerte EUR
Sjoerd Tuinen (2010) - Deleuze and the Pedagogy of Philosophy - Paper for the Research Group 'Arts, Media and Culture', Maastricht University
Sjoerd Tuinen (2010) - Dier-worden: Deleuze en het verschil tussen domheid en dierlijkheid - Guest lecture in the Honours Programma of Nijmegen University
Sjoerd Tuinen (2010) - Deleuzes avant-gardistische begrip van maniërisme en barok - Paper presentation at the symposium on Deleuze en beeldende kunst, Erasmus University Rotterdam
Sjoerd Tuinen (2010) - Michelangelo, Leibniz and the Figura Serpentinata - Paper presentation at the Third International Deleuze Studies Conference Conference, University of Amsterdam
Sjoerd Tuinen (2010) - Michelangelo, Leibniz and the Figura Serpentinata - Paper presentation at the conference Resonance(s), Bilgi University Istanbul
Sjoerd Tuinen (2010) - The Political Moment of the Baroque. Constitution versus Composition in Leibniz - Paper presentation at the conference Waiting for the Political Moment, Erasmus University Rotterdam
Sjoerd Tuinen (2010) - Art and Possible Worlds - Paper and EIPE seminar, Erasmus University Rotterdam

Sjoerd Tuinen (2019) - Leven in het antropoceen - Boekpresentatie
Sjoerd Tuinen (2019) - Anthropocene Porn - Talk for EUR Impact week
Sjoerd Tuinen (2019) - Transparancy equals Invisibility - Studio Wolfpack / Venture Cafe
Sjoerd Tuinen (2019) - Imagining the Anthropocene - Movies that Matter Festival
Sjoerd Tuinen (2018) - Dialectische vs anale filosofie - Brainwash Festival

Sjoerd Tuinen (2019) - De politiek van het ressentiment - 3 seminars
Sjoerd Tuinen (2019) - De filosofie van Peter Sloterdijk - 2 lessen