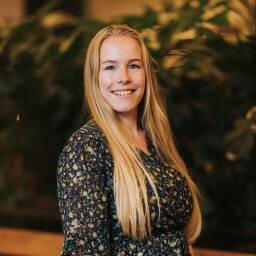 PhD candidate
Erasmus School of Social and Behavioural Sciences
Developmental Neuroscience in Society
Location

Burg. Oudlaan 50, Rotterdam

Room

T13-01

Email
‹

Back to overview
Profile
Prosocial behaviors such as helping, cooperating and trusting are essential for forming and maintaining social relationships, which is an important developmental goal in adolescence. Suzanne van de Groep is a PhD Candidate in the SYNC lab (http://erasmus-synclab.nl/) who studies the behavioral and neural development of prosocial behaviors in adolescence. Her work specifically focuses on the influence of social contexts and individual differences on the development of different types of prosociality (e.g. trust, reciprocity, and giving).
Suzanne works on an ERC consolidator project called 'Brainlinks', a longitudinal three-wave study in which 142 adolescents and their parents are followed over the course of three years. In this project, van de Groep uses a variety of techniques (e.g. fMRI, daily diaries, hormone data, laboratory tasks, and questionnaires) to behaviorally and neurally investigate adolescents' prosocial behaviors, as well as how these are modulated by different social contexts (e.g., pertaining to beneficiaries and audiences) and individual differences in personality (e.g., in perspective taking). Van de Groep's PhD project, which started in January 2017, is supervised by prof. Eveline Crone and dr. Kiki Zanolie.  
Research interests: Prosocial Development, Neural Development, Adolescence
Onderzoeksinteresses: Prosociale ontwikkeling, Neurale Ontwikkeling, Adolescentie
Bio
Van de Groep has a background in developmental psychology and completed her research masters in Leiden in 2016 (cum laude). In 2019, she received a Leiden University Fund Study Trip Grant to visit Prof. Andrew Fuligni and Prof. Adriana Galván at UCLA. Van de Groep has presented her work through oral (8+) and poster (4+) presentations at national and international conferences. Apart from gaining a better understanding of prosocial development, van de Groep has a passion for science communication (e.g., participating in science shows, writing blogs, and giving lectures) and supervising students and assistants (see CV).
News regarding (Suzanne) SW van de Groep