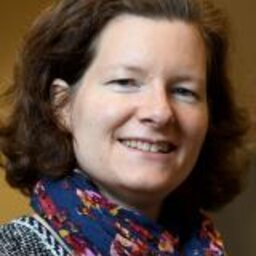 Associate professor
International Institute of Social Studies
Academic staff unit
Location

Kortenaerkade 12, 's - Gravenhage

Room

I3-16

Email
‹

Back to overview
Profile
I am currently part-time Associate Professor in Development Management and Governance at the International Institute of Social Studies (ISS) in The Hague, Erasmus University Rotterdam, where I have worked full-time since 2007.
Since 1 September 2020, I also hold the position of senior researcher at the Centre of Expertise on Global Governance at The Hague University of Applied Sciences/De Haagse Hogeschool (THUAS/HHS).
I completed my D.Phil. thesis in Development Studies at the University of Oxford in 2008, focusing on decentralisation and local governance in Morocco. Previously, I worked at the World Bank, both in the President's Office in Washington D.C. and in the Morocco Country Office. My academic background includes a strong focus on the Middle East/North Africa region; having gained a First Class degree in Arabic and International Relations from the University of St. Andrews in Scotland in 1999, I obtained an M.Phil in Modern Middle Eastern Studies from the University of Oxford in 2001. I also have extensive consultancy experience, and have published widely on local state-society relations, including The Politics of Development in Morocco: Local Governance and Participation in North Africa (I.B. Tauris, 2017).
I currently lead a project addressing the effects of heatwaves on vulnerable populations in The Hague, financed by a €69,3k subsidy from the Municipality of The Hague (total budget €99k). The project aims to enhance our understanding of the impact of heatwaves on vulnerable population groups living in The Hague, and to counter the effects through appropriate health risk communication by the municipality. In addition, by identifying simple and affordable "frugal" innovations in the Hague and globally, developed by and for local citizens, the project aims to formulate practical policy recommendations. Professor Thea Hilhorst, Professor Peter Knorringa, Dr. Erwin van Tuijl, and Ashley-Richard Longman also are also involved in this mixed-methods project that will adopt citizen science techniques, household surveys and Participatory Action Research.
My other recent and current research explores how and with what effects global models of 'social accountability' are deployed in various contexts (among others, in Morocco and India) and sectors (education and health) by NGOs and donors including the World Bank. Such social accountability initiatives aim to ensure greater citizen participation in service delivery (including social protection), and ultimately, increased effectiveness of these services leading to poverty reduction.
I am currently leading a small research project on this topic (with Dr. Ward Vloeberghs), collaborating with local researchers in Morocco, Tunisia and Lebanon, funded by a €15k grant from the ISS's Research Innovation Facility (RIF). Furthermore, as part of an earlier NWO-funded research project for which I was co-applicant, I have co-organized an international conference on the 'State of Accountability' at ISS and we are in the final stages of editing a volume (under contract with Edward Elgar) with the most innovative papers covering various aspects of accountability and interactive governance.
Finally, I am currently also contributing to a three-year research and advocacy project funded by The Netherlands Ministry of Foreign Affairs and implemented by the CHS Alliance and ISS (with Prof. Thea Hilhorst) on 'Closing the Accountability Gap: Better Protecting Survivors/Victims of Sexual Exploitation, Abuse and Harassment'. We are working with local researchers in Palestine, Bangladesh and Ethiopia on perception surveys and participatory action research to monitor the Common Humanitarian Standards on Protection from Sexual Exploitation, Abuse and Harassment (PSEAH) and to improve accountability relations between international humanitarian aid agencies, national/local stakeholders, and beneficiaries themselves.
In my position at ISS, I focus on PhD and MA thesis supervision in these and relat
Sylvia Bergh (2017) - The Politics of Development in Morocco: Local Governance and Participation in North Africa - I.B. Tauris

Sylvia Bergh (2013) - The Redeployment of State Power in the Southern Mediterranean: Implications of Neoliberal Reforms for Local Governance - Routledge

Sylvia Bergh (2020) - Local Politics in Jordan and Morocco: Strategies of Centralization and Decentralization - International Journal of Middle East Studies, 52, 590-592 - doi: 10.1017/S0020743820000446
Sylvia Bergh (2015) - Book review of "Wellbeing, Justice and Development Ethics" by S. Deneulin - European Journal of Development Research, 27, 627-629 - doi: 10.1057/ejdr.2015.19
Sylvia Bergh (2013) - Empowered Participation or Political Manipulation? State, Civil Society and Social Funds in Egypt and Bolivia by Rabab El-Mahdi - Development in Practice, 23, 152-153 - doi: 10.1080/09614524.2013.753032
Sylvia Bergh (2011) - Anne-Meike Fechter and Heather Hindman (eds): Inside the Everyday Lives of Development Workers. The Challenges and Futures of Aidland - Voluntas: International Journal of Voluntary and Nonprofit Organizations, 23, 532-534 - doi: 10.1007/s11266-011-9224-2
Sylvia Bergh (2011) - Sue Kenny and Matthew Clarke (eds.) (2010): Challenging Capacity Building: Comparative Perspectives. Palgrave Macmillan. - Development in Practice, 21, 445-446
Sylvia Bergh (2010) - Sadhvi Dar and Bill Cooke (eds), The New Development Management: Critiquing the Dual Modernization - Development and Change, 41, 179-180
Sylvia Bergh (2010) - Roland Brake and Ulrich Deller (eds): Community Development - A European Challenge - Voluntas: International Journal of Voluntary and Nonprofit Organizations, 21, 631-632 - doi: 10.1007/s11266-010-9150-8
Sylvia Bergh (2010) - Jenny Pearce (ed.): Participation and Democracy in the Twenty-First Century City - Voluntas: International Journal of Voluntary and Nonprofit Organizations, 22, 550-551 - doi: 10.1007/s11266-010-9168-y
Sylvia Bergh (2010) - Book review of ''Cairo Contested: Governance, Urban Space, and Global Modernity'' ed. by Singerman, D. - Review of Middle East Studies, 44, 258-259
Sylvia Bergh (2009) - Duncan Green, From Poverty to Power: How Active Citizens and Effective States can Change the World - Development and Change, 40, 806-807 - doi: 10.1111/j.1467-7660.2009.01580.x
Sylvia Bergh (2009) - Andrea Liverani, Civil Society in Algeria: The Political Functions of Associational Life - Voluntas: International Journal of Voluntary and Nonprofit Organizations, 20, 316-317 - doi: 10.1007/s11266-009-9092-1
Sylvia Bergh (2008) - Book Review of Africa and Development Challenges in the New Millennium: The NEPAD Debate (By J.O. Adesina Y. Graham, and A. Olukoshi (eds.) (2006). London and New York: Zed Books, Pretoria: UNISA Press, in association with CODESRIA, Dakar) - Journal of International Development, 20, 403-404 - doi: 10.1002/jid.1457
Sylvia Bergh (2008) - Book Review of "Political Life in Cairo's New Quarters: Encountering the Everyday State" by S. Ismail - Anthropology Review Database
Sylvia Bergh (2007) - Book Review of "The Management of Non-Governmental Development Organizations" by D. Lewis - Voluntas: International Journal of Voluntary and Nonprofit Organizations, 18, 308-309
Sylvia Bergh (2004) - Book Review of "Managing and Measuring Social Enterprises" by R. Paton (ed.) - Voluntas: International Journal of Voluntary and Nonprofit Organizations, 15, 213-214
Sylvia Bergh (2004) - Book Review of "A Man of Three Worlds: Samuel Pallache, a Moroccan Jew in Catholic and Protestant Europe" (B M. Garc Arenal and G. Wiegers eds., Baltimore: The Johns Hopkins University Press, 2003) - Canadian Journal of History, 39, 118-120

Sylvia Bergh (2021) - Chapter 26: Democratic decentralization and local development: insights from Morocco's advanced regionalization process - doi: 10.4337/9781788112659.00039 - Edward Elgar Publishing
Sylvia Bergh (2019) - Social accountability, citizenship, and social protection in the MENA region: Exploring the linkages - [link] - Edward Elgar Publishing
Sylvia Bergh & S Ahmadou (2018) - Claiming spaces for acts of citizenship: recent experiences of activists in Morocco - doi: 10.4337/9781788111133 - Edward Elgar Publishing
Kees Biekart & Sylvia Bergh (2016) - Can consultants be civic innovators? Exploring their roles as auditors and allies - Routledge
Thanh Dam Truong, Des Gasper, Jeff Handmaker & Sylvia Bergh (2014) - Migration, Gender, Social Justice: Perspectives on Human Insecurity - doi: 10.1007/978-3-642-28012-2 - Springer
A Tandian & Sylvia Bergh (2014) - From temporary work in agriculture to irregular status in domestic service: the transition and experiences of Senegalese migrant women in Spain - Springer
Sylvia Bergh & A Tandian (2013) - From Temporary Work in Agriculture to Irregular Status in Domestic Service: The Transition and Experiences of Senegalese Migrant Women in Spain - Springer
Sylvia Bergh (2012) - Governance Reforms in Morocco - Beyond Electoral Authoritarianism? - Routledge
Sylvia Bergh (2010) - Morocco case study - NIMD / Hivos
Sylvia Bergh (2008) - Middle East and North Africa Region: Case Study Morocco - The Brenthurst Foundation, E. Oppenheimer & Son

Sylvia Bergh (2009) - The 2009 Municipal Elections in Morocco: Some observations on the interplay between formal and informal institutions in a rural area
Sylvia Bergh (2009) - Participation and decentralisation in the World Bank¿s `Good Governance¿ Agenda ¿ some unintended consequences for local governance in Morocco
Sylvia Bergh (2009) - Local Co-Governance Innovations in Morocco and Brazil - some Insights from a Comparative Analysis
Sylvia Bergh (2008) - The emergence of hybrid political orders as a result of government and donor policies – The case of ''civil'' and ''political'' societies in rural Morocco
Sylvia Bergh (2008) - What are the conditions for Gender Responsive Budgeting (GRB) at the local level in rural Morocco? (Paper presented at the International Conference on Decentralization, Local Power and Womens Rights: Global trends in participation, representation and access to public services, organized by the International Development Research Centre (IDRC), Mexico City, 18-21 November 2008)
Sylvia Bergh (2008) - Assessing the scope for partnerships between local governments and civil society: lessons from Morocco (Paper presented at the European Group of Public Administration (EGPA) Annual Conference on Innovation in the Public Sector, as part of the panel organized by the EGPA Study Group on Local Governance and Democracy, Rotterdam, The Netherlands, September 3-6 2008; Paper available at: http://www.eur.nl/fileadmin/ASSETS/fsw/Tufan/EGPA2008/Papers/PSG4/Bergh.pdf)
Sylvia Bergh (2008) - Decentralisation reforms and participatory approaches to rural development: Implications for local governance in Morocco' (Paper presented at the School of Economics, University of Nottingham, Development Economics Seminar, 21 May 2008)
Sylvia Bergh (2008) - Can there be a developmental state in Morocco? Finding the right balance between autonomy and embeddedness (Paper presented at the 58th Political Studies Association Annual Conference on Democracy, Governance and Conflict: Dilemmas of Theory and Practice, Swansea University, UK, 1 - 3 April 2008; Paper available at: http://www.psa.ac.uk/2008/pps/Bergh.pdf)
Sylvia Bergh (2008) - Decentralisation reforms and participatory approaches to rural development: Implications for local governance in Morocco (Paper presented at ISS Development Research Seminar, 27 February 2008)
Sylvia Bergh (2008) - Invited to contribute a session entitled 'Decentralisation et approches participatives au Maroc: quelles implications pour la gouvernance locale?' to the course 88/06 'Decentralisation rurale et gouvernance locale', organised by Wageningen International and The Royal Tropical Institute, Wageningen (NL), 12 September 2008)
Sylvia Bergh (2008) - Policy Incoherence in the 'Good Governance' Agenda: the Case of Decentralisation and Community-based Development in Morocco
Sylvia Bergh (2007) - Public administration capacity to implement 'participatory' development policy: Evidence from Morocco (Paper presented at the conference on "European Conference on African Studies: African Alternatives: Initiative and Creativity beyond Current Constraints organised by Africa-Europe Group for Interdisciplinary Studies (AEGIS) African Studies Centre Leiden on 11 - 14 July 2007)
Sylvia Bergh (2007) - Overcoming Tensions in Local Development: the Scope for Synergies between Decentralization and Participatory Approaches in the Case of Morocco (Paper presented at the conference on "Development Dialogue 2007: Development and its Discontents" organised by Institute of Social Studies The Hague on 4 July 2007)
Sylvia Bergh (2007) - Assessing the potential for synergies between decentralization and participatory development projects: the case of Morocco (Paper presented at the conference on "Making Institutions Work for the Poor? Annual Conference of the Norwegian Association for Development Research" organised by Chr. Michelsen Institute and Norwegian Association for Development Research (NFU) Bergen, Norway on 5-7 November 2007)
Sylvia Bergh (2006) - Morocco Case Study (Paper on the Moroccan economy and implications for Africa)
Sylvia Bergh (2006) - Theory-Based Evaluation of Institutional Sustainability in "Participatory" Development Projects – A Case Study from Morocco
Sylvia Bergh & S Pellissery (2006) - Participation discourse as the bridge between individual freedom and group rights: Comparative experiences from development projects in India and North Africa
Sylvia Bergh (2006) - Conceptual Issues in Capacity Building: A Case Study on Local Government and Village Associations in Morocco
Sylvia Bergh (2005) - Water Governance, Participation, and Poverty: A Critique with Reference to Irrigation Projects and Water User Associations in Morocco
Sylvia Bergh (1 January 2018) - The redeployment of state power in the Southern Mediterranean: Implications for local governance - Interview on the topic of the invited lecture as part of the Aula Mediterrània Lecture Series 2017-2018
Sylvia Bergh (1 January 2011) - Interview on the Arab Spring ('Arabische opstand') - Interview on the Arab Spring ('Arabische opstand')
Sylvia Bergh (2016) - Mediterranean Politics (Journal)
Sylvia Bergh (2016) - European Journal of Development Research (Journal)
Sylvia Bergh (2015) - SpringerPlus (Journal)
Sylvia Bergh (2015) - Cogent Social Sciences (Journal)

Sylvia Bergh (2018) - The Redeployement of State Power in the Southern Mediterranean - Implications for Local Governance - Aula Mediterrània 2017-2018 - Series of lectures held at the European Institue of the Mediterranean (IEMed)
Sylvia Bergh (2015) - Decentralisation and regional inequalities – evidence from The Netherlands and Morocco - Seminar 'Quelle réforme de la gouvernance publique pour un développement local et regional meilleur?'
Sylvia Bergh & Kees Biekart (2015) - Can (Evaluation) Consultants be Civic Innovators? Exploring the Shift from Auditors to Allies - Conference on Monitoring and Evaluation for Responsible Innovation, at Wageningen University
Sylvia Bergh & Daniele Rossi Doria (2014) - Plus ça change? Observing the Dynamics of Morocco's 'Arab Spring' in the High Atlas - 14th General Conference of the European Association of Development Research and Training Institutes (EADI)
Sylvia Bergh & Daniele Rossi Doria (2014) - Plus ça change? Observing the Dynamics of Morocco's 'Arab Spring' in the High Atlas - International conference on 'Bringing People Back In Politics: the Role of Civil Society, Organizations and Political Parties in a Post-'Arab Spring' Context'
Sylvia Bergh (2014) - Research and Policy Influence: Challenges and Opportunities for Social Policy - Workshop on 'Strengthening Research Capacities and Networks for Social Policy in the Middle East and North African (MENA) Region'
Sylvia Bergh (2013) - Decentralisation and local governance in the Euromed region - Meeting of the Euro-Mediterranean Regional and Local Assembly (ARLEM – launched by the EU's Committee of the Regions)
Sylvia Bergh (2013) - Final discussant's comments - Workshop on 'Dispossession and Collective Action: Neoliberal (Re)Structurings of the Rural in Egypt, Morocco and Turkey'
Sylvia Bergh (2013) - Social movements in Morocco and the 2011 Constitution: Assessing the Linkages - 4th conference of the GDRI-DREEM on 'Evaluation of Economic Policies and Institutional Changes in Mediterranean Countries'
Sylvia Bergh (2011) - The National Human Development Initiative in Morocco: Some implications for local governance - Middle East Studies Association Annual Meeting
Sylvia Bergh (2011) - Undermining the potential for representative democracy in the name of "participatory democracy"? The case of the National Initiative for Human Development and regime stability in Morocco - Twelfth Mediterranean Research Meeting

Sylvia Bergh & Karin Willemse (2016) - Contemporary Islam (Journal)
Sylvia Bergh (2012) - Mediterranean Politics (Journal)
The Hague Unviersity of Applied Sciences HHS

Start date approval

September 2020

End date approval

September 2023

Place

THE HAGUE

Description

employment next to my part-time EUR appointment