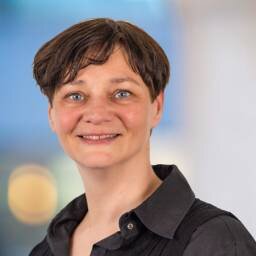 Associate professor
Erasmus School of History, Culture and Communication
Department of Media and Communication
Location

Burg. Oudlaan 50, Rotterdam

Room

M8-40

Email
‹

Back to overview
Profile
Tonny Krijnen is the Education Programme Director and an Assistant Professor at the Department of Media & Communication of Erasmus University Rotterdam.
Her teaching and research activities lie in the fields of popular culture, morality, gender, television studies, and qualitative research methods. Her current research focuses on television (content, production, and reception), morality, gender, and emotions. She is involved in the project Data Inspired Creativity.
Tonny Krijnen studied communication science at the University of Amsterdam. After finishing her MA in Media and Audience Studies in 2001, she worked as a lecturer at the Communication Science Department of the University of Amsterdam.
In 2002, she started her PhD research at the Amsterdam School of Communications Research, which resulted in the dissertation 'There Is More(s) In Television. Studying the relationship between television and moral imagination.' (University of Amsterdam, 2007). From 2006 till 2007 she worked as lecturer in Communication Science at the University of Amsterdam. In 2007, she joined the Department of Media & Communication at Erasmus.
Tonny Krijnen is active in several international organisations (ECREA and IAMCR).Currently she is chair of the Popular Culture Workgroup in the International Association for Media and Communication Research (IAMCR). From 2010 till 2012 she served as the chair of the Gender and Communication Section of the European Communication Research and Education Association (ECREA) and is affiliated with the Erasmus Research Centre for Media, Communication.
Tonny Krijnen & S (Sofie) Van Bauwel (2015) - Gender and Media. Representing, Producing, Consuming - Routledge

Tonny Krijnen, C Alvares & S (Sofie) Van Bauwel (2010) - Gendered Transformations. Theory and Practices on Gender and Media - Intellect Ltd.

Tonny Krijnen (2019) - Reterritorializing the home: (im)material discourses of belonging in Utopia
J Van Keulen, Tonny Krijnen & J Bauwens (2019) - Idea development in a transnational field: A Dutch case study
Tonny Krijnen (2016) - Programme Chair Popular Culture Working Group
Tonny Krijnen, Mijke Slot & DR Novak (2013) - Organisatie
Tonny Krijnen (2011) - Co-organizing the symposium as chair of the Gender and Communication Section of European Communication Research and Education Association (ECREA)

Tonny Krijnen & C Modugno (2018) - Techno-panic or techno-warning?' Self-reflexive discourses on technology in Black Mirror
Tonny Krijnen (2018) - Programme Chair Popular Culture Working Group
Tonny Krijnen (2018) - Mondialisering weerstaan - reterritorialisering in Utopia
Tonny Krijnen (2016) - Resisting Globalisation. Strategies of reterritorialization in Utopia
Tonny Krijnen & ESH Tan (2016) - Kwaliteitsmoraal - Het Zelf in de morele verbeelding van kwaliteitsdrama
Tonny Krijnen (2015) - House of (im)morality? Gendered Moral-Emotional Repertoires in Quality TV Drama
Tonny Krijnen (2015) - The Confrontation with the Self. Quality TV drama's contribution to the moral imagination
Tonny Krijnen (2014) - Moral Repertoires in Quality Drama
Tonny Krijnen (2014) - Digital Labour: Gender and On Line Fan Art
Tonny Krijnen (2013) - 'Whose Technology? Gender and Online Fan Art'
Tonny Krijnen (2013) - Understanding TV Morality
DR Novak & Tonny Krijnen (2012) - Exploring visual aspects of audience membership: Media studies and photovoice
Tonny Krijnen & Marc Verboord (2012) - The Moral Value of TV Genres.
Tonny Krijnen (2011) - Reality Competition - the hidden agenda of participants
Tonny Krijnen (2011) - Cultural Homogenisation - new questions
Tonny Krijnen (2011) - Culturele Homogenisering? Een vergelijking van Nederlands en Amerikaans televisiedrama
Tonny Krijnen (2010) - Display of Gendered Moral-emotional Repertories in American and Dutch Television Drama
Tonny Krijnen (2010) - Popular TV's contribution to moral-emotional repertories of its audiences
Tonny Krijnen & E Tan (2010) - Moral-emotional repertories in popular television
Tonny Krijnen (2010) - Engaging the Imagination: moral reflection and watching TV
Tonny Krijnen & S (Sofie) Van Bauwel (2010) - Het Brullen van de Leeuwen. Een onderzoek naar de beeldvorming van en over Vlamingen en Nederlanders
M Jansink & Tonny Krijnen (2009) - Culture or commerce: the TV concept-developer at work
Erik Hitters & Tonny Krijnen (2009) - Mediating regional identities: The popularity and legitimacy of regional television
Erik Hitters & Tonny Krijnen (2009) - Koning van de Regio? Een onderzoek naar de populariteit en legitimiteit van regionale televisie
Tonny Krijnen (2009) - Echte Mannen Huilen Soms. De bijdrage van reality-shows aan emotioneel-morele repertoires van de kijker
Tonny Krijnen (2008) - Gendered Emotions and Moral Reflections in Reality TV
Tonny Krijnen (2008) - Engaging the Moral Imagination by Watching Television: transcending the gendered conceptions of television and morality
Tonny Krijnen (2008) - Het Persoonlijke is Ethiek. Moraal en Emotie in Reality TV
Tonny Krijnen (2007) - Imagining Moral Citizenship. Gendered politics in television discourses
Tonny Krijnen (17 September 2019) - 'Deelnemers aan reality-programma's doen het allemaal voor de fame' - 'Deelnemers aan reality-programma's doen het allemaal voor de fame'
Tonny Krijnen (8 March 2016) - Gender and Media - Interview
Tonny Krijnen (22 January 2015) - De Kennis van Nu - Interview
Tonny Krijnen (1 January 2015) - Hobbitonderzoek naar Rotterdam (Interview Erasmus Magazine - January 2015) - Hobbitonderzoek naar Rotterdam (Interview Erasmus Magazine - January 2015)
Tonny Krijnen (1 January 2014) - Verstaanbaar of niet? TV-makers en taalkundigen over ondertitelen (interview NCRV-gids 41, 2014) - Verstaanbaar of niet? TV-makers en taalkundigen over ondertitelen (interview NCRV-gids 41, 2014)
Tonny Krijnen (2019) - Communication, Technology and Human Dignity: Disputed Rights, Contested Truths - Communication, Technology and Human Dignity: Disputed Rights, Contested Truths

Tonny Krijnen (2015) - International Association for Media and Communication Research (External organisation)
Tonny Krijnen (2014) - International conference 'Gender in Focus. (New) trends in media.' (External organisation)
Tonny Krijnen (2013) - International Association for Media and Communication Research (External organisation)
Tonny Krijnen (2010) - European Communication Research and Education Association (External organisation)

Tonny Krijnen (2016) - Introduction to participatory research method Photovoice. From Photo novella to Musci Voice. An epistemological exploration - Erasmus Graduate School for the Social Sciences and Humanities
Tonny Krijnen (2015) - The World Hobbit Project. Creating consensus among researchers from 46 countries in 30 languages - Invited Lecture: The European Fan Cultures
Tonny Krijnen (2015) - A feminist toolbox for young scholars. Developing strategies to cope with the gendered challenges of the academic work environment. - ECREA's Young Scholar's Network
Tonny Krijnen (2014) - Television Morality. - Dean's Master Class 'Morality and Ethics'.
Tonny Krijnen (2014) - Dat weet toch iedereen! Morale demarcatie in populaire cultuur - Spui 25 - Globalization Redux
Tonny Krijnen (2012) - Invited lecture Understanding TV and Morality - Institut für Medien und Bildungstechnologie
Tonny Krijnen (2011) - Writing Academic Applications - Workshop organised by the Young Scholar's Network of ECREA during the conference: The Mediation of Scandal and Moral Outrage at the London School of Economics
Tonny Krijnen (2011) - De televisie zal je mores leren - Gent University in the course `Televisiestudies'
Tonny Krijnen (2011) - From Annie Oakley and Marlon Brando to Lady Gaga and Andrej - a sure change? Ambivalence and multivocality in representations of gender in popular culture - Lecture in honour of the opening of the academic year of the Amsterdam Research Centre for Gender and Sexuality
Tonny Krijnen (2008) - Populaire cultuur als morele oefenruimte. De bijdrage van de Gouden Kooi aan de emotioneel-morele repertoires van de kijker - Lezing: De Popcultuur ontgonnen
Tonny Krijnen (2008) - Emotie en Moraal in de Gouden Kooi - Lecture: University of Amsterdam, CAMCAS, De opkomst van de emotiecultuur

M Scarcelli, Tonny Krijnen & P Nixon (2021) - Information, Communication and Society (print) (Journal)
S (Sofie) Van Bauwel & Tonny Krijnen (2021) - Media and Communication (Journal)
S (Sofie) Van Bauwel & Tonny Krijnen (2019) - Media and Communication (Journal)
M Scarcelli, Tonny Krijnen & P Nixon (2019) - Information, Communication and Society (print) (Journal)
Tonny Krijnen, Mijke Slot & DR Novak (2013) - Tijdschrift voor Communicatiewetenschap (print) (Journal)
Tonny Krijnen, C Alvares & S (Sofie) Van Bauwel (2012) - Interactions (Bristol): studies in communication & culture (Journal)
Year

2021

Year Level

MA, MA, MA, MA

Course Code

CM4500

Level

MA-1

Year

2021

Year Level

MA-1

Course Code

CS5007

Year

2021

Year Level

BA-3, Pre-master, Pre-master, Pre-master, Pre-master

Course Code

CM3010