Our partners
To realise our strategic ambitions, Erasmus University Rotterdam collaborates with several national and international partners. The desire to partner up and to form networks may have arisen from an academic perspective, in the past years collaborations have also formed to further our education, marketing and communication.
Networks and alliances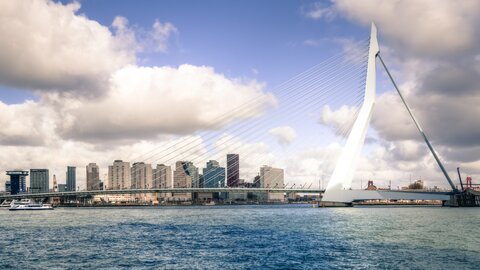 Strategic Alliance Leiden-Delft-Erasmus (LDE)
European University Foundation (EUF)
The Digital Society
The Association of Universities in the Netherlands (VSNU) has brought together 30 leading professors from all fourteen universities to address the many pressing questions raised by the emergence of a digital society. The professors work together in the Digital Society programme and support the Netherlands to develop technologies and applications that serve societal goals and interests, and which can be an example to all. Several experts at Erasmus University Rotterdam are contributing to this programme.
Our partners in Rotterdam
Locally, Erasmus University Rotterdam also collaborates with institutions, governments and organisations. We work with a lot of partners from Rotterdam, such as the International Film Festival Rotterdam.