Sustainable Campus
Building a Sustainable Campus
The renovation of the Woudestein campus commenced in 2011. An important aspect of the project was the preparation of the site. Unfortunately, a large number of trees had to be cleared from the building site. This operation was handled with the greatest possible care and any trees that could be relocated were moved to another part of the campus in consultation with Bomenridders Rotterdam, an organisation dedicated to protecting trees. Some of the trees were replanted along the northern boundary of the campus at the request of neighbouring residents. Diseased trees and trees that could not be relocated were felled. Some of the trees that were felled were used to build a 'tree shack' to symbolise the ambitions of the students and staff of the EUR to create a sustainable community.
Practically all of the trees that were moved will now remain where they are. From the end of 2012, new trees will be planted in the newly constructed areas of the campus. Ultimately, the campus will have more trees than before the renovation. Large water features will also be installed to create a pastoral landscape of water and vegetation in the northern part of the campus.
The Erasmus University Rotterdam has the ambition to be among the most sustainable campuses in the Netherlands. Over the long run, Erasmus University is aiming at becoming an energy-neutral campus. Specific objectives are:
30% energy efficiency in 2020 compared to 2005 (2% per year)
50% CO2 reduction by 2025 compared to 1990 (agreement with Rotterdam Climate Initiative)
Balance between people planet and profit
Long term: an (amost) zero energy neutral campus with an attractive working, living and study environment
On the approach of the EUR on the area of real estate further reading material is available here and this link.
Other sustainable activities on campus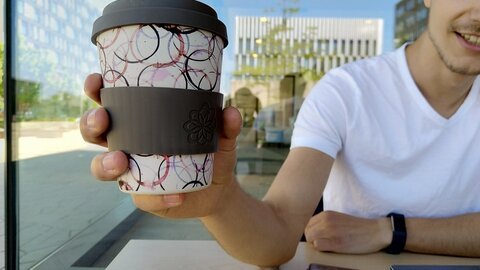 Cup-sharing
The Erasmus Sustainability Hub and Post Plastic Generation stimulate cup-sharing and the replacement of plastic cups by reusable ones.
Read more on Facebook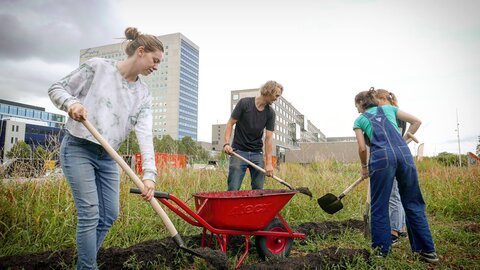 Vegetable garden on campus
The Erasmus Sustainability Hub and Edible EUR are running a vegetable garden on campus.
Read more on Facebook