Sustainable Campus
Erasmus University Rotterdam has the ambition to become one of the most sustainable universities of the Netherlands. Developing a green and sustainable campus is an important aspect of this ambition. The last couple of years, the university started developing a more sustainable campus. When constructing a new building, there is a lot of attention for sustainable aspects such as cradle-to-cradle concepts that contribute to a circular economy. Besides that, the existing buildings are managed as energy-efficient as possible.
Campus under construction
In 2011 the university started constructing campus Woudestein in the context of Campus under Construction. The goal of Campus under Construction is to create a campus with allure, which is both green, which gives space to sports and relaxation, as urban with different meeting points and facilities.
In the development of the campus, the university takes different measures to reduce energy and CO2-emissions. Examples of such measures are:
Heat recovery to warm rooms sustainably;
Installation of intelligent lighting;
Installation of LED lighting;
Smart cooling of datacenters;
Installation of solar panels;
Connecting buildings to heat/cold storage systems;
Construction of green roofs (sedum roofs).
As part of Campus under Construction, EUR has started with the construction of an energy neutral sports building in 2019. Besides a high energy ambition, the EUR has also a high ambition for this building in terms of circularity.
ELENA subsidy
As the first university in Europe, the Erasmus University Rotterdam received the European Local ENergy Assistance (ELENA) subsidy. In the period 2016-2018, the EUR will receive a maximum of 2.7 million euros from the European Investment Bank to help realise our ambitions for a sustainable campus. The ELENA program provides financial support for executing big projects around energy efficiency and sustainability. With this subsidy, technical expertise and organisational capacity can be hired.
BREEAM-NL
BREEAM certification is currently the standard for determining the sustainability level of buildings and the built environment. For renovating the Tinbergen building the ambition is to reach the 'Excellent' level according to the 'BREEAM construction and renovation' guideline. At the end of 2017 the first phase was successfully completed with achieving the design certificate. For future demolition of buildings, it will be examined if the 'BREEAM Demolition and disassembly' guideline can be used.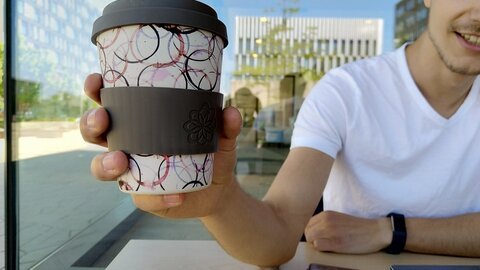 Cup-sharing
The Erasmus Sustainability Hub and Post Plastic Generation stimulate cup-sharing and the replacement of plastic cups by reusable ones.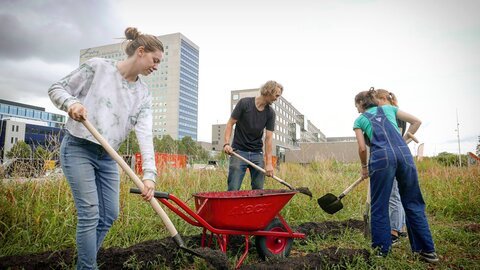 Vegetable garden on campus
The Erasmus Sustainability Hub and Edible EUR are running a vegetable garden on campus.