Is this the programme you're looking for?
The relationship between politics and society has changed dramatically. In this master we aim to understand the causes and consequences of this change. If you think this is an interesting theme, this master track is the right choice for you.
Key Facts & Figures
Type

Master

Degree

MSc

Mode of study

Full-time

Instruction language

English

Duration

1 year

Study points (EC)

60

Location

Start date

September

Application Deadline (EEA)

15 June
The study programme in a nutshell
This master track:
offers a unique sociological perspective on the interplay between politics and society;
helps to develop in-depth insights and analytical skills using a wide range of small-scale interactive tutorials and thought-provoking seminars;
is taught by dedicated and approachable professors and evaluated (very) positively by our students.
Watch the study programme video
What you will learn
In this programme, we combine classical and state-of-the-art sociological theories and research with insights from political science in order to obtain in-depth understanding of contemporary politics.
Is this the right programme for you?
Due to our unique approach you will learn to answer topical questions such as:
What are the causes of political fragmentation and how does this fragmentation affect the way modern societies are governed?
How does new information, for instance on the effects of immigration, sentencing or vaccine programmes, influence citizens' political attitudes?
How is the political discontent and protests among specific groups of citizens linked to the outlook of contemporary political institutions?
Why are asylum seekers in some places welcomed by local residents, whereas in other places these newcomers are fiercely opposed?
Want to know more? Meet us here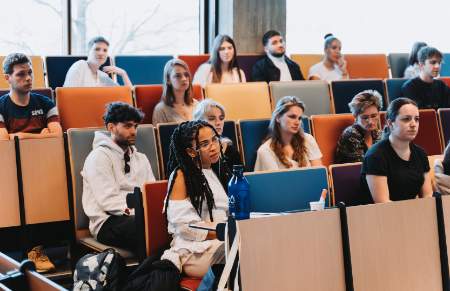 Career opportunities after graduation
Graduates are well-prepared for a wide range of jobs in, among others, politics, journalism, consultancy, (applied) research and (academic) teaching. Graduates of this master programme have worked, for example, as policy and political advisors in national and supranational contexts and as researchers in public and academic research institutes.
What do our students think?