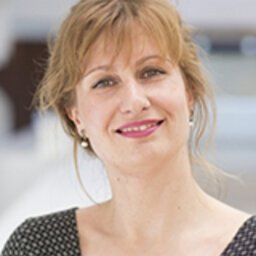 Full Professor
Erasmus School of Social and Behavioural Sciences
Department of Psychology, Education & Child Studies/ Clinical Psychology
Location

Burg. Oudlaan 50, Rotterdam

Room

T13-58

Telephone

0104081712

Email
‹

Back to overview
Profile
Prof. Semiha Denktaş (Istanbul, 1973) studied Clinical & Health Psychology at Utrecht University and Integration & Migration Studies at the Erasmus University Rotterdam. She obtained her PhD on the subject of The Health and Healthcare use of Elderly First Generation Migrants in the Netherlands.
Denktaş played a seminal role in the establishment of the Erasmus University College, serving as Head of the Social & Behavioural Science department from 2013 to 1 September 2018. As of 1 September 2018, she leads the Behavioural Change pillar at the Erasmus School of Social and Behavioural Sciences Rotterdam (ESSB). As of 1 October 2018, Prof. Semiha Denktaş helds the position of Chief Diversity Officer (CDO) at Erasmus University Rotterdam.
She has a vast amount of experience in large-scale, multi-disciplinary research programmes. In 2017, she started the Behavioural Insights Group Rotterdam (BIG'R) and HEALTHY'R together with the Municipality of Rotterdam. She continues to serve as Academic Director of these collaborations. Through these vessels and under her leadership, various research projects are being conducted in Rotterdam to examine and achieve behaviour change. These include behavioural studies aimed at promoting improved mental and physical health, with a special focus on marginalised and vulnerable groups.
Denktaş is a board member of Female Academics Moving toward Equity (FAME) of the Erasmus University Rotterdam; a group focused on the participation and empowerment of women in all academic ranks. She is also a board member of the "Coalitie Rotterdammers voor Mekaar" (Coalition of Rotterdammers for Each Other); a Rotterdam-focused coalition that engages its network to detect threats to social cohesion and strengthens and combines existing forces and initiatives to increase social cohesion.
L.I.S. Giel, G. Noordzij, L.H.J. Noordegraaf - Eelens & S. Denktas (2020). Fear of failure: A polynomial regression analysis of the joint impact of the perceived learning environment and personal achievement goal orientation. Anxiety, Stress and Coping, 33 (2), 123-139. doi: 10.1080/10615806.2019.1695603 [go to publisher's site]
M.K. Sijpkens, S.F. van Voorst, A.N. Rosman, L.C. Potjer, S. Denktas, B.C.P. Koch, L.C.M. Bertens & E.A.P. Steegers (2020). Change in Lifestyle Behaviors After Preconception Care: A Prospective Cohort Study. American Journal of Health Promotion, 35 (1), 116-120. doi: 10.1177/0890117120927287
S. Denktas, I. Merkelbach, S. Shagiwal, S. Mamede & P.L. Kocken (2020). Gedragsverandering cruciaal in strijd tegen COVID-19. Nederlands Tijdschrift voor Geneeskunde, 164:D5026.
I.A. Peters, A.G. Posthumus, E.A.P. Steegers & S. Denktas (2019). Satisfaction with obstetric care in a population of low-educated native Dutch and non-western minority women. Focus group research. PLoS One (online), 14 (1):e0210506. doi: 10.1371/journal.pone.0210506
M.K. Sijpkens, S.F. van Voorst, L.C. Potjer, S. Denktas, A.P. Verhoeff, L.C.M. Bertens, A.N. Rosman & E.A.P. Steegers (2019). The effect of a preconception care outreach strategy: the Healthy Pregnancy 4 All study. Bmc Health Services Research, 19:60. doi: 10.1186/s12913-019-3882-y
I.A. Peters, K.M. Heetkamp, N.T.C. Ursem, E.A.P. Steegers, S. Denktas & M. Knapen (2018). Ethnicity and Language Proficiency Differences in the Provision of and Intention to Use Prenatal Screening for Down's Syndrome and Congenital Anomalies. A Prospective, Non-selected, Register-Based Study in the Netherlands. Maternal and Child Health Journal, 22 (3), 343-354. doi: 10.1007/s10995-017-2364-2
S. Shagiwal, A. Schop-Etman, I. Bergwerff, W. Vrencken & S. Denktas (2018). The BeHealthyR Study: a randomized trial of a multicomponent intervention to reduce stress, smoking and improve financial health of low-income residents in Rotterdam. BMC Public Health, 18:891. doi: 10.1186/s12889-018-5728-7
I.A. Peters, A.G. Posthumus, J. Reijerink-Verheij, H.M.E. van Agt, M.F.C.M. Knapen & S. Denktas (2017). Effect of culturally competent educational films about prenatal screening on informed decision making of pregnant women in the Netherlands. Patient Education and Counseling, 100 (4), 776-782. doi: 10.1016/j.pec.2016.11.007
J. van der Kooy, J.P. de Graaf, E. Birnie, S. Denktas, E.A.P. Steegers & G.J. Bonsel (2016). Different settings of place of midwife-led birth: evaluation of a midwife-led birth centre. SpringerPlus, 5 (1):786. doi: 10.1186/s40064-016-2306-2
S.F. van Voorst, S.L.A. Plasschaert, L.C. Potjer, E.A.P. Steegers & S. Denktas (2016). Current practice of preconception care by primary caregivers in the Netherlands. European Journal of Contraception and Reproductive Health Care, 21 (3), 251-258. doi: 10.3109/13625187.2016.1154524
V.L.N. Schölmerich, H. Ghorashi, S. Denktas & P. Groenewegen (2016). Caught in the middle? How women deal with conflicting pregnancy-advice from health professionals and their social networks. Midwifery, 35, 62-69. doi: 10.1016/j.midw.2016.02.012
A.A. Vos, S.F. van Voorst, E.A.P. Steegers & S. Denktas (2016). Analysis of policy towards improvement of perinatal mortality in the Netherlands (2004-2011). Social Science & Medicine, 157, 156-164. doi: 10.1016/j.socscimed.2016.01.032
A. Woodend, V.L.N. Schölmerich & S. Denktas (2015). Preventing major depressive disorder: how behavioural economics can help. American Journal of Public Health, 25 (3). doi: 10.1093/eurpub/ckv170.078
A.A. Vos, M.J. van Veen, E. Birnie, S. Denktas, E.A.P. Steegers & G.J. Bonsel (2015). An instrument for broadened risk assessment in antenatal health care including non-medical issues. International Journal of Integrated Care, 15 (1). doi: 10.5334/ijic.1512
J. Poeran, S. Denktas, E. van der Weg, J. de Graaf, H.W. Torij, G. Bonsel & E.A.P. Steegers (2015). De opbrengsten van vier jaar 'Klaar voor een Kind':een grootstedelijk multidisciplinair gezondheidsprogramma voor verloskundige zorg in Rotterdam. Tijdschrift voor Gezondheidswetenschappen, 93 (7), 250-253. doi: 10.1007/s12508-015-0101-z
A.A. de Vos, S. Denktas, G.J. Bonsel & E.A.P. Steegers (2014). Heterogeneity in causality of perinatal outcomes on neighbourhood level: a population based study. Reproductive Sciences, 21 (3), 358-359.
J. van der Kooy, N.B. Valentine, E. Birnie, M. Vujkovic, J.P. de Graaf, S. Denktas, E.A.P. Steegers & G.J. Bonsel (2014). Validity of a questionnaire measuring the World Health Organisation concept of health system responsiveness with respect to perinatal services in the Dutch obstetric care system. Bmc Health Services Research, 14 (1):622. doi: 10.1186/s12913-014-0622-1
S. Denktas, V.J.J. Poeran, S.F. van Voorst, A.A. Vos, L.C. Potjer, A.J.M. Waelput, E. Birnie, G.J. Bonsel & E.A.P. Steegers (2014). Design and outline of the Healthy Pregnancy 4 All study. BMC Pregnancy and Childbirth, 14 (1):253. doi: 10.1186/1471-2393-14-253
I.A. Peters, V.L.N. Schölmerich, D. van Veen, E.A.P. Steegers & S. Denktas (2014). Recruitment of non-Western ethnic minority participants for reproductive health peer education. Journal for multicultural education, 8 (3), 162-178. doi: 10.1108/JME-02-2014-0013
S. Temel, S.F. van Voorst, L. Potjer, S. Denktas & E.A.P. Steegers (2014). A national summit on preconception care: a summary of definitions, evidence and recommendations. Journal of Community Genetics, 6 (1), 107-115. doi: 10.1007/s12687-014-0204-2
A.A. Vos, A.G. Posthumus, G. Bonsel, E.A.P. Steegers & S. Denktas (2014). Deprived neighborhoods and adverse perinatal outcome: a systematic review and meta-analysis. Acta Obstetricia et Gynecologica Scandinavica, 9 (8), 727-740. doi: 10.1111/aogs.12430
V.L.N. Schölmerich, A.G. Posthumus, H. Ghorashi, E.A.P. Steegers, A.J.M. Waelput, P. Groenewegen & S. Denktas (2014). Improving interprofessional coordination in Dutch midwifery and obstetrics: a qualitative study. BMC Pregnancy and Childbirth, 14 (1):145. doi: 10.1186/1471-2393-14-145
S. Temel, E. Birnie, H.M. Sonneveld, A.J.J. Voorham, G.J. Bonsel, E.A.P. Steegers & S. Denktas (2013). Determinants of the intention of preconception care use: lessons from a multi-ethnic urban population in the Netherlands. International Journal of Public Health, 58 (2), 295-304. doi: 10.1007/s00038-012-0396-3
V.J.J. Poeran, A.F.G. Maas, E. Birnie, S. Denktas, E.A.P. Steegers & G.J. Bonsel (2013). Social deprivation and adverse perinatal outcomes among Western and non-Western pregnant women in a Dutch urban population. Social Science & Medicine, 83, 42-49. doi: 10.1016/j.socscimed.2013.02.008
E.A.P. Steegers, S. Denktas, J.P. de Graaf & G. Bonsel (2013). Sociale verloskunde voorkomt armoedeval. Medisch Contact, 68 (14), 714-717.
S. Denktas, G.J. Bonsel & E.A.P. Steegers (2012). Perinatal health in Rotterdam, the Netherlands--experiences after 2 years of 'Ready for a baby'. Nederlands Tijdschrift voor Geneeskunde, 156.
S. Denktas, R. Bakker, M. Vujkovic, G. Bonsel & E.A.P. Steegers (2012). Mogelijke additionele voordelen van preconceptiezorg bij de vrouw voor de volksgezondheid. Tijdschrift voor Sociale Geneeskunde, 90, 539-547.
S. Denktas, G.J. Bonsel, E.J. van der Weg, A.J.J. Voorham, H.W. Torij, J.P. de Graaf, H.I.J. Wildschut, I.A. Peters, E. Birnie & E.A.P. Steegers (2012). An Urban Perinatal Health Programme of Strategies to Improve Perinatal Health. Maternal and Child Health Journal, 16, 1553-1558. doi: 10.1007/s10995-011-0873-y
S. Denktas, A.J. Waelput, S.F. van Voorst, A.A. Vos, G. Bonsel, L. De Jong-Potjer & E.A.P. Steegers (2012). Healthy Pregnancy 4 All. Preconceptiezorg en risicoselectie tijdens de zwangerschap. Tijdschrift voor Sociale Geneeskunde, 90, 479-483.
V.J.J. Poeran, S. Denktas, E. Birnie, G.J. Bonsel & E.A.P. Steegers (2011). Urban perinatal health inequalities. Journal of Maternal-Fetal and Neonatal Medicine, 24 (4), 643-646. doi: 10.3109/14767058.2010.511341
J. van der Kooy, V.J.J. Poeran, J.P. de Graaf, E. Birnie, S. Denktas, E.A.P. Steegers & G.J. Bonsel (2011). Planned Home Compared With Planned Hospital Births in the Netherlands: Intrapartum and Early Neonatal Death in Low-Risk Pregnancies. Obstetrics and Gynecology, 118 (5), 1037-1046.
S. Denktas, G.T. Koopmans, E. Birnie, M.M.E. Foets & G.J. Bonsel (2010). Underutilization of prescribed drugs use among first generation elderly immigrants in the Netherlands. Bmc Health Services Research, 10 (176), 1-11. doi: 10.1186/1472-6963-10-176
S. Denktas, G.T. Koopmans, E. Birnie, M.M.E. Foets & G.J. Bonsel (2009). Ethnic background and differences in health care use: a national cross-sectional study of native Dutch and immigrant elderly in the Netherlands. International Journal of Equity in Health, 8 (35), 1-9.
E.A.P. Steegers, J.P. de Graaf, J.A.M. Laudy, T. Voorham, M.J. Happel, S. Denktas, J.D. Spittje, B. van der Zee, M.C. Huizer, H.I.J. Wildschut & G.J. Bonsel (2008). Recht op een goede start. Medisch Contact, 63, 100-101.
J.P. de Graaf, A. Ravelli, H.I.J. Wildschut, S. Denktas, A.J.J. Voorham, G.J. Bonsel & E.A.P. Steegers (2008). Perinatale uitkomsten in de vier grote steden en de prachtwijken in Nederland. Nederlands Tijdschrift voor Geneeskunde, 152, 2734-2740.
C.O. Agyemang, S. Denktas, M.A. Bruijnzeels & M.M.E. Foets (2006). . Validity of the single-item question on self-rated health status in Turkish and Moroccan elderly versus native Dutch elderly in the Netherlands. Public Health, 1-8.

V.J.J. Poeran, S. Denktas, E. Birnie, E.J. van der Weg, T. Voorham, E.A.P. Steegers & G.J. Bonsel (2012). Zwangerschap en geboorte in Rotterdam: een lokale gezondheidsrapportage. Tijdschrift voor Gezondheidswetenschappen, 90 (8), 496-503. doi: 10.1007/s12508-012-0168-8

S.F. van Voorst, S. Temel, S. Denktas & E.A.P. Steegers (2013). Preconceptiezorg. In Handboek vrouwspecifieke geneeskunde. Houten: Prelum Uitgevers
G.J. Bonsel, S. Denktas & E.A.P. Steegers (2011). Samenhangende organisatie van preconceptiezorg in de grote stad. Voorbeelden uit Rotterdam. In Reproductieve geneeskunde, gynaecologie en obstetrie anno 2011 (pp. 311-315). Haarlem: DCHG Medische Uitgeverij
S. Denktas, S. Temel, A.J.J. Voorham, G.J. Bonsel, E. Birnie & E.A.P. Steegers (2011). Preconceptiezorg: hoe bereik je de mensen? In Reproductieve geneeskunde, gynaecologie en obstetrie anno 2011 (pp. 305-310). Haarlem: DCHG Medische Uitgeverij
S. Denktas (2002). Allochtonen in dienst van de GGD. In Minderhedenmonitor Rotterdam 2001 (pp. 139-155). Rotterdam: ISEO/EUR & COS Gemeente Rotterdam
S. Denktas & W. van der Zanden (2002). Demografie en Huisvesting. In Minderhedenmonitor Rotterdam 2001 (pp. 8-29). Rotterdam: ISEO/EUR & COS Gemeente Rotterdam
S. Denktas (2001). Geestelijke gezondheidszorg. In Minderhedenmonitor Rotterdam 2000 (pp. 125-145). Rotterdam: ISEO/EUR & COS Gemeente Rotterdam
S. Denktas (2001). Demografie. In Minderhedenmonitor Rotterdam 2000 (pp. 7-15). Rotterdam: ISEO/EUR & COS Gemeente Rotterdam
S. Denktas (2000). De gezondheid van allochtonen. In Minderhedenmonitor Rotterdam 1999 (pp. 65-126). Rotterdam: ISEO/EUR & COS Gemeente Rotterdam
S. Denktas (2000). Deelgemeenten: beleid en praktijk. In Minderhedenmonitor Rotterdam 1999. Rotterdam: ISEO/EUR COS Gemeente Rotterdam
J. Dagevos & S. Denktas (1999). De vertegenwoordiging van minderheden in twee gemeentelijke diensten: slaag- en faalfactoren. In Minderhedenmonitor Rotterdam 1998 (pp. 79-111). Rotterdam: ISEO/EUR & COS Gemeente Rotterdam
S. Denktas & R. Vogels (1999). Etnische minderheden in Rotterdam, demografische gegevens. In Minderhedenmonitor Rotterdam 1998 (pp. 125-145). Rotterdam: ISEO/EUR & COS Gemeente Rotterdam
S. Denktas & R. Vogels (1999). Minderhedenorganisaties en algemene instellingen. In Minderhedenmonitor Rotterdam 1998 (pp. 119-148). Rotterdam: ISEO/EUR & COS Gemeente Rotterdam

S. Denktas & L.H.J. Noordegraaf - Eelens (2017). Stad in balans: hoe het onderwijs daarin een sleutelpositie speelt. In Boven J., Raatgever, A. & Hoogerbrugge, M. (Eds.), Ruimte voor een stad in balans. Rotterdam: gemeente Rotterdam en Platform 31, pp. 91-10.
S. Denktas & A. Burdorf (2016). Wordt het geen tijd om de grote gezondheidsverschillen in Nederland op te lossen? Een essay over de oorzaken en de oplossingen. In opdracht van de Raad voor de Volksgezondheid en Samenleving: Den Haag.

Title

Inclusive and Emergent Leadership

Year

2020

Year level

bachelor 3, bachelor, bachelor 3

Title

4.1 Health Psychology & Behavior Change

Year

2020

Full Professor

University

Erasmus University Rotterdam

School

Erasmus School of Social and Behavioural Sciences

Department

Department of Psychology, Education & Child Studies/ Clinical Psychology

Country

The Netherlands

Telephone

0104081712

Vital Cities and Citizens

Additional Information

Affiliated to the VCC program to support and contribute to research, education and social impact of the programme (www.eur.nl/en/research/erasmus-initiatives/vital- cities- and-citizens).

Role

Ambassador
Address
Visiting address
Burg. Oudlaan 50
3062 PA Rotterdam
Postal address
Postbus 1738
3000 DR Rotterdam
News regarding prof.dr. (Semiha) S Denktas