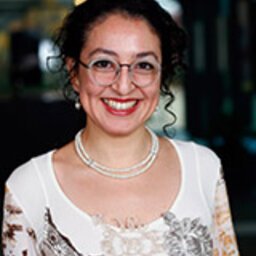 Assistant professor
Erasmus School of History, Culture and Communication
Department of Arts and Culture Studies
Location

Burg. Oudlaan 50, Rotterdam

Email
‹

Back to overview
Profile
Trilce Navarrete is a specialist in the economic and historic aspects of digital heritage.
Navarrete is advisor at the European Group of Museum Statistics (EGMUS), board member of the International Committee of Documentation of the International Council of Museums (CIDOC), and regular guest lecturer at various Museology programs worldwide. She has contributed to the creation and development of the European statistics for digital heritage (ENUMERATE), has served as advisor for the creation and evaluation of (national) digital infrastructures, and has collaborated in several European funded research projects, including RICHES and the Virtual Multimodal Museum (ViMM).
Navarrete was responsible for the first national study of the economic and historic development of digital museums, in The Netherlands. You can read a summary here.
Navarrete holds a PhD from the University of Amsterdam.
As lecturer in the Cultural Economics and Entrepreneurship program, Navarrete teaches at BA and MA level a variety of courses, including the Museums in Context MA elective (CC4122) where students get to apply theories to solve a wicked problem posed by a Dutch museum. Topics tackled can be viewed in a video series.