Is this the programme you're looking for?
Do you want to explore the world of communication and media and its social, political, economic, and cultural impact? Do you want to learn in a culturally diverse classroom where you can put your new acquired skills and knowledge to the test? Then the International Bachelor Communication and Media (IBCoM) at Erasmus University Rotterdam is the programme for you
IBCoM has an international character in which students and teachers from all over the world connect with each other and learn from each other, forming a tight-knit IBCoMmunity.
Key Facts & Figures
Type

Bachelor

Degree

BSc

Mode of study

Full-time

Instruction language

English

Duration

3 years

Study points (EC)

180

Location

Start date

September

Application Deadline (EEA)

15 March
The study programme in a nutshell
The International Bachelor Communication and Media (IBCoM) takes a comparative, international approach to communication and media studies. The IBCoM programme is taught exclusively in English to a diverse student body from all corners of the world. With extensive opportunities for international exchanges, internships, and customisation of the programme, IBCoM is an excellent steppingstone to advanced studies or a career in media, communications, and related fields.
Watch the study programme video
What you will learn
Acquire cutting-edge knowledge in each major area of communication and media as well as an in-depth understanding of several specialised areas of your choosing;
familiarise yourself with research methods, information technology, and communication techniques at the forefront of scholarship and professional practice in the field.
Get the skills you need to find employment as a media and communication professional and rise to the challenges you will meet in diverse, international, and fast paced working environments.
Explore the latest developments in media technologies, creative media sector, and AI and its impact on society and businesses;
Study the world of communication and media through a sociological, cultural, political, and economic perspective, focusing on both theory as well as research skills.
Besides these key features, IBCoM has built-in room for an (international) internship, a minor or international exchange experience, a mentor programme that helps new students settle in, as well as an honours programme and other extracurricular activities for further engagement and development during your studies.
Want to know more? Meet us here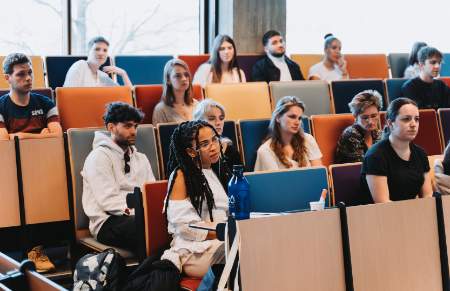 Career opportunities after graduation
In the past years IBCoM has proven to be a well-established programme that offers its graduates the best chances on the job market. Our students end up working as PR-managers, media-analysts, media producers, academics, communication advisors, marketeers, policy makers, journalists, brand managers, editors, press officers and more.
What do our students think?
Your student life starts in the vibrant city of Rotterdam
This vibrant city offers a variety in art, nightlife, culture and sports. Everything you wish for to enjoy your student life to the fullest.