Is this the programme you're looking for?
This new master's track focuses on psychological contributions to both forensic and legal contexts.
Key Facts & Figures
Type

Master

Degree

MSc

Mode of study

Full-time

Instruction language

English

Duration

1 year

Study points (EC)

60

Location

Start date

September

Application Deadline (EEA)

3 april
The study programme in a nutshell
This programme will give you insight into why people misbehave and commit crimes, what the concept of criminal irresponsibility is, and how forensic patients need to be treated. Besides these typical forensic topics, the programme offers insight into legal psychological topics such as deception detection and legal decision making.
What you will learn
This programme will teach you how to apply scientifically validated knowledge and instrumentation to forensic problems.
Is this the right programme for you?
The programme aims at implementing state of the art scientific insights in the field of forensic psychology (i.e. evidence-based practice), with a possibility of focusing on clinical forensic (neuro)psychology, or on legal psychology.
The programme employs various educational approaches ranging from lectures to practical assignments.
This programme is unique in its combination of forensic (neuro)psychology and legal psychology in a 1-year programme.
Want to know more? Meet us here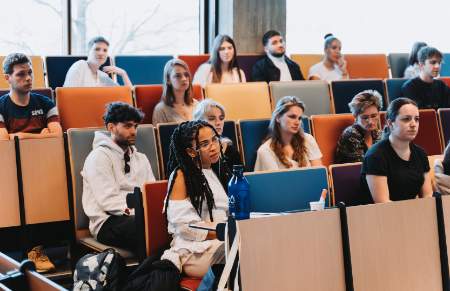 Career opportunities after graduation
This specialisation prepares you for a career as practitioner, researcher, or policy advisor in forensic and legal psychology.   
What do our students think?