Is this the programme you're looking for?
This online master track focuses on the role of digital media in human thought and behaviour. 
Key Facts & Figures
Type

Master

Degree

MSc

Mode of study

Online | Full-time

Instruction language

English

Duration

1 year

Study points (EC)

60

Location

Start date

September

Application Deadline (EEA)

3 april
The study programme in a nutshell
You will learn to apply theories from Industrial and Organizational Psychology, Cognitive Psychology, and Educational Psychology to address this topic. You will furthermore receive training in methods such as experience sampling, text mining, and educational analytics. 

This online master track prepares you for a position either in industry and consultancy or in academic research and education. You will acquire knowledge and skills that are in high demand in our current society. 

The content of the curriculum moreover makes an excellent fit with online teaching. This programme has had ample practice with high-quality online education, and we have experienced that online programmes can contribute to inclusive education for both traditional and non-traditional students. 
Watch the study programme video
What you will learn
The online programme will provide you with cutting-edge knowledge about the effects of the digital media on information processing, learning, and work performance. You will learn to analyse these effects using innovative techniques such as experience sampling, text-mining, and learning analytics.
Is this the right programme for you?
This is an intensive, full-time programme;
The master has specifically been designed for online education, and its curriculum matches with the online method.
Problem-solving and working in small groups are key elements in this programme;
Part of your output in this programme will be blog posts and/or vlogs, so you can build a portfolio;
Throughout the programme, we have experienced that the different backgrounds of our diverse student population have enriched the discourse of the programme;
This first-rate programme offers a thorough preparation for a career in education, business or research through its unique combination of theory and practical applications;
Our lecturers are researchers at the same time and do actual research on the same topics that are being discussed in the master programme.
Want to know more? Meet us here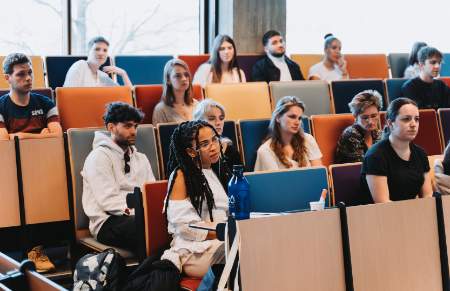 Career opportunities after graduation
Students who have completed this master track will be equipped to find positions as data scientist, content manager, trainee social media, educational designer, and academic researcher.
What do our students think?