Het weer van Erwin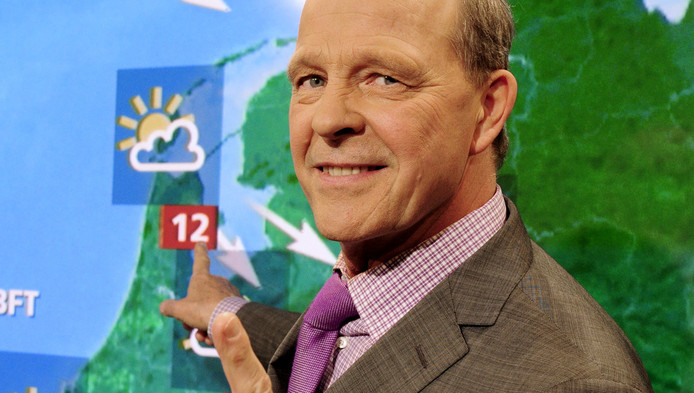 Mijn collega's en ik gebruiken oude staatsexamens Nederlands als oefenmateriaal en zo kwam ik bij het onderdeel Luisteren Erwin Kroll tegen die in een interview enthousiast over het weer vertelde. Nederlanders, zei de weerman, klagen vaak over het weer en buitenlanders, voegde ik daar stilletjes aan toe, doen dat vele malen meer.
Kroll legt uit wat hij daarvan vindt en je moet kiezen uit drie antwoorden. Nederlanders klagen over het weer omdat het weer vaak slecht is (A), Nederlanders moeten niet zo klagen over het weer omdat het weer altijd anders is (B). Het maakt Nederlanders niet uit wat voor weer het is (C). Voor Kroll gaat spreken, moet je de antwoorden intensief lezen en kernwoorden onderstrepen omdat het vaak om een kleine nuance in het gesproken fragment gaat. Dat weten ze, dat heb ik ze geleerd maar ondanks alle aanwijzingen, tips en trucs vullen ze hier telkens A in terwijl het B moet zijn. Het foute antwoord past precies bij hun eigen opvatting. Het weer is altijd slecht en Nederlanders vinden dat ook, daarvan zijn ze overtuigd en daardoor vergeten ze goed te luisteren.
Druipend komen ze soms binnen, witte handjes klappertandjes alles koud en nat. Vriendelijk wijs ik ze op mijn paraplu, nadruppelend in de hoek van het lokaal en vertel dat de oude Egyptenaren en Assyriërs dit apparaat al gebruikten, weliswaar tegen de zon maar dat het zeker met oog op het veranderende klimaat een onmisbare metgezel is die voor een paar euro ook jouw vriend kan worden. Maar luisteren, ho maar. Kletsnat zonder plu druppelen ze bij een klein maar krachtig buitje het lokaal in. "Het is echt slecht regenen vandaag," wordt er gebibberd. Los van het feit dat ze moeite hebben met de grammatica van het weer, alles uit de hemel valt  of waait in de derde persoon enkelvoud, plakken ze er net als wij een negatieve associatie aan vast. Het regent verschrikkelijk, de wind is guur en hevig, de storm heftig en angstaanjagend, de mist is verraderlijk, ijzel is gevaarlijk en sneeuw en ijs zijn onbetrouwbaar.
 De zon, ja, de zon is lekker warm, aangenaam, vrolijk, ze laat je lui liggen in het gras en ze lokt je naar het strand. Wie verbrandt, is dom of onoplettend geweest maar we geven nooit de zon de schuld. Baby's en bejaarden moeten in de schaduw worden natgehouden en je moet veel drinken maar dat komt door de hitte, geen kwaad woord over de zon. Nou ja, een Jemenitische studente zegt dat ze hier hoofdpijn van de zon krijgt omdat deze in Nederland altijd schuin staat en niet boven op je kop zoals dichtbij de evenaar. Dit is de eerste directe aanklacht tegen de zon die ik ken.
Terug naar de regen. Ze hadden nieuwe woorden geleerd en kregen als huiswerk hiermee zinnen te schrijven waaruit kennis van de betekenis blijkt. Eén van die woorden was 'uitbundig' en we hadden het samen omschreven als een gevoel of een situatie waarbij je boven een bepaalde grens uitstijgt, overvloedig, vaak iets vrolijks, soms overdreven en het is niet alleen toepasbaar op mensen maar ook op dingen.
Mahmoud schreef in zijn uitleg de prachtige zin 'Het regende uitbundig.'
Lees deze zin nog een keer, ik heb dat zelf ook een paar keer gedaan en werd er vrolijk van. Ja, hij bedoelde overvloedig, hevig, heftig en natuurlijk kun je een regenbui zo omschrijven maar door hem uitbundig te maken, maak je hem vrolijk en dat hoor je zelden.
Ik ben opgegroeid aan de kust en met regen en storm gingen we op duintoppen staan en schreeuwden tegen de wind. Regen en wind waren tegenspelers en hun aanwezigheid was essentieel, zonder hen was de lol van schreeuwen en proberen rechtop te blijven staan er vanaf. Kletsnat, ijskoud en lachend fietsten we naar huis. Dankzij Mahmoud kan ik dat gevoel van vroeger nu een naam geven die het perfect omschrijft. Het was uitbundig.
Piethein Burmanje (1961) studeerde Geschiedenis in Amsterdam en volgde de lerarenopleiding in Leiden en Utrecht (NT2). Hij werkte als journalistiek medewerker voor NRC-Handelsblad in Brussel en Rotterdam, als publieksvoorlichter voor het Rijksmuseum en als docent NT2 voor Vluchtelingenwerk Nederland. Hij is coauteur van Kleine Mannetjes. Van Alexander de Grote tot Nicolas Sarkozy (Contact, 2012). Sinds 2017 werkt hij als docent NT2 voor het Language &Training Centre van de Erasmus Universiteit Rotterdam.