Is this the programme you're looking for?
Nanobiology is a new field of research that borders between physics, nanophyiscs, biology and medical research. The programme teaches the fundamental knowledge and skills needed to describe and study the complexity of living systems. It uses the language of mathematics within the context of physics to understand the complexity of biology. Develop methods and techniques to identify heart failure before it leads to diseases, or develop a microscope that helps analyse vital molecules in living cells.
Key Facts & Figures
Type

Bachelor

Degree

BSc

Mode of study

Full-time

Instruction language

English

Duration

3 years

Study points (EC)

180

Location

Start date

September

Application Deadline (EEA)

15 January
The study programme in a nutshell
The aim is for students to foster cross-disciplinary thinking as standard and bridge scientific fields with ease. In addition to the integrated theoretical modules, students are introduced to advanced practical skills in laboratory experimentation, information technology, programming and research methods.
Want to know more? Meet us here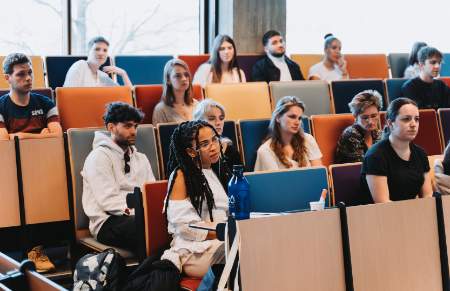 Career opportunities after graduation
You have learned how to analyze complex situations in biological systems and have the quantitative tools to understand them. You have learned skills that you can apply in Nanobiology research like biomedicine, synthetic biology, optics, biotechnology, etc. either in academia, medical institutions or within industry.
What do our students think?
Your student life starts in the vibrant city of Rotterdam
This vibrant city offers a variety in art, nightlife, culture and sports. Everything you wish for to enjoy your student life to the fullest.