Is this the programme you're looking for?
"We aim to teach students to implement genomics where it can benefit people, and gather issues from society that can benefit from genomics."  
The research master Genomics in Society trains the next generation of genomics researchers to work in an interdisciplinary context, while thinking critically and constructively about the societal and ethical aspects of genomics for positive societal impact.
Key Facts & Figures
Type

Research Master

Degree

MSc

Mode of study

Full-time

Instruction language

English

Duration

24 months

Study points (EC)

120

Location

Application Deadline (EEA)

1 April
The study programme in a nutshell
We believe our enthusiasm for Genomics in Society is contagious. We create an educational environment that is fun, fosters curiosity, embraces learning from mistakes and has an open-door climate. Our teachers engage in mutual learning and are transparent about their own learnings and development.  
In our program, openness, curiosity, and empathy are core values in teaching and learning in an international classroom. They are also important in understanding current ethical issues and different cultural perspectives in genomics in society. 
Watch the study programme video
Want to know more? Meet us here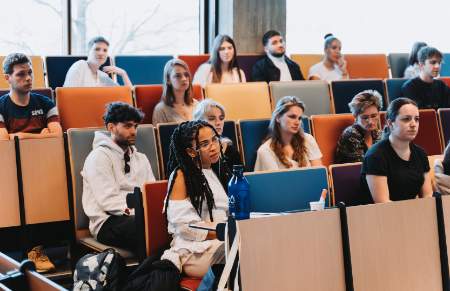 Career opportunities after graduation
The Master of Genomics in Society degree may lead to a career in genomic and social science research or to a position at a company or institute as a (genomic) impact researcher, university teacher, policy maker, (science) communicator and consultant.