Incompany course Port Authority and municipality Amsterdam
Employees of the municipality of Amsterdam and the Port of Amsterdam sought to deepen their knowledge of what the port sector actually means, in particular for Amsterdam and its region. Erasmus Centre for Urban, Port and Transport (UPT) has developed a series of lectures for this purpose.
Erasmus UPT has collaborated with Rotterdam School of Management (RSM) especially for these master classes. As a result, the best experts in the field of innovation and digitisation are actively involved in the content of the lecture series.
Insight in port economy
The high level of the master classes gives the participants an in-depth understanding of the causal links between the economy of the port of Amsterdam and the city of Amsterdam. In their lectures, the Erasmus UPT and RSM specialists provide the most up-to-date overview and insight into the driving forces behind the broader port economy.
Knowledge and evidence based decisions
The development and provision of specialised master classes ensures that professionals in the field of port economy can make better decisions.
Want to know more about our incompany courses? 
Our researchers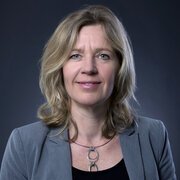 Larissa van der Lugt PhD
Executive director, Port economist
Bart Kuipers PhD
Senior researcher port economics