Is this the programme you're looking for?
Media & Creative Industries is one of the five master Media Studies specialisations. During Media & Creative Industries you'll develop your understanding covers current issues in of organisation, policies, production, management, organisation, marketing, production and distribution in the media companies and creative industries. 
Key Facts & Figures
Type

Master

Degree

MA

Mode of study

Full-time

Instruction language

English

Duration

1 year

Study points (EC)

60

Location

Start date

September

Application Deadline (EEA)

15 May
The study programme in a nutshell
You will use state-of-the-art theory and methods, you will learn to trace, analyse and address key developments and challenges in the media and creative industries. And you will be part of an international, interactive and small scaled classroom, enabling you to develop a comprehensive, international perspective on the media and creative industries.
''I definitely feel more informed about everything that is happening in the field.''
Want to know more? Meet us here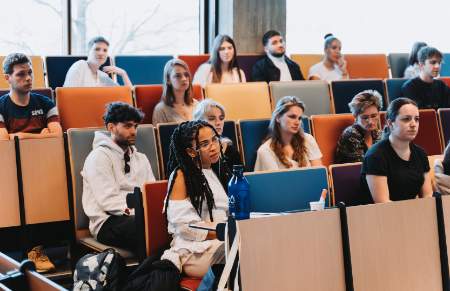 Career opportunities after graduation
Media & Creative Industries graduates will be up for a variety of management, marketing, consultancy, communication, public relations and entrepreneurial careers in the media, entertainment and creative sectors and beyond.
What do our students think?