Is this the programme you're looking for?
Would you like to be on top of the fast paced technological and organisational developments in the media and creative industries? Do you want to be ready to face today's challenges as a media manager, marketer, entrepreneur, policy maker or creative worker? Then the master specialisation Media & Creative Industries is the right programme for you.
Key Facts & Figures
Type

Master

Degree

MA

Mode of study

Full-time

Instruction language

English

Duration

1 year

Study points (EC)

60

Location

Start date

September

Application Deadline (EEA)

15 May
The study programme in a nutshell
Media & Creative Industries is one of the five master Media Studies specialisations. This innovative and international specialisation provides you with the analytical and creative skills to start or advance your career in one of the most vibrant sectors of the contemporary global economy. Media & Creative Industries covers the production, organisation, management, marketing and distribution of media and creative products, think about video games, streaming services, and music festivals. Yet, it also provides you with in-depth insights into how audiences receive and engage with those products.
''I definitely feel more informed about everything that is happening in the field.''
What you will learn
Trace, analyse, and address key developments and challenges in the media and creative industries;
respond effectively and inventively to the changing conditions, emerging issues, and new opportunities for media and creative enterprises and entrepreneurs;
develop a critical attitude towards current issues in organisation, production, management, marketing and distribution in media companies and creative industries;
learn about the impact of digitalisation, the use of social media, and the role of audiences;
develop a strategic and analytical perspective by learning from international lecturers, guest speakers and peers in an interactive and dynamic environment.
Want to know more? Meet us here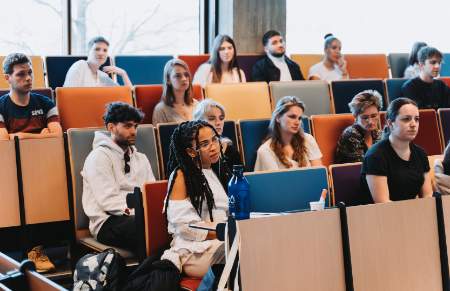 Career opportunities after graduation
Media & Creative Industries graduates will be up for a variety of jobs in management, marketing, consultancy, communication, public relations, and entrepreneurial careers in media, entertainment, creative sectors, and beyond.
What do our students think?