Is this the programme you're looking for?
Do you have an international outlook and are you entrepreneurial and creative enough to meet the ever-changing and increasingly diverse demands of today's media and communication professions? Put yourself to the test in this engaging and entrepreneurial master specialisation and explore how new media have transformed the media business and other international industries.
Key Facts & Figures
Type

Master

Degree

MA

Mode of study

Full-time

Instruction language

English

Duration

1 year

Study points (EC)

60

Location

Start date

September

Application Deadline (EEA)

15 May
The study programme in a nutshell
Media & Business is one of the five master Media Studies specialisations. New digital technologies and globalisation have rapidly transformed the media and business landscape. New business models have been developed and new products and services have emerged. The master specialisation Media & Business in Rotterdam allows you to explore these developments that present both strategic opportunities and challenges for organisations of all kinds, across industry sectors. Within this programme, you will focus on how organisations adapt to altering business landscapes and stay relevant, competitive, and leading in a dynamic environment.
''What I like the most about the programme I think is the hands-on approach.''
Want to know more? Meet us here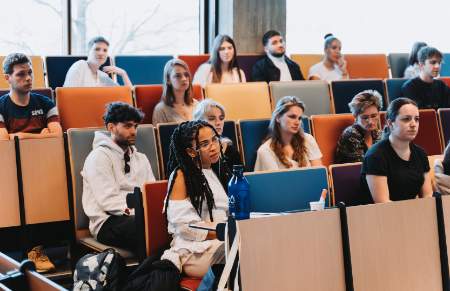 Career opportunities after graduation
Media & Business graduates are ready to start their career as a media analyst, social media manager, communication adviser, marketer, PR consultant, product/brand manager, or policy maker.
What do our students think?