Latest Information on Covid-19 and EUC
Our university's response to Covid-19
EUC aligns with the policies of Erasmus University Rotterdam (EUR) in ensuring the well-being of our community and continued delivery of quality education for our student body. We ask that you refer to EUR's Covid-19 portal for the latest and most comprehensive information.
EUC's community-specific updates
Since March 2020, our community has found new ways to study, contribute, and have fun. Follow us on social media for more stories.
When our campus closed, we transferred all courses and teaching online. To get a glimpse of how this has been going, check out what our students have shared about online education and studying from home.
May 24: Alumna Léa Dibong (Class of 2017) shares how her company adapted to Corona. Read full story here.

May 19: First-year student Babet Weima has been working in a high care coronavirus unit in a nursing home:

Post on Instragram

.

May 9: Alumna Juliette van Laack (Class of 2016) is a medical intern at Erasmus MC and amidst the crisis found herself volunteering. Read more.
April 23: EUC alumnus, Tiago Beck (Class of 2019), and his brother make their own contribution. Check out the full article.
Strange times, but not all bad
We are very proud of how our academics, students, and staff have made sure EUC stays EUC, despite social distancing during Covid-19. We can't wait to be face to face again but in the meantime we're proud of how our community has experimented, evolved, and found new ways to connect during these "strange times."
Thinking about the 'new normal' - 16 April 2020
EUC dean Gabriele Jacobs has a message to students, staff, and friends of EUC after our first weeks learning to live with—and continue to educate, inspire, and connect during—the Corona virus.
The Measures Taken at EUC during the Coronavirus Outbreak - 18 March 2020
Our dean prof. Gabriele Jacobs explains about the efforts of EUC to continue offering high quality education during the coronavirus outbreak despite the cancellation of on-campus education.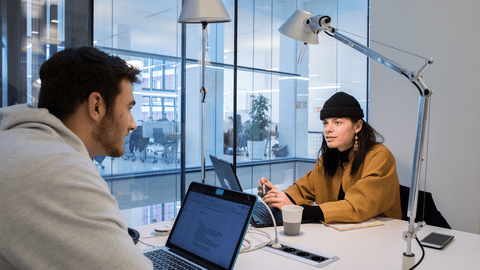 Prospective students
If you are a prospective student, explore the digital options to talk to students or walk through our building.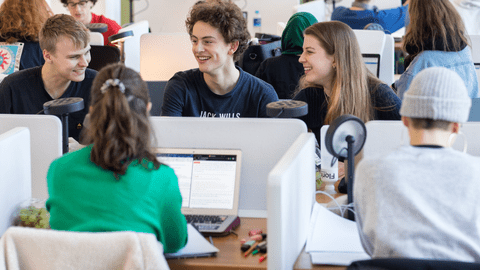 Admitted students
For newly admitted students, we recommend browsing our FAQ's and information for admitted students.