Urban health and happiness
Cities are complex: a rapidly changing urban environment faces challenges of technological innovation, shifting geopolitical powers and changing society. Cities face questions of sustainability, climate change, social and economic cohesion. Therefore cities are not just about economics; cities are about people.
The way we use our cities is changing. As we work, live, study and relax in our urban environment, cities are becoming more and more ingrained in our daily lives. We no longer move somewhere just to find a job, we move to redefine our life. This makes it important for successful cities to not just foster economic growth, but to support and foster urban well being. Cities should offer health and happiness.
Healthy and happy cities
Our experts have extensive experience measuring and researching the economic effects of urban stressors on people. For example: what is the effect of reducing speed limits from 50 to 30 kilometers? Are there less accidents? Will people walk more and gain health benefits? If yes, what is the economic impact? And what is the impact on well being? Do features such as nature or cultural heritage contribute to more happiness and to a better experience?
Innovative research
If needed, we develop our own research tools. With TRACKEUR we created a new innovative way to have detailed data from people in designated research areas. It is a great way to research the softer data such as well being, walking behavior and perceptions  of a city.
Building better cities
Our experts regularly contribute to the exploration of future developments in health and well being. There are economic returns to health, well being and happiness in cities. Better cities foster quality of life and in turn strengthen the local business climate, making firms more innovative and productive. Often these effects are indirect, for instance the productivity gains of healthier employees, reductions in disability benefits due to increased mental health, or even the impacts on current actions on the well being of future generations.   
Bridging disciplines
Health and well being are soft factors in the urban economy, but carry tangible benefits. By borrowing from other disciplines, the experts at Erasmus UPT take the discussion out of the field of economics and into mainstream policy.
Together with our clients we reflect on the economic implications of societies and their challenges. We help shape our client's strategic agendas and help bridge policy gaps between actors, disciplines and people.
What can Erasmus UPT do for you?
Our researchers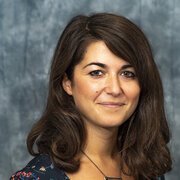 Anna Bornioli PhD
Senior researcher transport and urban economics
Jeroen van Haaren MSc
Senior researcher urban economics and real estate