Op zoek naar Geluk
Voor het Platform VerenigingsManagement gaat Jan van der Reest op zoek naar geluk. Tijdens het congres 'A World to Win' dat afgelopen maart plaatsvond in Rotterdam woonde hij een lezing van de 'geluksprofessor' Ruut Veenhoven bij, een afspraak was snel gemaakt.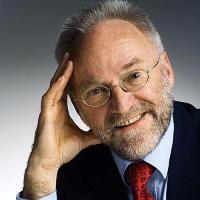 De werkkamer van Ruut Veenhoven maakte veel goed. Door het uitzicht was de koffie toch te verteren. Veenhoven begon meteen met een mini-college over de wetenschap van geluk. 

Geluksfactoren zijn bijvoorbeeld de aanwezigheid van oorlog of vrede en een genetische aanleg. Een belangrijke rol is echter weggelegd voor zingeving en betekenis voor de ander, geluk bereik je niet alleen dus. 

In tegenstelling tot wat je zou denken is dat geluk erg goed meetbaar op individueel, organisatie en nationaal niveau. Als je geluk wilt verbeteren naar sector zijn er volgens Veenhoven drie belangrijke aanknopingspunten: geluk in relatie tot gezondheid en verzuim, geluk in relatie tot betere arbeidsrelaties en de ontwikkeling van een intersectoraal meetinstrument om de geluksniveau's in kaart te brengen. 
---
Terug naar overzicht
Publicatiedatum: 8 juni 2017
---