Is this the programme you're looking for?
Do you have a passion for arts and culture? And do you want to know what goes on behind the scenes of the art world? The International Bachelor Arts and Culture Studies at Erasmus University Rotterdam you the theoretical and practical tools to start your career as a creative professional in the field of arts and culture.
And do you have a talent for art or music, next to a hunger for academic knowledge? Then you can combine the International Bachelor Arts and Culture Studies with a programme at the Willem de Kooning Academy or Codarts with the Dual Degree in Arts and Sciences (RASL).
Key Facts & Figures
Type

Bachelor

Degree

BA

Mode of study

Full-time

Instruction language

English

Duration

3 years

Study points (EC)

180

Location

Start date

September

Application Deadline (EEA)

1 May
The study programme in a nutshell
Study the world of arts and culture from a sociological, economic, political and media perspective;
explore how art is produced and how it is presented by parties such as theatres, museums and festivals;
understand how art is consumed and appreciated by the audience and how new media impacts this process;
acquire a thorough understanding of how the cultural sector is organised, and gain insight into the socio-economic and political contexts that allow the arts to flourish;
you will study in an international environment with students and lecturers from all over the world.
The International Bachelor Arts and Culture Studies offers a unique and multifaced approach to the world of arts and culture. The collaborations with many organisations in the field, the focus areas, the compulsory internship and the opportunity to go on exchange or follow a minor, make our graduates more than ready to start their professional career.
''Rotterdam is just a perfect place for creatives.''
Want to know more? Meet us here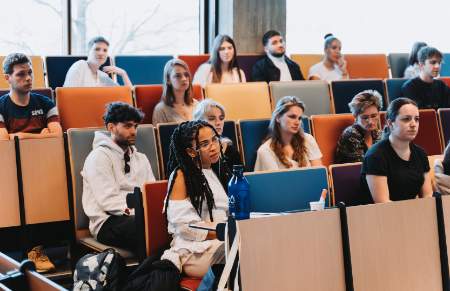 Career opportunities after graduation
After finishing IBACS, you will be able to engage with the artists themselves as well as the commercial and public-sector players in the field. Furthermore, you have well developed analytical skills and you will be capable of examining issues from different angles. Graduates regularly work for museums, festivals, fashion houses, theatre companies, PR agencies, sponsoring agencies, governmental institutions, and media companies.
What do our students think?
Your student life starts in the vibrant city of Rotterdam
This vibrant city offers a variety in art, nightlife, culture and sports. Everything you wish for to enjoy your student life to the fullest.