Is this the programme you're looking for?
You have a passion for arts and culture. You might not be an artist yourself, but you want to know what goes on behind the scenes of the art world. And you want to contribute to its success. The International Bachelor Arts and Culture Studies in Rotterdam offers a unique approach to arts and culture. You will study the world of arts and culture from a sociological and economic view, but you will also be familiarised with theories on media, policy, marketing and aesthetics. 

As an IBACS student you'll learn to answer questions such as: Why does one listen to Dua Lipa, while other loves Beethoven? And how come some have both in their playlist? What do the budget cuts on arts and culture mean for the way the sector is organised? Who decides about the worth of art and how it is presented to the public?
Key Facts & Figures
Type

Bachelor

Degree

BA

Mode of study

Full-time

Instruction language

English

Duration

3 years

Study points (EC)

180

Location

Start date

September

Application Deadline (EEA)

1 May
The study programme in a nutshell
Alternating a sociological and economic view, you will study how art is produced and how it is presented by parties such as theatres, museums and festivals. Moreover, you want to understand how art is consumed and appreciated by the audience and how new media is impacting this process. With this bachelor you will be able to analyse the mechanisms of the art world in a societal context. 
Watch the study programme video
Want to know more? Meet us here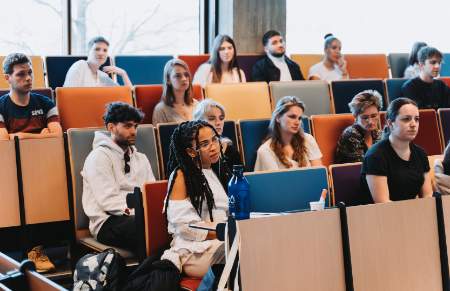 Career opportunities after graduation
As a graduate, you will be able to engage with the artists themselves as well as the economic and commercial players in the field. Furthermore, you have well developed analytical skills and you will be capable of examining issues from different angles. These are skills that employers generally appreciate. Graduates regularly work for museums, festivals, fashion houses, theatre companies, PR agencies, sponsoring agencies, governmental institutions, and media companies.
What do our students think?
Your student life starts in the vibrant city of Rotterdam
This vibrant city offers a variety in art, nightlife, culture and sports. Everything you wish for to enjoy your student life to the fullest.